Priority Process

This page explains the process we undertake annually to determine our priority issues. To learn more about how we approach the management of each of these issues, see the Priorities section (G4-18).
Each year, we conduct an analysis to increase our understanding of the issues that mean the most to our stakeholders and the company. In determining our report content, we apply the GRI G4 Principles:
Stakeholder inclusiveness: We take multiple stakeholder viewpoints into consideration.
Sustainability context: We consider the economic, social, and environmental sustainability impacts associated with issues in the analysis.
Materiality: We focus our analysis on issues we have identified as highest priority for NVIDIA and its stakeholders.
Completeness: We do not purposefully avoid difficult or contentious issues.
Included on this page are details about our process and subsequent outcomes.
Stakeholder Feedback
The analysis entails an examination of external stakeholder sources to help us understand the issues of highest relevance and importance to our stakeholders. Sources include:
Community surveys
Competitors' reports
Customer requirements/requests
Disclosure standards, such as the GRI G4 Sustainability Reporting Guidelines
Employee survey feedback
Industry and trade association publications
Investor queries
Ratings and rankings questionnaires
Regulatory requirements
Trade organizations' codes of conduct
The table below represents our stakeholders' perceptions of issues included in this year's analysis. Issues are ranked based on their prevalence across the various source materials we examined. A score of five indicates issues that are raised most often, while a score of one corresponds to issues represented less frequently.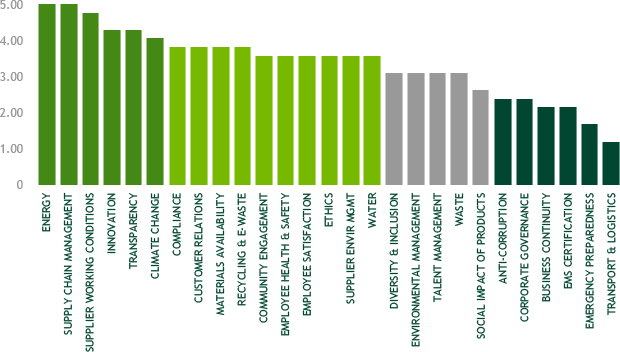 Company Feedback
We also evaluate various company sources, such as the risk factors identified in our annual and quarterly reports filed with the Securities and Exchange Commission and in enterprise risk discussions with NVIDIA executives.
Corporate responsibility requirements are becoming increasingly important to NVIDIA, so for 2014, we engaged a number of executives who are most impacted in a targeted discussion about corporate responsibility risk issues and the impact to our business.
The table below represents how the executives we interviewed prioritized the issues under consideration in this analysis. Issues were ranked based on their prevalence in the discussions, the importance accorded to them during executive conversations, and the extent and urgency of potential associated impacts. A score of five indicates issues of highest prioritization; a score of one represents issues deemed a lower priority.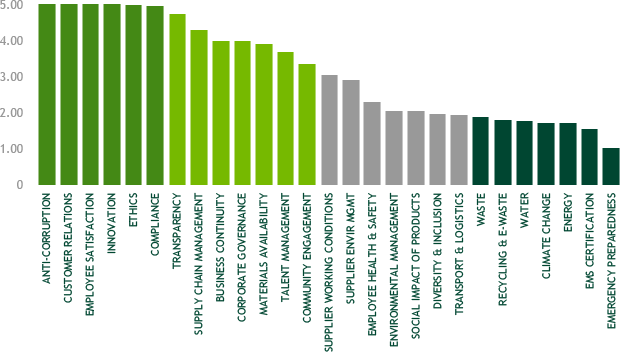 In 2014, a group of NVIDIA executives involved in corporate responsibility agreed upon three key objectives by which we will achieve greater responsibility. These objectives map to our Priority Issues:
Corporate Responsibility Focus
Operational Efficiency and Excellence
Supply Chain Management, Customer Relations, Innovation, Ethics
Employee Acquisition and Retention
Risk and Opportunity Management
Customer Relations, Compliance, Transparency
In coming years, we will identify initiatives within these areas where we can achieve improvement, and use this annual report to discuss our progress.
Priority Matrix
We map the results of the stakeholder source evaluation and the company's prioritization based on executive interviews on a matrix to visually highlight the most important issues from the perspective of external stakeholders and company management. The matrix includes the entire list of issues we considered for inclusion in the analysis.
In the resulting Priority Matrix (see the graphic below), the issues with the highest priority are shown in the top right quadrant.
Issues that increased in stakeholder importance in the past year include materials availability (primarily around conflict minerals) and recycling and e-waste (due to NVIDIA's shift in product mix and application of regulations). Areas that decreased in priority ranking across all stakeholders include diversity and inclusion, corporate governance, ethics, employee health and safety, and employee satisfaction.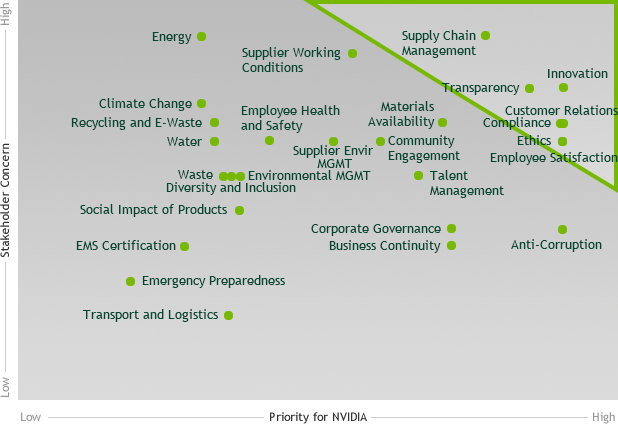 To learn more about how we manage our Priority Issues, see the Priorities section.
Yearly Analysis
We will regularly review trends in the marketplace around the issues presented on the Priority Matrix. In addition, we will continue to assess, track and communicate our performance on the issues that are the highest priority from both internal and external perspectives.