Higher Education
Partnerships with prestigious universities and research institutions around the globe are integral to NVIDIA's daily activities.
Through NVIDIA Research, we offer support to significant research projects and explore challenging topics on the frontiers of visual, parallel and mobile computing. Numerous other links with academia allow us to collaborate with leading researchers, attract top talent, and build connections with professors and research facilities that are working to solve complex scientific challenges.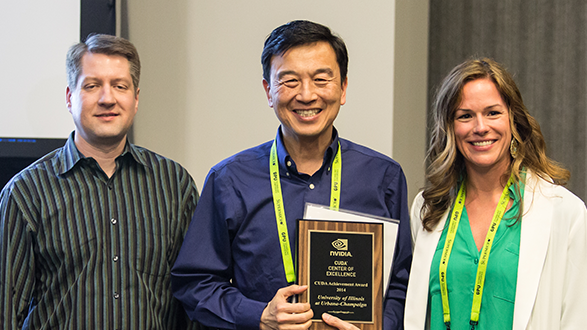 At NVIDIA's annual GPU Technology Conference, we recognize universities engaged in cutting-edge work with NVIDIA CUDA and GPUs.
Read more
.
Our internship program receives more than 18,000 applications annually. We select interns with care, and they are an important source of new talent for NVIDIA.
Work experience in the program is designed to replicate as closely as possible the experience of actual employment. Interns are assigned to active projects where they work alongside, and receive mentoring, from top-notch industry veterans. They are held accountable for their work and receive pay and a variety of benefits, including travel and housing assistance and the opportunity to contribute to a 401(k).
Our New College Grad program also attracts high-performing, talented individuals. NVIDIA's University Relations group works to actively develop these future graduates and expose them to our business and technology. For more information, see our page on intern and co-op programs.
We continue to build relationships with the academic community by providing support for teaching, research and advanced education through several academic research programs. These expand the teaching of GPUs and visual computing, and support research that uses our technology to tackle major computing challenges.
To learn more about the ways we support academics who use GPUs, read about the 2014 NVIDIA Fellowship awardees.
We are gratified to see momentum growing for books and courses that focus on programming GPUs with CUDA and Open GL. Through our CUDA Research and Training Centers and CUDA Centers of Excellence, CUDA is now taught at more than 750 universities in over 65 countries.
Learn more about these programs on the NVIDIA Research website:
University Recruiting
Learn more about University Recruiting in our Workforce section. We continue to enhance two key areas of our onsite internship program:
Performance management: Through an intensive performance program, interns and their managers are given the opportunity to better manage their goals and tasks. These are measured over the course of the internship through one-on-one meetings, evaluation forms and assistance from the University Relations Group.
Engagement and exposure: Our interns get direct exposure to the NVIDIA culture, community and business. They attend talks given by NVIDIA leaders from marketing, research and engineering, as well by our CEO. They have opportunities to spend time together on and off campus, enabling them to network, learn about activities throughout our businesses, and meet employees at company meetings, charity events and brown bag lunches.
In our 2014 internship recruitment efforts, we:
Made 39 recruiting visits to colleges and universities, reaching almost 6,510 students on campus alone.
Received approximately 18,000 resumes as a direct result of our visits.
Hosted 611 paid interns globally (65 percent in the United States, 29 percent in Asia and 6 percent in Europe, the Middle East, and Africa).
Hired 404 new college graduates globally, 39 percent of whom had served as NVIDIA interns.