Priority Process
This page explains the process we undertake to determine and refine our understanding of NVIDIA's priority issues. To learn more about how we approach the management of each of these, see the Priorities section.
In determining our priorities and the content for this report, we apply the GRI G4 Principles:
Stakeholder inclusiveness: We take into consideration multiple stakeholder viewpoints.
Sustainability context: We consider the economic, social and environmental sustainability impacts associated with issues in the analysis.
Materiality: We focus our analysis on issues that we have identified as highest priority for NVIDIA and its stakeholders.
Completeness: We do not purposefully avoid difficult or contentious issues.
We analyze enterprise risk and corporate responsibility priorities annually to increase our understanding of the issues that mean the most to NVIDIA and our stakeholders. These priorities guide us in developing our corporate responsibility objectives. Our three key objectives are essentially unchanged from last year.
Each of these objectives links to specific business strategies for enhancing corporate responsibility. We identify initiatives within each priority area that map to our objectives (below) and address specific issues.
Here is how our objectives map to this year's priority issues:
Drive operational efficiency and excellence
Customer Relations, Innovation, Supply Chain Management
Strengthen employee recruitment and retention*
Manage corporate responsibility risks and reputation
Customer Relations, Compliance, Transparency
*We maintain a strong focus on Employee Satisfaction – encompassing employee engagement and diversity and inclusion – although it is not designated as a priority issue for 2015.
This year's priorities were determined based on an update to the priority issues analysis we conducted for the 2014 Global Citizenship Report. Included below is additional detail about how we arrived at our priority issues.
Stakeholder Prioritization
For last year's report, we completed a comprehensive review of external stakeholder source documents to help us understand which issues were the most relevant and important to our stakeholders. These included:
Community surveys
Competitors' reports
Customer requirements/requests
Disclosure standards, such as the GRI G4 Sustainability Reporting Guidelines
Employee survey feedback
Industry and trade association publications
Investor queries
Ratings and rankings questionnaires
Regulatory requirements
Trade organizations' codes of conduct
For this year's evaluation, we updated these with feedback received over the course of the year. The chart below represents our stakeholders' perceptions of issues included in this year's analysis.
Supply chain management
Supplier working conditions
Innovation
Transparency
Growth
Energy
Climate change

Environmental management
Customer relations
Compliance
Recycling and e-waste
Materials availability
Community engagement
Supplier environmental management
Water
Employee health and safety
Ethics

Employee satisfaction
Cybersecurity
Waste
Diversity and inclusion
Talent management
Product Safety
Social impact of products

Packaging
Anti-corruption
Corporate governance
Business continuity
Emergency preparedness
Transport and logistics

Company Prioritization
To arrive at company priorities, we evaluate various company sources, such as risk factors identified in our periodic reports filed with the Securities and Exchange Commission and in enterprise risk discussions with NVIDIA executives. As part of this year's update, we held individual interviews with members of the executive team to ensure their views are reflected in the analysis.
The chart below represents a ranking of issue importance to NVIDIA. We ranked the issues according to their prevalence in company documentation, the importance accorded to them during executive conversations, and the extent and urgency of potential associated impacts.
Innovation
Customer relations
Employee satisfaction
Anti-corruption
Compliance
Transparency
Supply chain management

Ethics
Diversity and inclusion
Corporate governance
Business continuity
Product Safety
Talent management
Growth
Community engagement
Packaging
Supplier working conditions

Recycling and e-waste
Cybersecurity
Supplier environmental management
Energy
Climate change
Water
Waste
Social impact of products

Employee health and safety
Environmental management
Materials availability
Transport and logistics
Emergency preparedness

Priority Matrix
We map the results of these analyses on a matrix to highlight the most important issues from the perspective of external stakeholders and company management. The matrix includes the entire list of issues considered for inclusion in the analysis.
In the resulting Priority Matrix (graphic below), the issues with the highest priority are shown in the top right quadrant (shaded triangle).
Issues that are no longer classified this year as Priorities include Ethics and Employee Satisfaction. Although they remain important, we believe our continued implementation of established management systems around these issues will ensure our continued performance.
We have also added new issues to the priority analysis this year, reflecting changes in our product mix and rising economic, societal and customer concerns. Issues that debut in our analysis include Growth, Cybersecurity and Product Safety.
Among changes to issues that have appeared in previous years are the increased importance for both the company and stakeholders of Diversity, Energy, Water, and Recycling and E-waste.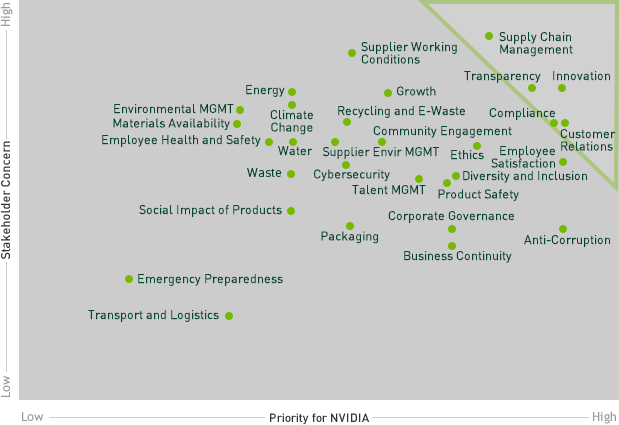 To learn more about how we manage our Priority Issues, see the Priorities section.
Issues Management
We regularly review trends in the marketplace around the issues presented on the Priority Matrix. In addition, we will continue to assess, track and communicate our performance on the issues that are the highest priority from both internal and external perspectives.