Workforce
See Workforce metrics in our Performance section for a detailed measures used to track our success.
NVIDIA was recognized by our employees as a Best Place to Work, according to the 2015 Glassdoor Employee Choice Awards. Our Moscow office was recognized as a top employer in Russia based on a survey from headhunting site Headhunter. Also, based on the feedback from thousands of students and recent grads, NVIDIA made the AfterCollege 2014 list of Top Employers in the U.S.
NVIDIANs take pride in our dynamic culture, which values collaboration while celebrating individual drive, commitment and achievement. Our teams of world-class engineers and developers thrive in high-performance environments where passion is expected and talent is recognized. As a result, we attract some of the technology industry's most creative and gifted individuals.
We know that our employees give us a competitive advantage, and we value them accordingly. We recruit and retain the best, actively promote diversity, offer competitive compensation, appropriately recognize performance, incubate potential through internship and university partnerships, and support our workforce with outstanding opportunities and benefits.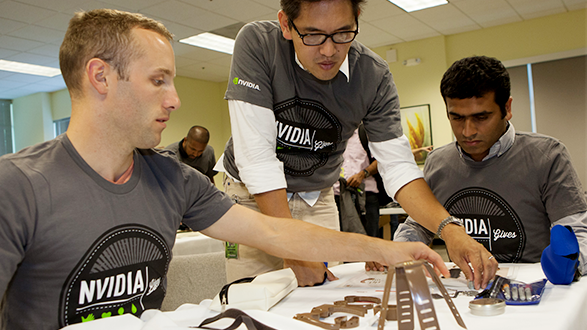 For the past four years, our IT organization in Santa Clara, Calif., has held an annual team-building exercise involving an activity that lets them give back. It is part of a larger global effort called IT Giving Week in which IT employees in eight offices participated in an activity that supports their local community.
Read more
.
Recruitment and Internships
NVIDIA engages with academia worldwide to attract the most outstanding graduating college seniors. We attend numerous career fairs and conferences worldwide each year and offer guest lectures and technical presentations to support educational curriculums.
We select undergraduate, graduate, and MBA interns with care, because they are an important source of new talent. Our coveted internship opportunities, in which interns work alongside top-notch industry veterans, involve projects that have real impact on the company's products and services. Each internship replicates as closely as possible the experience of actual employment.
Selecting from nearly 18,000 applications annually, we choose the most outstanding candidates. We hold interns accountable for their work and, in return, they receive a generous paycheck and a variety of benefits, including travel and housing assistance.
Our University Relations Group works through our new college grad program to develop future graduates and give them exposure to our business and technology. For more information, see our page on intern and co-op programs and our recruitment calendar.
In addition, by nurturing close relationships with many of the world's most respected universities and research institutions, we are able to collaborate with leading researchers; explore challenging topics on the frontiers of visual, parallel and mobile computing; and provide essential support to research projects.
In 2014, we updated our website's Careers and Benefits pages to streamline the search process for all interested candidates.
Diversity
For 2014, we've added a section on Diversity in the Value Chain Impacts section of this report to recognize and address NVIDIA's challenges and opportunities in this critical area.
Compensation
NVIDIA's compensation strategy has four key objectives: attract and retain the world's best talent; reward performance; focus on growth; and think in terms of total pay. Our total compensation packages are competitive, fair and structured to encourage employees to invest in the company's future.
We provide employees with a comprehensive, higher-than-average benefits package (see NVIDIA benefits for more information). All employees have the opportunity to be shareholders in the company through our generous employee stock purchase plan (ESPP). During the past year, nearly 85 percent of eligible employees participated in our ESPP, which brought an average return of approximately 71 percent on employee investment funds (as a percent of contribution).
Engagement and Retention
We invest in and commit to our employees' long-term success. NVIDIA's benefits include flexible work hours, as much time off as they need, programs to help employees deal with stress and time-management challenges, and an array of convenient onsite services. We support employees in their important life events through our global Employee Assistance Program and a generous leave program.
Our employees receive training on the job and also in more formal settings. We use both internally and externally created training content, and our "NVLearn" portal offers dozens of development classes for our employees. Harvard ManageMentor is made available online for all employees, in addition to the electronic libraries of the Institute of Electrical and Electronics Engineers and the Association for Computing Machinery, through our corporate memberships. NVIDIA offers tuition reimbursement at most accredited universities and pays tuition to technical education programs at the Stanford Center for Professional Development.
We conduct a global employee survey every 18 months, and the results of our 2014 survey are shown in the accompanying graphic. We have also implemented periodic "pulse" surveys to more easily collect frequent feedback on targeted issues.
2014 Global Annual Survey Responses
Employee participation rate: 92%.
NVIDIA is doing important, industry-leading work
I often put more effort into my job than is required so I can help NVIDIA succeed
I trust and respect my manager
I feel comfortable discussing work-related problems and concerns with my manager openly and honestly
I feel proud to work for NVIDIA
I have the freedom to use my own judgment in getting the work done
Rate your manager's performance overall
I would recommend NVIDIA as a great place to work
How would you rate your satisfaction with NVIDIA at the present time?
Low-scoring areas include investment in infrastructure and employee development, competing projects that stress existing resources, and challenges associated with managing the rapidly-evolving strategies associated with new markets. Our executive team highly values this feedback and is concerned about the issues our employees have raised. We strategize to determine how we can best respond to their concerns.
NVIDIA encourages employees to volunteer in their local communities and contribute to global humanitarian causes. The NVIDIA Foundation surveys all employees annually to gather data about charitable and volunteer participation and to ensure that the foundation is on the right track with its funding priorities. Ninety-four percent of our global offices participated in at least one charitable activity in 2014, and 86 percent of this year's responding employees rank the foundation's programs as effective. Eighty-seven percent of employees are proud of the impact NVIDIA is having in its local communities.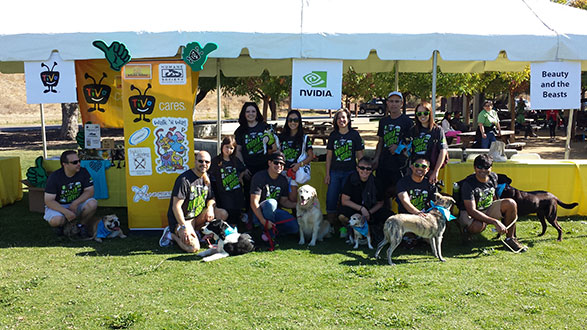 NVIDIA has a very dog-friendly culture. Each year, several employees at our Santa Clara, California, headquarters join together in a walk to raise funds for the Humane Society.
Health and Safety
We strive to provide safe, healthy workplaces for all employees. We demonstrate this commitment through various programs, such as environmental monitoring, emergency response planning, and a Cancer Support Network, which is sponsored by the NVIDIA Foundation as part of its Compute the Cure initiative.
Our record reflects the results of our dedication to employee health and wellness. Less than one percent of leave-of-absence requests within NVIDIA relate to work. Few workers' compensation claims are submitted and the majority of those processed are repetitive motion injuries. In recognition of this fact, we have taken steps to work with affected employees through our ergonomics program and online courses.
Our Environmental Health & Safety Team oversees workplace conditions for NVIDIA employees around the globe. Team members help to design facilities that meet or exceed local safety requirements, implement safe practices in all of NVIDIA's facilities and ensure compliance with all applicable health and safety laws, regulations, and policies through trainings and annual audits.
In addition, the Environmental Health & Safety team has responsibility for these formal NVIDIA programs:
Air Quality Environmental Compliance, Protection and Impact Assessments
Hazardous Materials: Inventory, Use, Transportation, Disposal, Recycling & Waste Minimization
Occupational Safety & Health Assistance
Pollution Prevention
Water Quality, Storm Water & Wastewater Discharge Testing
Emergency Response Team
Keeping our employees safe requires planning for emergencies. Our Emergency Response Teams (ERT) is made up of employee volunteers, who number nearly 500 in 26 locations around the world. NVIDIA's ERTs receive training in the areas of basic first aid, firefighting, evacuations and are provided the tools to respond to an emergency incident.