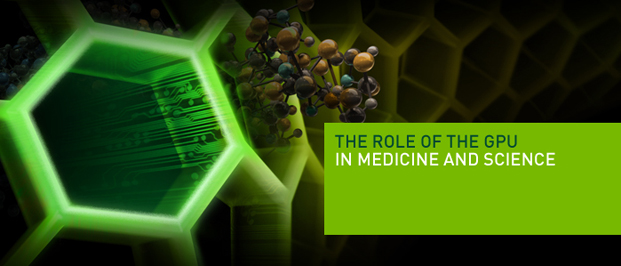 Speed of Light: The Role of Visual and High Performance Computing in Scientific Innovation

Visual and high performance computing, driven by NVIDIA® GPUs, is testing the boundaries of science and medicine. Scientists and researchers are intrigued and challenged by the potential advances at their fingertips, such as accelerated diagnoses, increased precision and prediction, and virtual environments in which patients can speed their own wellness.

The NVIDIA family of products and applications (GeForce®, Quadro®, Tesla® along with the CUDA™ parallel computing architecture) are must-have platforms when dramatic advances in science are needed. Read more below about the advances that NVIDIA technology is enabling in science.

Have your own success story using NVIDIA in science? Check out the CUDA Zone or send it to successstories@nvidia.com.
Conquering Disease
NVIDIA GPUs have become a potent weapon in the fight against disease, allowing scientists to mimic disease reproduction and accelerate the discovery of drugs to fight some of the worst diseases on the planet. Learn More.
Improving Diagnoses
The NVIDIA GPU allows radiologists and other medical professionals to see inside the human body with crystal clear accuracy, greatly enhancing the ability to detect abnormalities. Learn More
Scientific Innovation
From earth sciences, molecular dynamics, virtual environments, to surgical innovations - there are very few areas of science in which the NVIDIA GPU hasn't become a powerful force to speed results. Learn More