For further information, contact:
Andrew Humber
NVIDIA Corporation
(408) 416 7943
ahumber@nvidia.com
FOR IMMEDIATE RELEASE: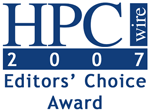 SUPERCOMPUTING 2007—RENO, NEVADA—NOVEMBER, 13 2007—HPCwire, the most recognized and accessed news and information site covering the high performance computing (HPC) ecosystem, recognized NVIDIA today with three Readers' and Editors' Choice awards for its Tesla™ line of GPU computing solutions and its CUDA C-compiler and software development kit (SDK). The awards were: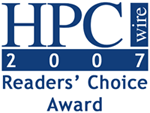 Editors' Choice Award for Most Significant New HPC Hardware Product: NVIDIA Tesla
Editors' Choice Award: Top 5 Companies to Watch in 2008: NVIDIA
Readers' Choice Award for Most Significant New HPC Software Product: NVIDIA CUDA
"The Tesla GPU computing products represent an exceptionally well-thought out solution for achieving HPC acceleration," said Michael Feldman, editor of HPCwire. "With a company like NVIDIA behind it, we expect GPU computing to get some real traction in the marketplace over the next few years."
"The launch of a CUDA C-compiler and development environment was the key to unlocking the potential of the GPU as a massively parallel computational engine," said Andy Keane, general manager of the GPU Computing business at NVIDIA. "For that reason, we are particularly delighted to receive the HPCwire Readers' Choice Award for CUDA. With an installed base of over 45 million CUDA-capable GPUs already in the market, and downloads of the SDK increasing every day, as well as real code examples appearing on our forums, it's clear that these solutions are answering the needs of the HPC industry."
The HPCwire Readers' and Editors' Choice Awards are determined through online polling of the global HPCwire audience, along with a rigorous selection process involving HPCwire editors and industry luminaries. The awards are an annual feature of the publication and constitute prestigious recognition from the HPC community. The 2007 Readers' Choice awards generated a record number of responses from the several hundred thousand readers who access HPCwire each week.
In addition to the HPCwire awards, Acceleware, an NVIDIA partner who develops and markets acceleration products for the HPC industry won RF GlobalNet's Editors' Choice Award this month for their implementation of the NVIDIA Tesla D870 Deskside Supercomputer, the Acceleware ClusterInABox (Dual).
For more information on NVIDIA Tesla and the CUDA SDK, please visit: //www.nvidia.com/object/tesla_computing_solutions.html
NVIDIA Corporation
NVIDIA Corporation is the worldwide leader in programmable graphics processor technologies. The Company creates innovative, industry-changing products for computing, consumer electronics, and mobile devices. NVIDIA is headquartered in Santa Clara, CA and has offices throughout Asia, Europe, and the Americas. For more information, visit www.nvidia.com.
###
Copyright© 2016 NVIDIA Corporation. All rights reserved. All company and/or product names may be trade names, trademarks, and/or registered trademarks of the respective owners with which they are associated. Features, pricing, availability, and specifications are subject to change without notice.
Note to editors: If you are interested in viewing additional information on NVIDIA, please visit the NVIDIA Press Room at
http://www.nvidia.com/page/press_room.html