New 10-Bit Mammography Display Utilizes NVIDIA Quadro® Graphics to Achieve Professional Results
For further information, contact:
Brian Burke
NVIDIA Corporation
(512) 401 4385
bburke@nvidia.com
FOR IMMEDIATE RELEASE: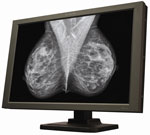 NVIDIA Quadro FX 4600 and Quadro FX 5600 boards now include 10-bit grayscale support for high-contrast grayscale display systems like the new Planar Dome Z16 display.

RSNA 2007–CHICAGO, IL–November 25, 2007 —NVIDIA Corporation, the worldwide leader of programmable graphics processor technologies, and Planar Systems, makers of specialty displays, are cooperating closely to produce display systems that will enable doctors to more effectively screen for breast cancer. The two companies are working to develop high-contrast, 10-bit grayscale display systems for use in mammography and other medical applications.
Currently, digital mammography displays that rely on standard PC workstations are limited to 8-bit grayscale, which provides only 256 possible shades of gray for each pixel. Being limited to 256 shades-of-gray can sometimes obscure valuable data when an image is displayed; mammography systems and other medical sensors, however, are capable of greater degrees of contrast
Instead of developing specialty hardware, NVIDIA and Planar have developed a method of "pixel packing" that allows 10-bit or 12-bit grayscale data to be transmitted from an NVIDIA Quadro® graphics board to a Planar Dome display using a standard DVI cable. Instead of three 8-bit grayscale channels, now two 10- or 12-bit channels are transmitted, providing up to 864 possible shades of gray at more than three times the image contrast of an 8-bit system.
The best part of this display solution is that specialty hardware is not required, making it readily available for use with other radiology functions. Instead of developing a specialty graphics board that supports 10- or 12-bit grayscale, NVIDIA has incorporated the pixel packing functionality into its Quadro™ driver, allowing Quadro FX 4600 graphics or higher to support a wide range of grayscale panels from various manufacturers.
The two companies will be displaying the system, using Planar's newly introduced Dome Z16, 16MP true 10-bit display, as well as Dome E5 displays at the RSNA (Radiological Society of North America) 2007 conference in Chicago, 25-30 November. For the demo at the show, Planar has worked with ClearCanvas, an open-source healthcare IT applications company, to alter its open-source digital imaging workstation software to accept and unpack the 10- or 12-bit data. Other software vendors are free to modify their own digital imaging applications to take advantage of the technology.
The close cooperation between NVIDIA and Planar has produced something almost unique in the field of medical technology—superior imaging technology that uses industry-standard hardware. Soon, without a lot of increased costs, radiologists will be able to use these 10-bit display systems to screen for breast cancer more efficiently and with greater confidence.
About NVIDIA
NVIDIA (NASDAQ: NVDA) is the world leader in visual computing technologies and the inventor of the GPU, a high-performance processor which generates breathtaking, interactive graphics on workstations, personal computers, game consoles, and mobile devices. NVIDIA serves the entertainment and consumer market with its GeForce products, the professional design and visualization market with its Quadro® products, and the high-performance computing market with its Tesla™ products. NVIDIA is headquartered in Santa Clara, Calif. and has offices throughout Asia, Europe, and the Americas. For more information, visit www.nvidia.com.
Certain statements in this release including, but not limited to, statements as to: the features, uses, benefits, and capabilities of our products and technologies; and use of the display systems are forward-looking statements that are subject to risks and uncertainties that could cause results to be materially different than expectations. Important factors that could cause actual results to differ materially include: loss of performance of when products are used together; manufacturing or software defects; the impact of technological development and competition; our reliance on third party manufacturers; changes in industry standards and interfaces as well as other factors detailed from time to time in the reports NVIDIA files with the Securities and Exchange Commission including its Form 10-Q for the period ended October 29, 2007. Copies of reports filed with the SEC are posted on our website and are available from NVIDIA without charge. These forward-looking statements are not guarantees of future performance and speak only as of the date hereof, and, except as required by law, NVIDIA disclaims any obligation to update these forward-looking statements to reflect future events or circumstances.
###
Copyright© 2016 NVIDIA Corporation. All rights reserved. All company and/or product names may be trade names, trademarks, and/or registered trademarks of the respective owners with which they are associated. Features, pricing, availability, and specifications are subject to change without notice.
Note to editors: If you are interested in viewing additional information on NVIDIA, please visit the NVIDIA Press Room at
http://www.nvidia.com/page/press_room.html