New Communications Protocol for Monitoring and Controlling PC Peripherals Uses USB-IF HID Specifications; Dell Ships World's First ESA-Certified Desktop PC
For further information, contact::
Bryan Del Rizzo
NVIDIA Corporation
(408) 486-2772
bdelrizzo@nvidia.com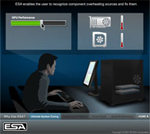 View Video Clip
Click here for an audio interview with Tom Petersen, Technical Marketing Director at NVIDIA Corporation. Listen in to learn what the new Enthusiast System Architecture is, how it works, and more importantly, what the consumer benefits will be.
Podcast (8 MB)
ESA partners
ESA Tech Brief (1.36 MB PDF)
FOR IMMEDIATE RELEASE
SANTA CLARA, CA-MARCH 13, 2008 - NVIDIA Corporation (Nasdaq: NVDA), the world leader in visual computing technologies and the inventor of the GPU, today announced that support for the Enthusiast System Architecture (ESA) communications protocol is picking up major industry momentum with the global availability of ESA-certified PC components produced by many of ESA's founding partners, including Cooler Master, CoolIT Systems, NVIDIA®, PC Power & Cooling, Silverstone, Tagan, and Thermaltake. In addition, the new Dell XPS 630 is the first commercially-available desktop PC to be ESA-certified. The XPS 630 incorporates Dell's innovative LightFX technology, which utilizes the ESA real-time communications protocol to provide developers an easy way to create highly immersive gaming experiences by synchronizing on-screen gaming action with the ambient lighting integrated into the PC chassis.
Originally introduced in late 2007, ESA was designed and introduced to support new monitoring and control capabilities for PC devices such as chassis, power supplies, and water and air cooling peripherals. Until the introduction of ESA, there was no standard communication protocol allowing such components to report information back to users. Essential data, such as temperature, thermal, voltage, and air flow attributes are made available in real-time and are critical to obtaining maximum PC performance and overclocking. With ESA, component manufacturers can now embed a wide variety of digital and analog sensors into their devices which can communicate real-time data for use in analyzing and optimizing overall PC operating conditions. In addition, ESA's logging functionality offers PC manufacturers and system builders an inexpensive and easy way to help identify PC operating abnormalities, and enable them to quickly identify and resolve customer support issues.
Cross-device compatibility and compliance with the ESA specification is being handled by Allion, a leading IT testing organization. Products that have passed the Allion certification process will incorporate the new ESA logo, providing consumers with a valuable tool in their purchasing decision.
For additional information on ESA technology, please visit www.nvidia.com/ESA. The Dell XPS LightFX SDK can be downloaded directly from www.dell.com.
Technical Note: The core ESA specification is provided by NVIDIA, not USB-IF, and uses standard USB protocol mechanisms from the core USB and USB HID specifications. The USB-IF does not own the ESA specification, endorse its usage in any way, and has no plans to change the HID class definition to include the ESA communications protocol.
To learn more about the USB-IF, please visit www.usb.org.
About NVIDIA
NVIDIA is the world leader in visual computing technologies and the inventor of the GPU, a high-performance processor which generates breathtaking, interactive graphics on workstations, personal computers, game consoles, and mobile devices. NVIDIA serves the entertainment and consumer market with its GeForce® graphics products, the professional design and visualization market with its Quadro® graphics products, and the high-performance computing market with its Tesla™ computing solutions products. NVIDIA is headquartered in Santa Clara, Calif. and has offices throughout Asia, Europe, and the Americas. For more information, visit www.nvidia.com.
Certain statements in this release including, but not limited to, statements as to: the features, uses, benefits, and performance of the ESA communications protocol, the Dell XPS 630, and Dell's LightFX technology; ESA momentum; control of the ESA specification standard; and the availability of ESA-certified PC components are forward-looking statements that are subject to risks and uncertainties that could cause results to be materially different than expectations. Important factors that could cause actual results to differ materially include: our reliance on third-parties to manufacture, assemble, package and test our products; issues associated with design and manufacturing of products; unanticipated changes in industry standards and interfaces; slower than anticipated adoption of a new industry standard or interface; manufacturing or software defects; the impact of technological development and competition; as well as other factors detailed from time to time in the reports NVIDIA files with the Securities and Exchange Commission including its Form 10-Q for the period ended October 28, 2007. Copies of reports filed with the SEC are posted on our website and are available from NVIDIA without charge. These forward-looking statements are not guarantees of future performance and speak only as of the date hereof, and, except as required by law, NVIDIA disclaims any obligation to update these forward-looking statements to reflect future events or circumstances.
###
Copyright© 2016 NVIDIA Corporation. All rights reserved. All company and/or product names may be trade names, trademarks, and/or registered trademarks of the respective owners with which they are associated. Features, pricing, availability, and specifications are subject to change without notice.
Note to editors: If you are interested in viewing additional information on NVIDIA, please visit the NVIDIA Press Room at
http://www.nvidia.com/page/press_room.html