New GeForce 9800 GTX+, 9800 GT, and 9500 GT GPUs Bring Support for NVIDIA PhysX and CUDA Parallel Processing To All Price Segments
For further information, contact:
Bryan Del Rizzo
NVIDIA Corporation
(408) 486-2772
bdelrizzo@nvidia.com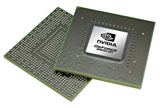 "The new GeForce 9500 GT GPU joins the GeForce 9 family and brings support for NVIDIA PhysX and CUDA parallel processing technologies to new mainstream price points."
FOR IMMEDIATE RELEASE
SANTA CLARA, CA—JULY 29, 2008—NVIDIA® Corporation, the world leader in visual computing technologies, today announced the immediate availability of three new desktop GeForce® 9 Series graphics processing units (GPUs) that bring support for NVIDIA PhysX™ technology and CUDA™ general-purpose parallel computing to mainstream PC computing markets..
The new GeForce 9800 GTX+, 9800 GT, and the 9500 GT GPUs deliver exceptional graphics quality, performance, and application compatibility, along with support for NVIDIA SLI® technology, the industry's leading multi-GPU solution for gaming and enthusiast platforms across a wide variety of price points, including under $100 USD.
"The addition of the new 9800 GTX+, 9800 GT, and the 9500 GT GPUs brings a new level of visual computing capability to additional mainstream market segments," said Ujesh Desai, general manager of desktop GPUs at NVIDIA. "NVDIA GPUs deliver the best bang for the buck in each price category, and with support for CUDA, PhysX, and 3D stereoscopic technology, consumers can now experience the unique, innovative, and immersive computing experience that only NVIDIA can deliver."
As PC applications become increasingly visual, many ordinary tasks will benefit from the graphics horsepower provided by the GeForce GPU, including editing photos, running a new operating system such as Windows Vista, or encoding and playing high-definition videos through the use of applications like Elemental Technologies' Badaboom, which is scheduled for release in August. In addition, the general-purpose computing architecture of the GeForce 9 Series GPUs lends itself to powering the increasing number of applications that are being written to use the GPU—and not the CPU—for non-graphical computational tasks. For example, consumers today can use their GeForce 9 Series GPUs to run applications such as Folding@home and join online protein folding teams to help find cures for diseases such as Alzheimer's or Parkinson's.
NVIDIA GPUs are also the only ones to support PhysX technology, the world's most pervasive physics development platform that is already delivering dynamic 3D realism to more than 140 games across multiple platforms and is in use by more than 25,000 developers worldwide. With PhysX, developers can incorporate effects such as rigid body dynamics, collision detection, and cloth simulation that dramatically change the way the games are played and how the on-screen stories unfold, and then accelerate those effects using the processing power of the GeForce GPU.
Graphics cards featuring the new GeForce 9 Series GPUs are available now from global leading add-in card manufacturers, such as: ASUS, BFG, Colorful, Emtek, EVGA, Gainward, Galaxy, Gigabyte, Innovision, Leadtek, MSI, Palit, PC Partner/Zotac, PNY, Point of View, Unika, Unitek, and XFX. For specific pricing information, please contact the add-in card manufacturers in your region.
About NVIDIA
NVIDIA (Nasdaq: NVDA) is the world leader in visual computing technologies and the inventor of the GPU, a high-performance processor which generates breathtaking, interactive graphics on workstations, personal computers, game consoles, and mobile devices. NVIDIA serves the entertainment and consumer market with its GeForce graphics products, the professional design and visualization market with its Quadro® graphics products, and the high-performance computing market with its Tesla™ computing solutions products. NVIDIA is headquartered in Santa Clara, Calif. and has offices throughout Asia, Europe, and the Americas. NVIDIA's inaugural NVISION 08 conference will be held August 25-27, 2008 in San Jose, California. For more information, visit www.nvidia.com and www.nvision08.com.
Certain statements in this press release including, but not limited to, statements as to: the benefits, features, power, performance, capabilities and availability of NVIDIA GeForce 9 Series of GPUs, NVIDIA PhysX technology, CUDA general-purpose parallel computing and SLI technology; future PC applications and the availability of the new NVIDIA GeForce GPUs are forward-looking statements that are subject to risks and uncertainties that could cause results to be materially different than expectations. Important factors that could cause actual results to differ materially include: delays in ramping new products into production; our reliance on third parties to manufacture, assemble and test our products; design, manufacturing or software defects; adoption of the CPU instead of the GPU for non-graphical computational tasks; unexpected loss of performance of our products or technologies when integrated into systems; development of faster or more efficient GPUs; the impact of technological development and competition; as well as other factors detailed from time to time in the reports NVIDIA files with the Securities and Exchange Commission including its Form 10-Q for the fiscal period ended April 27, 2008. Copies of reports filed with the SEC are posted on our website and are available from NVIDIA without charge. These forward-looking statements are not guarantees of future performance and speak only as of the date hereof, and, except as required by law, NVIDIA disclaims any obligation to update these forward-looking statements to reflect future events or circumstances.
###
Copyright® 2008 NVIDIA Corporation. All rights reserved. NVIDIA, the NVIDIA logo, GeForce, NVIDIA SLI, CUDA, and PhysX are trademarks and/or registered trademarks of NVIDIA Corporation in the U.S. and other countries. Other company and product names may be trademarks of the respective companies with which they are associated. Features, pricing, availability, and specifications are subject to change without notice.
Note to editors: If you are interested in viewing additional information on NVIDIA, please visit the NVIDIA Press Room at //www.nvidia.com/page/press_room.html
###
Copyright© 2016 NVIDIA Corporation. All rights reserved. All company and/or product names may be trade names, trademarks, and/or registered trademarks of the respective owners with which they are associated. Features, pricing, availability, and specifications are subject to change without notice.
Note to editors: If you are interested in viewing additional information on NVIDIA, please visit the NVIDIA Press Room at
http://www.nvidia.com/page/press_room.html