New NVIDIA Motherboard GPUs Pack Big Punch In A Small Package



With 5x More Performance in One-half the Size, New GeForce 9-Series mGPUs Tap Parallel Processors for More Than Just Graphics

For further information, contact:

Ken Brown
NVIDIA Corporation
(408) 486-2626
kebrown@nvidia.com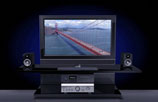 NVIDIA GeForce 9-Series motherboard GPUs feature advanced audio and video technologies which make them ideal for home theater PCs.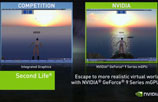 With 5x the performance of integrated graphics, GeForce 9-Series mGPUs enable users to enjoy the hottest new PC games as well as social networking applications like Second Life.
Now that Adobe Photoshop features GPU acceleration, users with a GeForce 9-Series mGPU can work with images faster and more intuitively than on systems with integrated graphics. .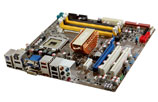 A variety of NVIDIA partners will offer GeForce 9-Series motherboards including ASUS (shown), ECS, EVGA, Gigabyte, MSI, XFX, and more.
FOR IMMEDIATE RELEASE
SANTA CLARA, CA—OCTOBER 20, 2008—NVIDIA's engineering team was given a challenge: deliver a desktop GPU which integrates full system I/O and discrete-level performance in one-half the size of previous integrated graphics solutions. The result: a 16-core CUDA™-capable graphics architecture that enables mainstream PC users to play the latest top-selling PC games and enjoy silky-smooth, high-definition Blu-ray video playback—all without breaking the bank.
NVIDIA® Introduces the GeForce® 9400 and 9300 motherboard GPUs for desktop PCs on the Intel platform.
"These new mGPUs give NVIDIA a big advantage over other integrated graphics chips," said Dr. Jon Peddie of Jon Peddie Research. "By doing so much parallel processing on a single chip, they can accelerate the new visual computing applications people are getting, and at a reasonable price. The GeForce 9400 and 9300 mGPUs set a new standard for what users should expect from today's more mainstream desktop systems."
"We've combined the power of three different chips into one highly compact and efficient GPU," said Drew Henry, general manager of MCP business unit at NVIDIA. "In doing so, we've redefined the level of performance people can expect from a motherboard solution to enrich visual computing experiences for mainstream systems. You can now have the performance of a discrete GPU in a small form factor PC."
GPUs have long been essential platforms for rendering real-time images to computer screens, but software developers and system manufacturers have only recently begun using their parallel processing power to deliver a new level of performance for a variety of visual computing applications, including Adobe Creative Suite 4 and BadaBoom. Badaboom is a video transcoding application to speed up application performance and free up the PC for doing other tasks in parallel.
The new NVIDIA GeForce 9-Series motherboard GPUs feature:
16-cores for processing DirectX 10 games and CUDA-accelerated applications
High-quality video playback with NVIDIA PureVideo® HD technology, which offloads 100% of all video processing from the CPU to the GPU
Support for advanced audio and video connectivity, including uncompressed LPCM 7.1 audio, dual-link DVI, and HDMI
Support for NVIDIA Hybrid SLI Technology, which boosts performance up to 70% above the motherboard GPU
Single-chip design with much smaller footprint than competing chipsets makes it ideal for small form factor and ultra-slim media center PCs
Motherboards featuring GeForce 9-Series motherboard GPUs are shipping this month from industry-leading motherboard partners including: ASUS, ECS, EVGA, Foxconn, Galaxy, Gigabyte, J&W, MSI, Onda, Zotac, and XFX.
For more information on the GeForce 9-Series mGPUs, please visit: //www.nvidia.com/object/product_geforce_9300_mgpu_us.html
See the game-changing performance of GeForce 9-Series mGPUs here: //http.download.nvidia.com/video/LaunchVideo_EN_720p.wmv
About NVIDIA
NVIDIA (Nasdaq: NVDA) is the world leader in visual computing technologies and the inventor of the GPU, a high-performance processor which generates breathtaking, interactive graphics on workstations, personal computers, game consoles, and mobile devices. NVIDIA serves the entertainment and consumer market with its GeForce graphics products, the professional design and visualization market with its Quadro® graphics products, and the high-performance computing market with its Tesla™ computing solutions products. NVIDIA is headquartered in Santa Clara, Calif. and has offices throughout Asia, Europe, and the Americas. For more information, visit www.nvidia.com.
Certain statements in this press release including, but not limited to, statements as to: the benefits, advantages, impact, performance, efficiency and capabilities of NVIDIA GeForce 9400 and 9300 motherboard GPUs; users' preferences and demands; and the availability of NVIDIA GeForce 9400 and 9300 motherboard GPUs are forward-looking statements that are subject to risks and uncertainties that could cause results to be materially different than expectations. Important factors that could cause actual results to differ materially include: unexpected loss of performance of our products or technologies when integrated into systems; our reliance on third parties to manufacture, assemble and test our products; design, manufacturing or software defects; changes in consumer preferences and demands; the impact of technological development and competition; consumer adoption of competitor's products; as well as other factors detailed from time to time in the reports NVIDIA files with the Securities and Exchange Commission including its Form 10-Q for the fiscal period ended July 27, 2008. Copies of reports filed with the SEC are posted on our website and are available from NVIDIA without charge. These forward-looking statements are not guarantees of future performance and speak only as of the date hereof, and, except as required by law, NVIDIA disclaims any obligation to update these forward-looking statements to reflect future events or circumstances.
###
Copyright® 2008 NVIDIA Corporation. All rights reserved. NVIDIA, the NVIDIA logo, GeForce, NVIDIA SLI, PureVideo, CUDA, Tesla, Quadro, and SLI are trademarks and/or registered trademarks of NVIDIA Corporation in the U.S. and other countries. Other company and product names may be trademarks of the respective companies with which they are associated. Features, pricing, availability, and specifications are subject to change without notice.
Note to editors: If you are interested in viewing additional information on NVIDIA, please visit the NVIDIA Press Room at //www.nvidia.com/page/press_room.html
###
Copyright© 2016 NVIDIA Corporation. All rights reserved. All company and/or product names may be trade names, trademarks, and/or registered trademarks of the respective owners with which they are associated. Features, pricing, availability, and specifications are subject to change without notice.
Note to editors: If you are interested in viewing additional information on NVIDIA, please visit the NVIDIA Press Room at
http://www.nvidia.com/page/press_room.html
---