Industry-Leading Performance Combined with HD Video Processing, PhysX and CUDA Highlight New Family of GPUs Designed for Notebooks
For further information, contact:
Brian Burke
NVIDIA Corporation
(512) 401-4385
bburke@nvidia.com
NVIDIA GeForce GTX 280M GPUs are the world's fastest notebook GPUs for extreme gamers.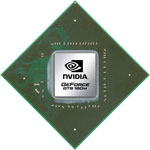 NVIDIA GeForce GTS 160M GPUs enable sleek, thin designs with excellent performance, compatibility and reliability to play the latest games.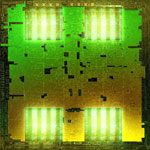 By leveraging an advanced 55nm-process with the G92 GPU architecture, GeForce 200 Series GPUs are able to deliver up to 50% higher performance over previous generation GPUs.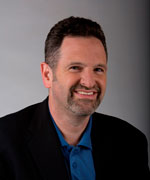 Rene Haas, general manager of notebook business at NVIDIA blogs about the new GeForce GTX 200M and GeForce GTS 100M Series GPUs on
notebooks.com
.
FOR IMMEDIATE RELEASE:
CEBIT 2009—HANOVER, GERMANY—MARCH 3, 2009— NVIDIA today introduced GPUs in four separate categories that push performance to the highest levels ever achieved in enthusiast and high-performance notebooks. Included in the group is the fastest notebook GPU in the market, the GeForce GTX 280M, with up to 50% more performance than previous generation enthusiast notebook GPUs.
"These new NVIDIA GeForce GPUs are for those who won't accept compromise in notebook performance," said Rene Haas, general manager of notebook business at NVIDIA. "These new GPUs meet the needs of the most demanding consumers in the marketplace by delivering industry-leading performance at all price segments along with features that go beyond graphics."
The new line-up of notebook GPUs from NVIDIA include:
GeForce® GTX 280M and 260M GPUs for enthusiast notebooks.
GeForce GTS 160M and 150M GPUs for high-performance, sleek notebooks.
GeForce GTX 200M and GeForce GTS 100M Series GPUs make playing the latest HD games on a portable platform a reality by delivering blistering frame rates that are up to 50% faster than the previous generation products they are replacing, all without increasing overall power consumption. Using NVIDIA® SLI® technology, which enables close to double the graphics performance over a single GPU, two NVIDIA GeForce GTX 280M GPUs can be paired to offer the fastest notebook graphics solution available today. In order to enable a quiet state and to increase battery life, NVIDIA HybridPower™ technology can dynamically power down the powerful discreet GPU and transfer graphics operation to the integrated GPU for applications that do not require the high level of graphics horsepower.
GeForce GTX 200M and GeForce GTS 100M Series GPUs feature the NVIDIA CUDA™ computing architecture and deliver Graphics Plus™ capabilities not found on competing solutions. Only with NVIDIA GPUs can you experience jaw-dropping NVIDIA PhysX™ gaming effects and lightning fast video and image processing all accelerated by the GeForce GPU.
Users with notebooks equipped with NVIDIA GPUs have the added flexibility of downloading upgradeable graphics drivers directly from NVIDIA.com so they can immediately take advantage of new features, improved application compatibility, and performance optimizations. NVIDIA is the only GPU manufacturer that offers notebook driver downloads direct to consumers.
ASUS, Clevo and MSI are all showing notebooks based on the new GeForce GTX 200M and GeForce GTS 100M Series GPUs at CeBit. For more information on GeForce GTX 200M and GeForce GTS 100M Series GPUs, please visit www.nvidia.com.
About NVIDIA
NVIDIA (Nasdaq: NVDA) is the world leader in visual computing technologies and the inventor of the GPU, a high-performance processor which generates breathtaking, interactive graphics on workstations, personal computers, game consoles, and mobile devices. NVIDIA serves the entertainment and consumer market with its GeForce graphics products, the professional design and visualization market with its Quadro graphics products, and the high-performance computing market with its Tesla™ computing solutions products. NVIDIA is headquartered in Santa Clara, Calif. and has offices throughout Asia, Europe, and the Americas. For more information, visit www.nvidia.com.
Certain statements in this press release including, but not limited to, the impact of NVIDIA GeForce GPUs, NVIDIA drivers, CUDA technology and NVIDIA SLI® technology on notebook customers, the performance and impact of NVIDIA GPUs in distributed computing applications are forward-looking statements that are subject to risks and uncertainties that could cause results to be materially different than expectations. Important factors that could cause actual results to differ materially include: development of faster or more efficient technology; the impact of technological development and competition; design, manufacturing or software defects; changes in consumer preferences or demands; changes in industry standards and interfaces; unexpected loss of performance of our products or technologies when integrated into systems; as well as other factors detailed from time to time in the reports NVIDIA files with the Securities and Exchange Commission including its Form 10-Q for the fiscal period ended July 27, 2008. Copies of reports filed with the SEC are posted on our website and are available from NVIDIA without charge. These forward-looking statements are not guarantees of future performance and speak only as of the date hereof, and, except as required by law, NVIDIA disclaims any obligation to update these forward-looking statements to reflect future events or circumstances.
###
© 2009 NVIDIA Corporation. All rights reserved. NVIDIA, the NVIDIA logo, GeForce, CUDA, PhysX, HybridPower, and Graphic Plus are trademarks and/or registered trademarks of NVIDIA Corporation in the U.S. and other countries. Other company and product names may be trademarks of the respective companies with which they are associated.
Note to editors: If you are interested in viewing additional information on NVIDIA, please visit the NVIDIA Press Room at //www.nvidia.com/page/press_room.html
###
Copyright© 2016 NVIDIA Corporation. All rights reserved. All company and/or product names may be trade names, trademarks, and/or registered trademarks of the respective owners with which they are associated. Features, pricing, availability, and specifications are subject to change without notice.
Note to editors: If you are interested in viewing additional information on NVIDIA, please visit the NVIDIA Press Room at
http://www.nvidia.com/page/press_room.html