Highly Anticipated PC Value Platform Expected to Invigorate Software Sales
For further information, contact:
Ken Brown
NVIDIA Corporation
(408) 486-2626
kebrown@nvidia.com
FOR IMMEDIATE RELEASE:
NVIDIA ION will power a new generation of incredibly small and capable PCs. This prototype design supports HD video, gaming, and photo editing.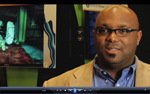 See leading game developers react to ION's small size and big performance.
SANTA CLARA, CA—APRIL 1, 2009—NVIDIA® ION® is drawing industry-wide support from analysts and the world's leading software companies, including Adobe, Google, Microsoft, and Electronic Arts. ION's powerful performance and competitive pricing will help enable incredibly small and affordable PCs that are expected to find strong interest in the marketplace when they begin to arrive in the second quarter of 2009.
NVIDIA ION graphics processors will power a new generation of smaller, greener, fully capable PCs. Consumers utilizing ION-based PCs will be able to make full use of some of the world's most popular applications, such as Spore, Call of Duty 4, Google Earth, Adobe® Photoshop®, Cyberlink PowerDVD, LEGO: Batman, and Battlefield 2.
"Providing superior performance for one of the fastest growing market segments makes NVIDIA ION a winner," said Jim McGregor, chief technology strategist at In-Stat, an analyst firm specializing in the mobile internet and digital entertainment markets. "Consumers today want less expensive PCs with more capabilities, which is exactly what ION delivers. Users can suddenly do more with their systems, and developers benefit from an expanding market. It's a win-win for the entire industry."
Video: See leading game developers react to ION's small size and big performance
//us.download.nvidia.com/downloads/videos/ION_Press_Release_R3_FINAL_HD_480p.wmv.
"ION enables consumers with new mini-notebook and small desktop systems to access and play a larger library of Windows games, creating incredible opportunity and access for all gamers," said Corey Rosemond, group manager, Microsoft Games for Windows program.
"New affordable and powerful PC hardware like ION is going to change the landscape of PC gaming," said Ben Cousins, executive producer at DICE, a division of Electronic Arts. "This new mass-market target audience is a perfect match for Battlefield Heroes."
Bryan O'Neil Hughes, product manager for Photoshop at Adobe, said: "Along with the built-in productivity features and time-saving capabilities in Photoshop CS4 and Photoshop CS4 Extended, the NVIDIA ION platform supports new hardware-accelerated functionality in the software and extends the feature set on small, low-powered systems. Efficiency is key for our customers' design and photography workflows. Harnessing the power of the GPU allows for the utilization of new features and a more fluid experience in Photoshop."1
"NVIDIA and Google will bring the Earth into view for millions of new users," said Stefan Kuhne, Google Earth software engineer. "We're really impressed with how well Google Earth will run on affordable PCs powered by ION graphics processors. It will raise the industry standard for entry-level graphics."
1 Available for Windows and Intel based Mac OS systems, Photoshop CS4 and Photoshop CS4 Extended help save valuable time at every step. Benchmarking results from an independent research study conducted by Pfeiffer Consulting and commissioned by Adobe shows that features in Adobe Creative Suite 4 software can dramatically increase productivity, efficiency and return on investment. The report includes several ways Photoshop CS4 and Photoshop CS4 Extended saves times and money.
About NVIDIA ION graphics processors
NVIDIA ION graphics processors turn up the visuals on small PCs with up to 10X faster graphics performance than similar systems. ION graphics processors provide support for premium Windows Vista features, outstanding media capabilities including 1080p high definition video and Blu-ray movies, and support for popular PC games. ION-based PCs will arrive in the second quarter of 2009 from leading PC manufacturers.
About NVIDIA
NVIDIA (Nasdaq: NVDA) is the world leader in visual computing technologies and the inventor of the GPU, a high-performance processor which generates breathtaking, interactive graphics on workstations, personal computers, game consoles, and mobile devices. NVIDIA serves the entertainment and consumer market with its GeForce graphics products, the professional design and visualization market with its Quadro® graphics products, and the high-performance computing market with its Tesla™ computing solutions products. NVIDIA is headquartered in Santa Clara, Calif. and has offices throughout Asia, Europe, and the Americas. For more information, visit www.nvidia.com.
Certain statements in this press release including, but not limited to, statements as to: the benefits, features, impact, and capabilities of the NVIDIA ION platform and GeForce GPUs, the affects of the NVIDIA ION platform on small form factor notebook and desktop PCs; and the small form factor notebook and desktop PC markets are forward-looking statements that are subject to risks and uncertainties that could cause results to be materially different than expectations. Important factors that could cause actual results to differ materially include: development of more efficient or faster technology; adoption of the CPU for parallel processing; design, manufacturing or software defects; the impact of technological development and competition; changes in consumer preferences and demands; customer adoption of different standards or our competitor's products; changes in industry standards and interfaces; unexpected loss of performance of our products or technologies when integrated into systems as well as other factors detailed from time to time in the reports NVIDIA files with the Securities and Exchange Commission including its Form 10-K for the fiscal period ended January 25, 2009. Copies of reports filed with the SEC are posted on our website and are available from NVIDIA without charge. These forward-looking statements are not guarantees of future performance and speak only as of the date hereof, and, except as required by law, NVIDIA disclaims any obligation to update these forward-looking statements to reflect future events or circumstances.
###
Copyright® 2009 NVIDIA Corporation. All rights reserved. NVIDIA, the NVIDIA logo, NVIDIA ION, GeForce, Quadro, CUDA, and Tesla are trademarks and/or registered trademarks of NVIDIA Corporation in the U.S. and other countries. Other company and product names may be trademarks of the respective companies with which they are associated. Features, pricing, availability, and specifications are subject to change without notice.

Note to editors: If you are interested in viewing additional information on NVIDIA, please visit the NVIDIA Press Room at //www.nvidia.com/page/press_room.html .
###
Copyright© 2016 NVIDIA Corporation. All rights reserved. All company and/or product names may be trade names, trademarks, and/or registered trademarks of the respective owners with which they are associated. Features, pricing, availability, and specifications are subject to change without notice.
Note to editors: If you are interested in viewing additional information on NVIDIA, please visit the NVIDIA Press Room at
http://www.nvidia.com/page/press_room.html