First NVIDIA ION System Raises the Standard for Affordable PC Graphics
For further information, contact:
Ken Brown
NVIDIA Corporation
(408) 486-2626
kebrown@nvidia.com
FOR IMMEDIATE RELEASE: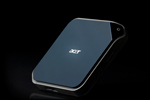 The Acer AspireRevo is the world's first PC to feature NVIDIA ION graphics, which are 5-10x faster than typical integrated graphics.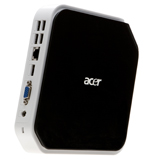 The ION-powered AspireRevo provides an incredible media experience including support for HD video, photos, and games.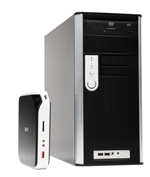 The Acer AspireRevo is much smaller and more energy efficient than traditional desktop systems.

The AspireRevo features 6 USB ports, HDMI, Ethernet, eSATA, a four-in-one card reader, and a VGA connection.
Small but media savvy, the AspireRevo is perfect for uploading digital images or video from your camera to the Internet.
SANTA CLARA, CA—APRIL 7, 2009 — NVIDIA and Acer reshaped the PC landscape today by setting a new standard for small PCs with the introduction of the world's first NVIDIA® ION™ -based PC, the Acer AspireRevo.
No larger than a typical hardcover book, the AspireRevo is a fully capable desktop with advanced graphics and impressive multimedia features. Equipped with NVIDIA ION graphics, the system can handle a wide variety of computing needs including high definition video, gaming, sharing digital photos, surfing the web, and other tasks consumers expect from full-size systems.
The AspireRevo represents a sharp break from 20 years of big, power hungry, and expensive PCs by delivering a full PC experience in a small, energy efficient, and affordable system. NVIDIA ION graphics make this possible with performance that is 5-10 times faster than traditional PCs with integrated graphics.
"The AspireRevo is small and quiet enough to go anywhere, yet big enough to handle all the needs of your digital lifestyle," said Gianpiero Morbello, corporate vice president of marketing for Acer. "It's perfectly suited for the living room, because NVIDIA ION provides a brilliant graphics experience with digital photos, watching video, and playing family-friendly games."
"The Acer AspireRevo with our new NVIDIA ION GPU is so small and powerful it's unbelievable," said Dan Vivoli, senior vice president of marketing at NVIDIA. "Watch Blu-ray movies1 and HD movie trailers, or clean up jerky, dim cell phone videos for internet streaming. This is the perfect PC for today's consumers."
The NVIDIA ION graphics processor in the AspireRevo supports:
Windows Vista Home Premium
Outstanding 1080p HD video with true-fidelity 7.1 audio
DirectX 10 graphics with advanced digital display connectivity
Accelerated video enhancement and transcoding using NVIDIA® CUDA™ technology
About NVIDIA ION graphics processors
NVIDIA ION graphics processors turn up the visuals on small PCs with up to 10X faster graphics performance than similar systems. ION graphics processors provide support for premium Windows Vista features, outstanding media capabilities including 1080p high definition video and Blu-ray movies, and support for popular PC games.
1 Requires an external Blu-ray movie player.
About NVIDIA
NVIDIA (Nasdaq: NVDA) is the world leader in visual computing technologies and the inventor of the GPU, a high-performance processor which generates breathtaking, interactive graphics on workstations, personal computers, game consoles, and mobile devices. NVIDIA serves the entertainment and consumer market with its GeForce graphics products, the professional design and visualization market with its Quadro® graphics products, and the high-performance computing market with its Tesla™ computing solutions products. NVIDIA is headquartered in Santa Clara, Calif. and has offices throughout Asia, Europe, and the Americas. For more information, visit www.nvidia.com.
Copyright® 2009 NVIDIA Corporation. All rights reserved. NVIDIA, the NVIDIA logo, NVIDIA ION, GeForce, Quadro, CUDA, and Tesla are trademarks and/or registered trademarks of NVIDIA Corporation in the U.S. and other countries. Other company and product names may be trademarks of the respective companies with which they are associated. Features, pricing, availability, and specifications are subject to change without notice.
Note to editors: If you are interested in viewing additional information on NVIDIA, please visit the NVIDIA Press Room at www.nvidia.com/page/press_room.html
Certain statements in this press release including, but not limited to, statements as to: the benefits, features, impact, and capabilities of the NVIDIA ION graphics processor and NVIDIA ION GPUs; and the effects of the NVIDIA ION GPU on desktop PCs including the Acer AspireRevo, are forward-looking statements that are subject to risks and uncertainties that could cause results to be materially different than expectations. Important factors that could cause actual results to differ materially include: development of more efficient or faster technology; adoption of the CPU for parallel processing; design, manufacturing or software defects; the impact of technological development and competition; changes in consumer preferences and demands; customer adoption of different standards or our competitor's products; changes in industry standards and interfaces; unexpected loss of performance of our products or technologies when integrated into systems as well as other factors detailed from time to time in the reports NVIDIA files with the Securities and Exchange Commission including its Form 10-K for the fiscal period ended January 25, 2009. Copies of reports filed with the SEC are posted on our website and are available from NVIDIA without charge. These forward-looking statements are not guarantees of future performance and speak only as of the date hereof, and, except as required by law, NVIDIA disclaims any obligation to update these forward-looking statements to reflect future events or circumstances.
###
Copyright© 2016 NVIDIA Corporation. All rights reserved. All company and/or product names may be trade names, trademarks, and/or registered trademarks of the respective owners with which they are associated. Features, pricing, availability, and specifications are subject to change without notice.
Note to editors: If you are interested in viewing additional information on NVIDIA, please visit the NVIDIA Press Room at
http://www.nvidia.com/page/press_room.html