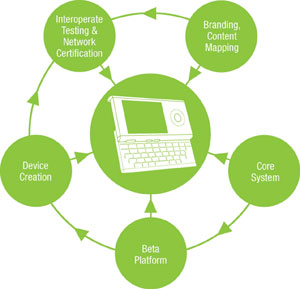 The Fastest, Easiest Way to Build Media-rich Handheld Devices

NVIDIA® MobileMedia is an open multimedia ecosystem based on NVIDIA GoForce ® handheld graphics processing units (GPUs). This ecosystem delivers high-quality TV, games, music, and video on wireless handheld devices. MobileMedia's integrated approach to providing software, silicon, and content empowers device manufacturers to rapidly build content-rich, cost effective handheld devices and operators to efficiently rollout the next-generation services.



The MobileMedia Windows Mobile solutions is based on Windows DirectX architecture, where the primitive pipelines strictly follow the DirectX programming model and open GPU capabilities via DirectX APIs for applications and use cases. You can build your base platforms around MobileMedia and roll out design clones by simply selecting functional pipelines to drive the features, and choosing the GPU to drive the performance. A similar design approach can be adopted to derive design derivatives and revisions.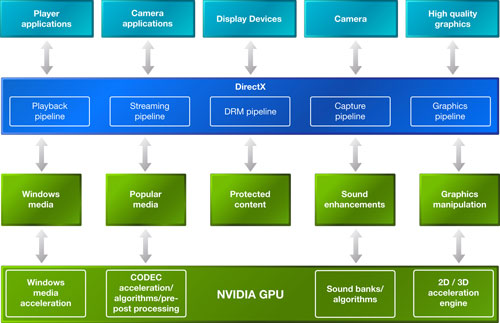 Open standards and end-to-end solutions
Top industry suppliers and domain experts
Begin early, finish faster, prolong production
Ready use cases and proven system setups
Reduced learning curve and negligible adaptation costs
Multiple markets, services and revenue channels




Accelerated Multimedia Codecs
Accelerated Graphics
Ringtones
Device Drivers
TV-Out
Video Telephony and Conferencing
Digital Mobile Television
Streaming Playback