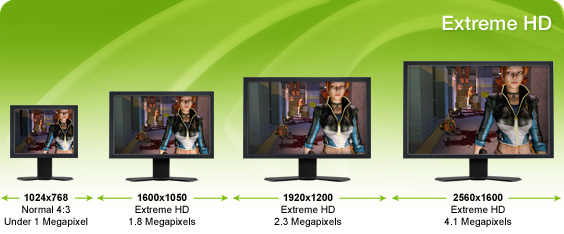 Go beyond standard high definition (HD) and experience Extreme High Definition (XHD), the ultimate widescreen, ultra-high-resolution PC experience made possible by NVIDIA® GeForce® graphics processing units (GPUs). XHD has over 4x the picture clarity of native 1080i HD televisions and 2x the picture clarity of 1080p HD televisions on today's hottest PC games.
Pairing a supported NVIDIA GeForce GPU with an XHD digital display allows you to run your applications in widescreen 16:10 aspect ratios. XHD will immerse you in games like never before, letting you see more of the exciting gaming action. And for users that want more space for photo or video editing, XHD lets you spread your work over the entire desktop providing over 20% more desktop space than normal 4:3 aspect ratio monitors.
XHD even works in conjunction with NVIDIA® ForceWare® software features such as display gridlines, letting you divide up a display into separate regions for each of their applications.
For the ultimate XHD experience, NVIDIA® SLI™ delivers unparalleled gaming experiences by enabling multiple NVIDIA graphics solutions to work together a single system. This combined horsepower delivers increased graphics performance and visual quality, allowing you to turn on every in-game option and the highest antialiasing mode.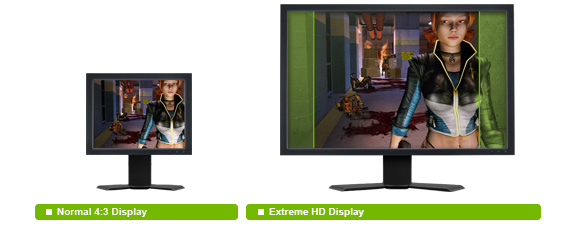 SiN Episodes ©2006 Ritual Entertainment. All Rights Reserved.
SiN Episodes image captured on NVIDIA GPU. Provided by Ritual Entertainment.
Key benefits:
Ultra-high resolution widescreen modes (2560x1600, 1920x1200, and 1680x1050) deliver the highest picture quality available on any consumer platform.
Widescreen aspect ratio format allows you to see more of their PC games, video editing, and even Google Earth.
Top selling XHD titles with stunning cinematic graphics and lifelike characters at blazing speeds are available now (for more information, please visit NZONE).
Integrated dual-link DVI ports of GeForce GPUs* supports XHD digital displays up to 2560x1600.
*The following NVIDIA GeForce GPUs feature dual-link DVI support:
| | | |
| --- | --- | --- |
| GPU | Dual dual-link DVI support | Dual-link DVI support |
| GeForce 7950 GX2 | | |
| GeForce 7900 GTX | | |
| GeForce 7900 GT | | |
| GeForce 7600 GT | | |
| GeForce 7800 GTX 512 | | |
| GeForce 7800 GTX | | |
| GeForce 7800 GT | | |
| GeForce 7800 GT Mac Edition | | |
| GeForce 6800 Ultra 512 | | |
| GeForce 6800 Ultra/GT Mac Edition | | |
| GeForce 6600 Mac Edition | | |
| GeForce 6600 LE Mac Edition | | |