NVIDIA Hosts First Ever "GeForce LAN Party" at Launch
With an unprecedented event, NVIDIA held the first ever "GeForce LAN" Party in conjunction with the launch of its
GeForce™ 6800 Ultra
on Tuesday. Announced mid-March, the event registration quickly filled up to maximum capacity, and gamers eagerly counted down the days until they could compete in NVIDIA's first-ever LAN party, held locally in San Francisco.
Who came?
Over 300 gamers from the San Francisco Bay Area, the Pacific Northwest, and even Europe (!) made the trek to the Nob Hill Masonic Center in San Francisco to participate in one of two single-elimination tournaments. Teams of five competed in
Battlefield Vietnam
, while individuals took each other on in
Unreal Tournament 2004
.
What were they competing for?
The stakes were high at GeForce LAN: single-elimination tournaments quickly separated the best from the rest of the crowd. By 6 PM, only two five-person teams and two individuals remained in the hunt for the ultimate prize: NVIDIA-powered Dream Machines featuring the new
GeForce 6800 Ultra
, a gig of RAM, and an NVIDIA
nForce™3
-based motherboard with an AMD Athlon 64 FX-51 CPU! Runners-up in the tournament received a
GeForce 6800 Ultra
graphics card as a prize.
Did someone say food?
Gamers use up a lot of energy and concentration when their games are on the line, so NVIDIA made sure to keep them well fed with free pizza and Bawls all day long. With enough sugar, caffeine, and pizza to feed a small town, GeForce LAN kept the energy level up!
LAN History
Novalogic was on hand to showcase its upcoming title,
Joint Operations: Typhoon Rising
. During the LAN, Novalogic gave a Q&A session, and engaged attendees in the first-ever 100-person map game—a feat unheard of by today's gaming standards!
Not only did the gamers play all day on machines featuring
GeForce 6800
's, they also got the chance to see first-hand the official product launch of NVIDIA's GeForce 6 Series of GPUs. Sitting among partners, press, and analysts, GeForce LAN attendees got to see the official unveiling of the
GeForce 6800
, as well as some of the hottest technology on the way from EPIC, EA, Crytek, and other developer partners.
Even MORE prizes!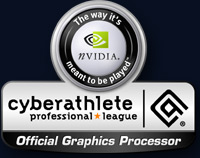 Though most of the gamers did not win any NVIDIA graphics cards in the tournaments, there were still many other opportunities to pick up hardware featuring the
GeForce 6800
. A case-modification contest featured nine entrants, and provided a very difficult decision for the three NVIDIA judges. At the end, this entirely custom Plexiglas computer took home the prize—it's an XBOX and a PC combined into one!
Each attendee also received a raffle ticket good for either a
GeForce 6800 Ultra
, or a trip for to to the Cyberathlete Professional League Summer Championships in Dallas this year!
After the dust settled at GeForce LAN, throngs of gamers walked away in disbelief at what they had experienced: action-packed tournament play, free food and Bawls, unheard of prizes, and a sneak peak at the fastest GPU on the planet!