Operation Kizuna
NVIDIA responded to the devastating earthquake and tsunami that struck Japan's Tohoku region in early 2011 by introducing Operation Kizuna. Kizuna means "bond of love and friendship" in Japanese.

This program is an effort to support the children and families who have suffered as a result of the March 11, 2011 earthquake and tsunami.
In the weeks directly following the Tohoku Earthquake, NVIDIA and its employees raised US $2.75 million for Operation Kizuna. Of the money donated, $500,000 was immediately directed to international aid organizations for relief efforts, followed by another $250,000 to Mercy Corps to provide mental health support for affected children through their art-therapy program.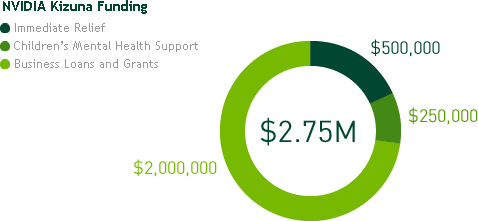 The remaining $2 million will be focused on rebuilding the affected areas. In partnership with Mercy Corps, with support from Tokyo-based PlaNet Finance Japan, we'll provide grants, subsidies and loans to help micro- and small-businesses get back on their feet.
Businesses Helped Through Operation Kizuna
These profiles highlight some of the businesses that are benefiting from this program.