The NVIDIA® Control Panel is NVIDIA's next generation hardware control application that unlocks the award-winning features of NVIDIA drivers. The NVIDIA Control Panel was designed by NVIDIA's dedicated user interface team to revolutionize software ease-of-use and ensure that set-up and configuration of your NVIDIA hardware has never been easier.
Featuring innovative multimedia, application, and display management, as well as gaming features, the NVIDIA Control Panel ensures compatibility, stability, and reliability for all NVIDIA platforms. In addition, the NVIDIA Control Panel is architected for Microsoft® Windows Vista™ and will be fully integrated with the new software infrastructures of its next generation, visually oriented operating system.
Historically, NVIDIA's Control Panel has contained a wealth of settings and adjustments for NVIDIA GPUs and MCPs. In similar fashion, the NVIDIA Control Panel now applies the same depth of control to the rest of the core components within the system. Without ever leaving Windows or entering the BIOS users can optimize and adjust nearly every system component to minimize noise, increase stability, and maximize performance.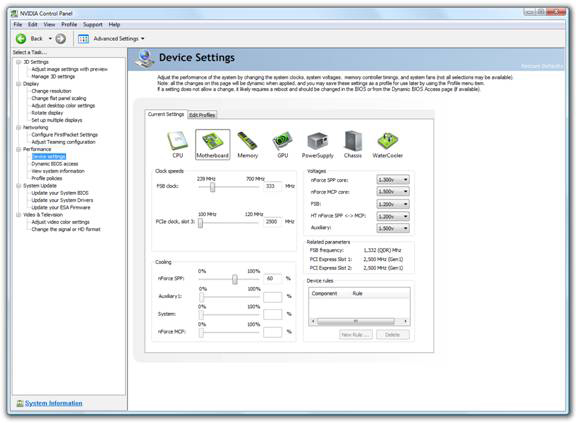 Key GPU Features
Simple steps with interactive pictures and descriptions guide you through set-up
Advanced or beginner views for easy customization
Optimal game quality with a real-time 3D quality preview
HDTV quality settings allow you to take advantage of the latest widescreen panels
Patented NVIDIA Unified Driver Architecture (UDA) supports all of your NVIDIA products
Key MCP features
Adjust motherboard settings: Change system clocks, system voltages, system fans and memory timings
Dynamic BIOS access: Change system BIOS settings without entering the BIOS
Dynamically adjustable memory timings: Change critical memory timings without rebooting and without entering the BIOS
Key Performance Features
New and improved task-driven user interface.
Custom Profiles/Rules: Provides the ability to create or choose preconfigured profiles and rules to customize the circumstances under which different system settings get applied to maximize system stability and performance.
Event logging: Allows the tracking of bus speeds, temperatures, voltages, and profile changes in a log file that may be imported to a spreadsheet application for in-depth analysis.
Fall-back control: Provides the ability to identify the precise profile/rule associated with a crash (profile/rule will be disabled after crash).
System troubleshooting: An automated reporting tool captures all needed information to help you determine when problems may be happening to the system, and helps you troubleshoot.
Improved system monitoring: Temperatures, voltages, and bus speeds are now available as an "always-on-top" window with a transparency option so that it is visible at all times.
Dynamically adjustable voltages and fan speeds: Adjust motherboard voltage levels without a reboot, as well as dynamically control fan speeds. New option for temperature-based fan control.
Please note:
- features may not be available with all NVIDIA nForce models.
- requires BIOS support and may not be available on all motherboard designs.

Download the latest NVIDIA Drivers for your NVIDIA nForce MCP