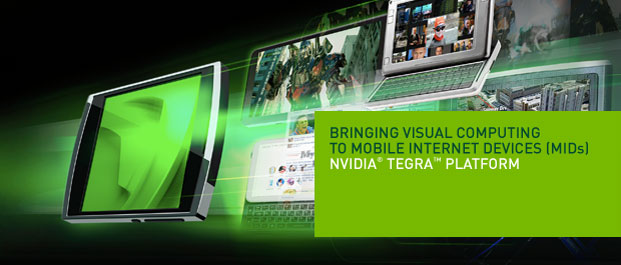 Enabling a New Class of Always-On, Always-Connected HD MIDs
Today's users want an always-connected device for social media applications such as Facebook and YouTube, as well as great multimedia performance for watching HD movies and videos on the go.
The NVIDIA Tegra platform combines an NVIDIA Tegra 600 Series computer-on-a-chip with a complete software solution to enable OEMs to quickly bring to market a new class of always-on, always-connected HD MIDs, such as netbooks. Carriers will be able to offer these devices for as low as US$99—bringing broadband connectivity and all of the Web's HD content to the masses.
The NVIDIA Tegra platform delivers:
720p and 1080p video playback
Days of usage between charges
Optimized hardware support for Web 2.0 applications for a true desktop-class Internet experience
Full Wi-Fi and 3G connectivity
A complete software solution including Microsoft Windows CE OS, application viewers, full Internet browser, UI framework, board support package (BSP), software development kit (SDK), Web mail client, and more
Learn more about NVIDIA at Mobile World Congress