SCALABLE VISUALIZATION
Make viewing and interacting with large-scale rich content a breeze with NVIDIA® Quadro® Scalable Visualization Solutions (SVS). Easily deploy multiple displays across a desktop, build an expansive digital signage wall, or create a stereoscopic 3D CAVE with NVIDIA Quadro solutions, available through certified partners.
Connect up to 16 displays from a single workstation.
Easily expand your display space across multiple monitors with NVIDIA Mosaic technology. Span any application across up to 16 high-resolution displays, from a single workstation, without sacrificing performance or image quality.
4K Support
Easily connect to 4K and Ultra HD displays and projectors whether they require 1, 2 or 4 input connectors. For displays that require multiple inputs, NVIDIA Mosaic technology presents them as a single monitor so almost any application can cleanly and easily scale to the high resolutions.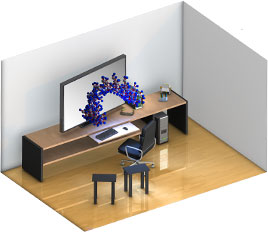 ROBUST Configuration and MANAGEMENT TOOLS
Choose the configuration and management interface that's right for your installation, whether that's the NVIDIA control panel, scriptable command line utilities, the WMI based Enterprise Management Toolkit, or the C based NVAPI.
Display in immersive 3D stereoscopic view.
See and share your work in a stereoscopic 3D environment from a range of active and passive stereo display solutions. With NVIDIA Mosaic technology, NVIDIA® 3D Vision™ Pro solutions, and Quadro GPUs you can view your ideas in true 3D across multiple displays and projectors.
Project in ultra-high resolution.
View graphically rich content with more intricate detail from multiple projectors—including 4K—with Mosaic technology. Quadro high-end solutions deliver advanced features that enable the GPU to perform the geometry and intensity adjustments needed for multi-projector environments. The result is a true single-display experience with multiple projectors.
Build your own multi-display environment with NVIDIA Quadro SVS solutions.
To contact an NVIDIA Quadro SVS expert, email us at QuadroSVS@nvidia.com.