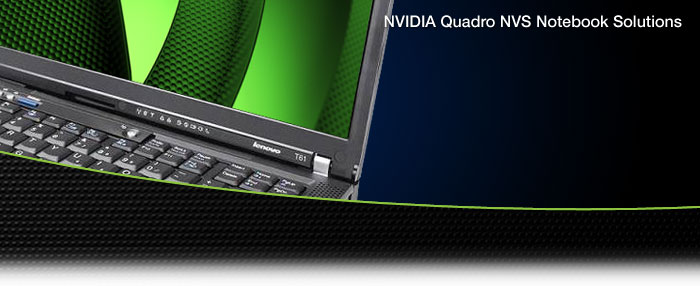 NVIDIA Quadro NVS Notebook Solutions
The Standard for Business Graphics
The award winning Quadro® NVS series is the business standard for optimized performance in graphic applications. Delivering a reliable hardware and software platform for a stable business environment, NVIDIA business graphics solutions are compatible with the latest business applications that meet the demands of today's professional. Whether you are at the office or on the road, get the most from your business applications with a notebook PC powered by NVIDIA Quadro NVS business graphics solutions.

New solutions:
Quadro NVS 160M and Quadro NVS 150M

Additional solutions:
Quadro NVS 510M, Quadro NVS 320M, Quadro NVS 300M, Quadro NVS 140M, Quadro NVS 135M, Quadro NVS 130M, Quadro NVS 120M, and Quadro NVS 110M.
Key Features
Reliability: A total hardware and software solution provides a worry-free environment.
Stability: The stable architecture provides a dependable solution for today and into the future.
Ease-of-Use: Simple-to-use IT management tools deliver easy deployment and maintenance.
Industry-Leading Graphics: Renowned NVIDIA graphics include compatibility testing for all of the latest business applications.