Solution
---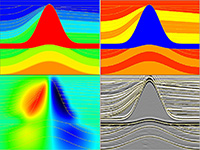 Transverse Anisotropy (TTI) model and RTM PSDM. The exploration objectives are the sand layers around the salt and the 4-way structure beneath the salt body.
The computational cost of RTM PSDM is very high. In order to be able to migrate a broader frequency range, a small cell size needs to be used as the numerical grid. This results in large computer memory requirements as well as an enormous number of floating point operations. These two limitations very often lead to the use of a band limited selection of the input seismic data resulting in low frequency RTM PSDM. The motivation to overcome these limitations in the implementation of RTM PSDM led SeismicCity and NVIDIA to work together to achieve two goals.
The first goal is to be able to migrate the full frequency range without creating significant numerical dispersion of the propagated wavefield. A solution to that was accomplished by using newly developed recursive operators numerical solution that are able to accurately compute spatial derivatives without the need to use a very small operational grid.
The second goal in the implementation of the new generation of RTM PSDM is to adapt the software to a specific hardware configuration capable of performing a very high number of floating point operations in a short time. While searching for the right hardware platform, SeismicCity found the new K80 GPU to be the right solution for the newly developed algorithm.
SeismicCity's research and development staff collaborated with NVIDIA experts to adopt and optimize the new algorithm for a CPU / GPU hardware where the computational kernel is done on the K80 GPU. The high throughput that the K80 provides enabled SeismicCity to offer this new generation of RTM PSDM to its clients, providing images of the subsurface more accurate than ever before possible.
For more information, visit: //www.seismiccity.com/RTM.html