FOLLOW US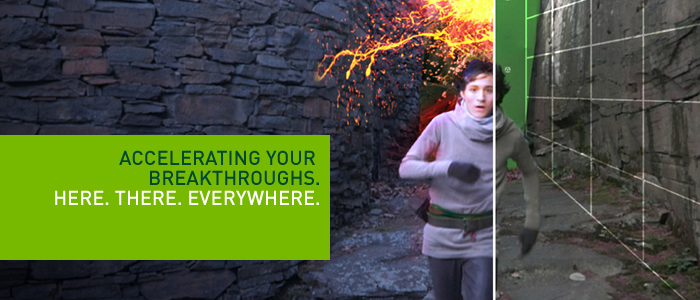 Even if you couldn't make it to Siggraph this year, you can still view the on-demand NVIDIA and partner sessions. Check out the schedule below for what occurred each day.
Our theme at the show – "here, there and everywhere" – hints at how the latest Quadro technology accelerating breakthroughs are changing how graphics pros do business.
Here, at the desktop. We're showcasing solutions with maximum visualization and computational performance with our next-gen Kepler-based Maximus technology.
There, in the cloud. NVIDIA VGX demos will preview how graphics technology is headed into the cloud.
And everywhere, via mobile devices. Tegra 3-enabled mobile devices, like Google's Nexus 7, will be used to demo how pros can access workflows without compromise, wherever they are.
Tuesday, August 7, 2012
9:30 AM - 10:00 AM

Ad Agencies in Motion: Keep It Moving!


Pagogh Cho, Vice President, Innovation, Adcetera

More Info

View On-Demand
10:00 AM - 10:30 AM

NVIDIA Maximus - The World's Most Powerful Visual Supercomputing Platform for Modern Workstations


Sandeep Gupte, Senior Director, Product Marketing, NVIDIA
Scott Fitzpatrick, Product Manager, NVIDIA

More Info

View On-Demand
10:30 AM - 11:00 AM

V-Ray and RT Rendering on Ben + Jerry's


Kirk Shintani, CG Lead, a52

More Info

View On-Demand
11:00 AM - 11:30 AM

Scaling Resolution with the Quadro SVS Platform


Andrew Page, Sr. Product Manager, Advanced Technologies, NVIDIA Quadro

More Info

View On-Demand
11:30 AM - 12:00 PM

Vision Research Simulator Built by NASA for the USAF Using Various COTS Technologies


Kenji Kato, Senior Database Engineer, NASA
John Archdeacon, Principal Engineer and OBVA IG Manager, NASA

More Info

View On-Demand
12:00 PM - 12:30 PM

Quadro for Developers


Ian Williams, Director of Applied Engineering, NVIDIA
Shalini Venkataraman, Senior Applied Engineer, NVIDIA

More Info

View On-Demand
12:30 PM - 1:00 PM

GPU Visualization at Nike


Brad Clarkson, Sr. Technology Manager, Digital Enablement, Nike Inc.
*Note: This session was not streamed live.

More Info

1:00 PM - 1:30 PM

Accelerating High-End 2D Image Processing and Compositing with CUDA


Jon Wadelton, Nuke Product Manager, The Foundry

More Info

View On-Demand
1:30 PM - 2:00 PM

Making Waves, the Visual Effects of Battleship


Willi Geiger, CG Supervisor, ILM
*Note: This session was not streamed live.

More Info

2:00 PM - 2:30 PM

GPUs and Ice Age: Continental Drift at Blue Sky Studios


Hugo M. Ayala, Senior Research Associate, Blue Sky Studios
*Note: This session was not streamed live.

More Info

2:30 PM - 3:00 PM
Simplifying the Motion Graphics Workflow –
GPU-Accelerated 3D Raytracing in Adobe After Effects
Steve Forde, Senior Product Manager, Visual Effects, Adobe

More Info

View On-Demand
3:00 PM - 3:30 PM

Rony Soussan Presents eyeon Fusion on Anonymous with NVIDIA Maximus


Rony Soussan, Compositing Supervisor,
Uncharted Territory/eyeon

More Info

View On-Demand
3:30 PM - 4:00 PM

Creating the Hulk & the VFX of The Avengers


Jeff White, Visual Effects Supervisor, ILM
*Note: This session was not streamed live.

More Info

4:00 PM - 4:30 PM

An Introduction to Mari


Jack Greasley, Mari Product Manager, The Foundry

More Info

View On-Demand
4:30 PM - 5:00 PM

CATIA V6 Using Full Power of Quadro


Pierre Maheut, Product Marketing Specialist, CATIA for Creative Designers, Dassault Systèmes

More Info

View On-Demand
5:00 PM - 5:30 PM

Sony Pictures Imageworks Presents Men in Black 3


Theo Vandernoot, Effects Supervisor, Sony Pictures Imageworks
*Note: This session was not streamed live.
5:30 PM - 6:00 PM

nvFX : A New Scene and Material Effect Framework for OpenGL and DirectX


Tristan Lorach, Developer Relations Senior Engineer, NVIDIA

More Info

View On-Demand
Wednesday, August 8, 2012
9:00 AM - 10:30 AM

Scaling OpenGL Transfers and Rendering


Shalini Venkataraman, Senior Applied Engineer, NVIDIA



Mixing Graphics and Compute


Alina Alt, Senior Applied Engineer, NVIDIA



Developing an Optimized Maya Plugin Using CUDA and OpenGL


Wil Braithwaite, Senior Applied Engineer, NVIDIA

More Info

View On-Demand


*The audio for this session starts at :08 minutes.

10:40 AM - 11:40 AM

Enabling the Next-Generation of Computational Graphics with Nsight Visual Studio Edition


Jeff Kiel, Manager, Graphics Related Developer Tools, NVIDIA

More Info

View On-Demand
11:50 AM - 12:50 PM

NVIDIA OpenGL in 2012


Mark Kilgard, Principal Software Engineer, NVIDIA

More Info

View On-Demand
1:00 PM - 1:30 PM

What's New in CUDA 5


Mark Ebersole, CUDA Educator, NVIDIA

More Info

View On-Demand
1:30 PM - 2:30 PM

4 Approaches to GPU Computing


Mark Ebersole, CUDA Educator, NVIDIA

More Info

View On-Demand
2:40 PM - 3:40 PM

GPU-Accelerated 2D and Web Rendering


Mark Kilgard, Principal Software Engineer, NVIDIA

More Info

View On-Demand
3:50 PM - 4:50 PM

GPU Ray Tracing and OptiX


David McAllister, OptiX Manager, NVIDIA, OptiX Group
Phillip Miller, Director, Workstation Software Product Management, NVIDIA

More Info

View On-Demand
5:00 PM - 6:00 PM

NVIDIA GPU Virtualization


Will Wade, Manager, Quadro Advanced Technologies, NVIDIA
Ian Williams, Director of Applied Engineering, NVIDIA

More Info

View On-Demand
9:30 AM - 10:00 AM

Quadro for Developers


Ian Williams, Director of Applied Engineering, NVIDIA

More Info

View On-Demand
10:00 AM - 10:30 AM

Simplifying the Motion Graphics Workflow – GPU-Accelerated 3D Raytracing in Adobe After Effects


Steve Forde, Senior Product Manager, Visual Effects, Adobe

More Info

View On-Demand
10:30 AM - 11:00 AM

Scaling Resolution with the Quadro SVS Platform


Andrew Page, Sr. Product Manager, Advanced Technologies, NVIDIA Quadro

More Info

View On-Demand
11:00 AM - 11:30 AM

An Introduction to Mari


Jack Greasley, Mari Product Manager, The Foundry

More Info

View On-Demand
11:30 AM - 12:00 PM

V-Ray and RT Rendering on Ben + Jerry's


Kirk Shintani, CG Lead, a52

More Info

View On-Demand
12:00 PM - 12:30 PM

GPUs and Ice Age: Continental Drift at Blue Sky Studios


Hugo M. Ayala, Senior Research Associate, Blue Sky Studios
*Note: This session was not streamed live.

More Info

12:30 PM - 1:00 PM

Sony Pictures Imageworks Presents Men in Black 3


Theo Vandernoot, Effects Supervisor, Sony Pictures Imageworks
*Note: This session was not streamed live.
1:00 PM - 1:30 PM

NVIDIA Maximus - The World's Most Powerful Visual Supercomputing Platform for Modern Workstations


Sandeep Gupte, Senior Director, Product Marketing, NVIDIA
Scott Fitzpatrick, Product Manager, NVIDIA

More Info

View On-Demand
1:30 PM - 2:00 PM

A Novel Material Rendering Technology


Thomas Ullmann, Product Line Manager DeltaGen, RTT AG

More Info

View On-Demand
2:00 PM - 2:30 PM

RealFlow 2013: Jumping on the GPU Bandwagon with Hybrido2


Angel Tena, RealFlow Lead Developer, NextLimit

More Info

View On-Demand
2:30 PM - 3:00 PM

Accelerating High-End 2D Image Processing and Compositing with CUDA


Jon Wadelton, Nuke Product Manager, The Foundry

More Info

View On-Demand
3:00 PM - 3:30 PM

OpenSubdiv: High Performance GPU Subdivision Surface Drawing


Manuel Kraemer, Pixar

More Info

View On-Demand
3:30 PM - 4:00 PM

Vision Research Simulator Built by NASA for the USAF Using Various COTS Technologies


Kenji Kato, Senior Database Engineer, NASA

More Info

View On-Demand
4:00 PM - 4:30 PM

Graphics in the Cloud: How NVIDIA is Enabling Cloud Visualization


Will Wade, VGX Product Line Manager, NVIDIA

More Info

View On-Demand
4:30 PM - 5:00 PM

Rony Soussan Presents eyeon Fusion on Teen Wolf with NVIDIA Maximus


Rony Soussan, Compositing Supervisor, Eden FX/eyeon

More Info

View On-Demand
5:00 PM - 5:30 PM

Accelerating Simulation and Analysis with Hybrid GPU Parallelization and Cloud Computing


Devin Jensen, Operations Director, Altair Engineering
*Note: This session was not streamed live.

More Info

5:30 PM - 6:00 PM

Voxel Cone Tracing and Sparse Voxel Octree for Real-time Global Illumination


Cyril Crassin, Postdoctoral Research Scientist, NVIDIA Research

More Info

View On-Demand
Thursday, August 9, 2012
9:30 AM - 10:00 AM

Graphics in the Cloud: How NVIDIA is Enabling Cloud Visualization


Will Wade, VGX Product Line Manager, NVIDIA

More Info

View On-Demand
10:00 AM - 10:30 AM

nvFX : A New Scene and Material Effect Framework for OpenGL and DirectX


Tristan Lorach, Developer Relations Senior Engineer, NVIDIA

More Info

View On-Demand
10:30 AM - 11:00 AM

Simplifying the Motion Graphics Workflow: GPU-Accelerated 3D Raytracing in Adobe After Effects


Steve Forde, Senior Product Manager, Visual Effects, Adobe

More Info

View On-Demand
11:00 AM - 11:30 AM

Accelerating High-End 2D Image Processing and Compositing with CUDA


Jon Wadelton, Nuke Product Manager, The Foundry

More Info

View On-Demand
11:30 AM - 12:00 PM

Vision Research Simulator Built by NASA for the USAF Using Various COTS Technologies


Kenji Kato, Senior Database Engineer, NASA

More Info

View On-Demand
12:00 PM - 12:30 PM

Visual Computing for Computational Photography and Computer Vision


Kari Pulli, Senior Director, Research, NVIDIA

More Info

View On-Demand
12:30 PM - 1:00 PM

Sony Pictures Imageworks Presents Men in Black 3


Theo Vandernoot, Effects Supervisor, Sony Pictures Imageworks
*Note: This session was not streamed live.
1:00 PM - 1:30 PM

Accelerating Simulation and Analysis with Hybrid GPU Parallelization and Cloud Computing


Devin Jensen, Operations Director, Altair Engineering
*Note: This session was not streamed live.

More Info

1:30 PM - 2:00 PM

An introduction to Mari


Jack Greasley, Mari Product Manager, The Foundry

More Info

View On-Demand
2:00 PM - 2:30 PM

OpenSubdiv: High Performance GPU Subdivision Surface Drawing


Dirk Van Gelder, Pixar

More Info

View On-Demand
2:30 PM - 3:00 PM

Massive Crowds on GPU


Samuel Gateau, DevTech Engineer, NVIDIA

More Info

View On-Demand