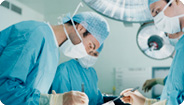 The Embrace Heart Stabilizer is widely used in hospitals and marketed by Johnson & Johnson.

When performing coronary bypass surgery, surgeons must position the heart and stabilize the coronary artery, which is traditionally done by stopping the heart and using a heart-lung bypass machine to keep the patient alive. This procedure is not only extremely invasive, it is high risk and involves taking the patient to near death. The challenge for Strategix Vision, a Montana-based design firm, was to design a new device to stabilize the heart during surgery to allow for off-pump bypass surgery (also known as "beating heart" bypass surgery).



3D rendering of the Embrace Heart Stabilizer, created with Solidworks software and NVIDIA graphics.

Utilizing NVIDIA graphics technology on workstations running SolidWorks CAD software, Strategix Vision designed the Embrace Heart Stabilizer, a device that stabilizes a portion of the heart during surgery without stopping the entire heart. With this product, which is widely used and marketed by Johnson & Johnson, heart surgery is less traumatic, has fewer complications, and often cuts recovery time in half.


The Embrace Heart Stabilizer was recognized by BusinessWeek Magazine with a Gold "IDEA Award" for design excellence. The magazine commented: "Embrace is an example of innovation in function. Design put to good use to save lives."

Marty Albini of Strategix Vision adds: "NVIDIA technology enabled us to present our CAD-based work to people in a clear and visually compelling way, resulting in increased product understanding and better business opportunities. We also like the fact that NVIDIA graphics allow us to get ray-traced views of the parts we are designing. Out of all our choices, NVIDIA creates the best value for us in the long term."
More Information
For more information, please visit: www.strategixvision.com.

To learn more about SolidWorks software, please visit: www.solidworks.com.

Also, take a look at the prestigious BusinessWeek Gold IDEA Award here.
Credit: CardioVations ETHICON, Inc., a JOHNSON & JOHNSON Company; Herbst LaZar Bell Inc (Inc); Avail Medical Products Inc.; and Strategix Vision.