Murex Analytics on Tesla GPUs
For twenty five years Murex has focused exclusively on developing software platforms and technologies for the capital markets.

The Murex trading platform enables trading, risk management, and trade execution across multiple asset classes for over 36,000 users at over 200 institutions in 65 countries.
Murex MACS
Murex's clients are increasingly demanding massive acceleration for fast and accurate calculation of pricing and risk sensitivities. In response Murex has invested heavily in targeting NVIDIA GPUs for high-performance computing using the Murex MACS analytics library. The MACS analytics library provides valuation models and sensitivities (greeks) for complex structured securities.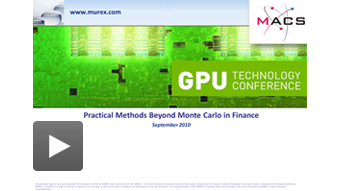 Murex Presentation: Practical Methods Beyond Monte Carlo in Finance GPU Technology Conference 2010
The Value of GPUs
Using NVIDIA Tesla GPUs, Murex has achieved speedups of between 60 and 400 times using MACS in a grid environment, making it possible to manage books of complex exotic products in near real time, instead of only computing analytics once or twice a day.
As a result MACS clients can enjoy more accurate and timely risk management.
Murex MACS can spend the bulk of its cycles on several types of computations: Monte Carlo simulations, PDE solvers, and numerical calibration. As a result, highly accurate and fast double precision calculations, along with the robustness of ECC memory, are must-have hardware requirements for most banking customers.
| | |
| --- | --- |
| Figure 1 - Time to price a 15 year cancellable range accrual on a CMS (Constant Maturity Swap) Spread, using a 2-factor HJM (Heath-Jarrow-Morton) model with 1 million Monte Carlo simulation paths. The model uses a full term structure for volatilities and includes calibration of correlations. | Figure 2 - Time to compute over 150 sensitivities of a cancellable range accrual on a CMS 30Y & 3M basis (30 year Constant Maturity Swap, reset quarterly) priced with a Markov functional PDE model. The SABR input smile, mean reversion and term structure of volatilities are numerically recalibrated for each market data bump. |
Recommended Professional Products
Murex develops and tests on datacenter solutions equipped with the latest Tesla 10-series and 20-series GPU products.

Tesla solutions are designed to deliver the highest computational performance with the most reliable numerical accuracy, while also providing tools and features to deliver the level of enterprise support and manageability demanded by banking IT professionals. Tesla datacenter products are available and supported by the world's leading professional system manufacturers.
Tesla Benefits

Highest Computational Performance


>

High-speed double precision operations


>

Large dedicated memory


>

High-speed bi-directional PCIe communication


>

NVIDIA GPUDirect™ with InfiniBand
Most Reliable


>

ECC memory


>

Rigorous stress testing
Best Supported


>

Professional support network


>

OEM system integration


>

Long-term product lifecycle


>

3 year warranty


>

Cluster & system management tools
(server products)


>

Windows remote desktop support

RECOMMENDED TESLA SERVER CONFIGURATION

Recommended Server Node Configuration


>

Dual CPU* socket servers


>

Server system memory equal to (or greater than)
total memory for all GPUs


>

Two or more Tesla M2090 GPUs** per server

* Xeon or equivalent
** GPU density per node will be workload dependent
NVIDIA Tesla products are available from all major OEMs. Only Tesla GPU computing products are designed and qualified for compute grid and cluster deployment.
Buy Optimized Tesla Systems
We partner with our system vendors to provide optimal solutions that accelerate your workload. Buy now and enjoy all the benefits of GPU-acceleration for Murex.
Recommended Workstation Platforms
IBM BladeCenter GPU Expansion Blade
The IBM® BladeCenter® GPU Expansion Blade provides the capability to attach next-generation graphics processing unit (GPU) technology to IBM BladeCenter H with the HS22 blade server. The IBM BladeCenter GPU Expansion Blade is stackable, allowing Murex customers to stack up to four GPU Expansion Blades on a single-base compute blade, thereby offering a unique density advantage.
Other Featured Partners and Resellers
HP ProLiant SL390s Servers for GPU-accelerated HPC
HP ProLiant SL390s Server—HP's second generation of GPU-enabled systems—has been specially designed to be the industry's best platform for GPU computing. The SL390s G7 systems offer all the richness of the HP ProLiant heritage. Murex users can choose from 1U HP ProLiant SL390s G, or 2U ½ width HP ProLiant SL390s G7 servers with up to three integrated NVIDIA Tesla 20 Series GPUs or the 4U ½ width with up to 8 GPUs with the ability to put 16GPUs and 2 servers in 4U.
Dell PowerEdge C410x PCIe Expansion Chassis
Packed with the most computational power in a 3U form factor with 16 Tesla M2050 computing processors, the Dell PowerEdge C410x is a perfect platform to expand existing grids for Murex customers.
For a complete list of Tesla Preferred Providers, click here.