NVIDIA QUADRO VCA
Scalable, Interactive Physically Based Rendering


NVIDIA® Iray®: A photo real rendering solution licensed to leading software manufacturers like Dassault Systèmes and Autodesk. Use your favorite Iray-enabled application, connect to the Quadro VCA, and enjoy the fastest rendering experience possible. You can also combine multiple Quadro VCAs to improve interactive quality until the experience is like walking around a physical model, catching every nuance of light and reflection as you manipulate the model or scene. This is made possible with an Iray rendering mode which is exclusive to Quadro VCA.
Iray is available as the rendering engine in many popular 3D content creation applications. Together with our software integration partners, we created state-of-the-art workflows that give their customers access to photo real and physically based rendering using Iray.
Iray & Quadro VCA Compatible Applications
The following applications are compatible with the Quadro VCA. Everyone from designers to visual effects specialists can take advantage of Iray to create stunning imagery.
Iray plugins from NVIDIA
Integrated Iray Solutions

"Powered by NVIDIA Quadro VCA, CATIA Live Rendering App, part of the 3DEXPERIENCE portfolio, will allow designers to have real time interactions with 3D virtual models as it was in real life"
Philippe Laufer CATIA CEO, Dassault Systèmes.

"Not only was I blown away with Iray 2015 but I was also so impressed with the speed, power, and remote access offered by Quadro VCA."
Vincent Brisebois DAZ 3D, VP Product Development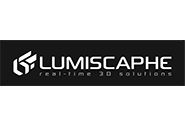 HOW Iray WORKS
Every Iray plugin and native integration includes the ability to send rendering work directly to the Quadro VCA instead of using the local system resources. Within the Iray settings interface, you must specify the IP address of your visual computing cluster. When connected, texture and geometry data is transferred and cached onto the cluster. The visual computing cluster is responsible for dividing the render work among all the VCAs in the cluster and collecting the results. The final rendered image is interactively streamed to the application in either 16-bit lossless, JPEG, or H.264.