Vizrt is the world's leading provider of high-definition (HD) and standard-definition (SD) real-time 2D and true 3D broadcast graphics.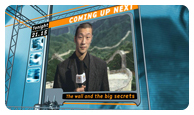 Vizrt enables creative blends of live feeds and 3D graphics for newscasts.

The challenge is to offer a complete graphics solution including:
Character generation
Content management and newsroom integration
3D tickers
Virtual studio
3D weather application with data integration
Software map creation tools
Virtual sports analysis
Information display
Virtual effects



Vizrt's unique technology centers on real-time graphics, mostly 3D, and consists of three important software components: design, management and rendering (playout). Of the three, it is real-time 3D rendering that has made Vizrt unique. Vizrt uses NVIDIA® graphics technology along with NVIDIA® PureVideo™ technology to provide ease in integration of real-time 2D and 3D rendering for broadcasting or video editing environments. NVIDIA and Vizrt deliver the ultimate in speed to generate a vast amount of graphical elements used for live events.



Broadcast television customers including: CNN, CBS, BBC, Sky, ITN, ZDF, Star TV, TV Today, and NHK (New York and London stock exchange studios, Lehman Brothers), and many others can experience the ease of use and exceptional benefits of using Vizrt and NVIDIA technology for broadcasting. These broadcasters pass the ultimate visual entertainment experience directly to end users.
More Information
For more information about Vizrt, please visit: www.vizrt.com.
Images courtesy of Vizrt.