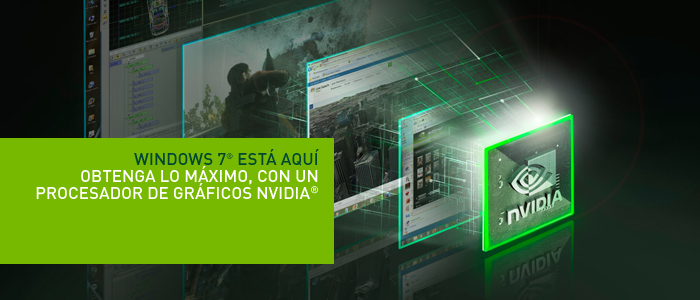 | | |
| --- | --- |
| Obtenga lo máximo de Windows® 7. Un procesador de gráficos NVIDIA® ION™, NVIDIA® GeForce® o NVIDIA® Quadro®* en su PC le permitirá aprovechar todos los recursos nuevos e irresistibles incluidos con Windows 7. Las GPU NVIDIA ofrecen una experiencia superior, visualmente asombrosa, en PC de escritorio y portátiles. Para obtener la mejor experiencia de computación, NSIST EN NVIDIA™. | |
Explore Windows 7
PARA CASA
Si usted utiliza su PC para mejorar las fotos, editar videos, ver películas, jugar a juegos, o si simplemente desea una rápida y eficiente de escritorio, NVIDIA GeForce y procesadores gráficos ION proporcionan una experiencia superior en Windows 7.

PARA PROFESIONALES
Si es un diseñador en desarrollo de automóviles, un artista 3D que trabajan en la próxima película, o un operador financiero en Wall Street, las soluciones NVIDIA Quadro entregan inigualable potencia y el rendimiento de una sólida plataforma estable para Windows 7.
"Esperamos que Windows 7, junto con las tecnologías de gráficos de NVIDIA, brinden el rendimiento fundamental con el que cuentan nuestros consumidores mutuos. Las tecnologías de gráficos de NVIDIA les permiten a las aplicaciones aprovechar los recursos visuales de Windows 7, por ejemplo, la manipulación de fotos, vídeo y gráficos en 3D. La experiencia y el conocimiento técnico de NVIDIA en materia de computación visual la ha transformado en una contribuidora clave para el desarrollo de Windows 7."
Mike Nash
Vicepresidente Corporativo de la Administración de Producto de Windows
Microsoft Corporation


*Para obtener una lista completa de GPU compatibles click aquí.
Terminator Salvation image used with permission from The Halcyon Company and EGI – Equity Games Production AG. All rights reserved.