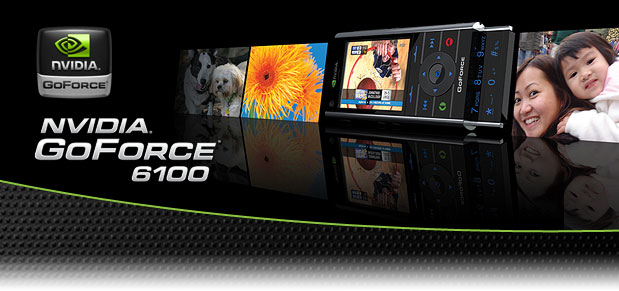 NVIDIA GoForce 6100 - the Highly Integrated and Power Optimized Mobile Multimedia Experience

Running highly integrated media features on your phone often meant that there had to be a trade off between battery life and multimedia content processing and voice calls. This no longer has to be the case.

The GoForce® 6100® is a highly integrated multimedia applications processor that combines the flexibility of highly optimized DSP technology with hardwired acceleration to deliver the ultimate power optimization – consuming less than half the power of other application processors available on the market today. As a result, the NVIDIA GoForce 6100 delivers rich multimedia features to the mobile entertainment and communications market, enabling mainstream users to enjoy more – more moments in their life with more time left on the battery life.

An ideal mix of interfacing, connection, integration, multimedia and ultra-low power features, GoForce 6100 has been designed from the ground up to enable fast time to market for award-winning connected and mobile products in 2007 and 2008.



Dedicated high performance 250MHz ARM1176JZ-S core
Hardwired acceleration for all processing-intensive multimedia and security functions
H.264, WMV9/VC-1, and MPEG-4 at up to VGA resolution, 30fps
Up to 10 megapixel camera sensor support
Support for all available DRM formats
Fully integrated, high quality analog audio subsystem
Integrated TV encoder and video DACs

Ultra low power consumption even when running high-performance media features
Compatible with multiple network standards, including DVB-H, ISDB-T and DMB
Turn key, flexible and highly optimized software and multimedia firmware platform for shorter design cycles
iPod quality audio playback
Dedicated imaging pipeline for high performance mobile photography
Drives LCD displays up to WVGA resolution
S-Video TV-out
Connects to any network – Up to 3G cellular (HSDPA), WiFi , Bluetooth, GPS, WiMax