NVIDIA Tesla K80
The World's Most Popular GPU

LOWER DATA CENTER COSTS. BOOST PERFORMANCE.
The NVIDIA® Tesla® K80 Accelerator dramatically lowers data center costs by delivering exceptional performance with fewer, more powerful servers. It's engineered to boost throughput in real-world applications by 5-10x, while also saving customers up to 50% for an accelerated data center compared to a CPU-only system. This increased throughput means more scientific discoveries delivered to researchers every day, or better user engagement for web services.
Discover what the Tesla K80 can do for your applications.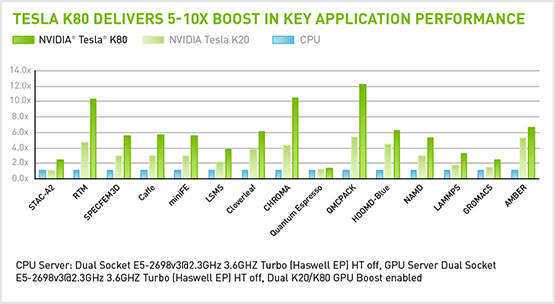 More than 500 industry-leading applications already support NVIDIA GPUs, including 15 of the top 15 HPC applications. With features like dual-GPU design and Dynamic GPU Boost, Tesla K80 is built to deliver superior performance in these applications. Tesla is the world's leading platform for the accelerated data center, with innovations in interconnect technologies like GPU direct RDMA, popular programming models like NVIDIA CUDA® and OpenACC, and hundreds of accelerated applications and libraries.
---
Tesla K80 Accelerator Features and Benefits
4992 NVIDIA CUDA cores with a dual-GPU design
Up to 2.91 teraflops double-precision performance with NVIDIA GPU Boost
Up to 8.73 teraflops single-precision performance with NVIDIA GPU Boost
24 GB of GDDR5 memory
480 GB/s aggregate memory bandwidth
ECC protection for increased reliability
Server-optimized to deliver the best throughput in the data center
---
Tesla K80 Product Literature
Test Drive NVIDIA Tesla
GPUs Accelerators
Free and preloaded with applications
Buy a Tesla K80
System Today
Purchase your Tesla K80 system from one of our partners