It's a great week to be a PC gamer! In addition to several new game launches, BattlefieldTM V has added DLSS to boost performance on GeForce RTX GPUs, and the much-anticipated Metro Exodus launches on February 15th with ray tracing and DLSS.
For all the details read on.
Battlefield V: RTX ON - The Way It's Meant To Be Played
In Battlefield V's latest update, EA, NVIDIA and DICE have introduced further optimizations for DXR ray tracing, and have added NVIDIA DLSS, which increases framerates by up to 40%.
"With the realistic visuals of ray traced reflections and the higher resolution DLSS brings, RTX On is the way to play Battlefield V! - Eneko Bilbao, Head of Technology, EA Studios Europe
Unfamiliar with DLSS? Deep Learning Super Sampling (DLSS) is an NVIDIA RTX technology that uses the power of deep learning and AI to improve game performance while maintaining visual quality. DLSS helps players achieve smooth frame rates with graphically-intensive settings, boosting framerates when your GPU is under heavy load.
DLSS is available with the following GPUs, with DXR ray tracing turned on, at the resolutions listed below:
3840x2160: All RTX GPUs
2560x1440: RTX 2060, 2070, and 2080
1920x1080: RTX 2060 and 2070
Now, you can play Battlefield V with DXR ray tracing at higher settings, resolutions and detail levels across our entire range of GeForce RTX GPUs, thanks to the addition of DLSS. The following are our new recommended settings for 60 FPS Battlefield V gameplay*:
RTX 2060: 2560x1440, High Quality Preset, Medium DXR, DLSS On
RTX 2070: 2560x1440, Ultra Quality Preset, Medium DXR, DLSS On
RTX 2080: 2560x1440, Ultra Quality Preset, Ultra DXR, DLSS On
RTX 2080 Ti: 3840x2160, Ultra Quality Preset, Ultra DXR, DLSS On
To turn on DXR ray tracing and DLSS in Battlefield V on GeForce RTX PCs and laptops, follow these steps:
Install our new Game Ready Driver
Install Windows 10 October 2018 update (version 1809, or higher)
Download the new February 13th Battlefield V game update from Origin
With everything installed and updated, head to the Graphics Setting menu in Battlefield V, enable DirectX 12, restart the game if prompted, click on Advanced Settings, enable DXR and restart the game if prompted, enable NVIDIA DLSS, then scroll down and select a detail level for the "DXR Reflections Quality" setting.
Metro Exodus Launching With Ray Tracing, DLSS and More on February 15th
It's been nearly 6 years since Metro: Last Light wowed gamers with great gameplay and jaw-dropping graphics. But now, Metro Exodus is ready to leave the station, offering franchise fans a radical departure that advances the story and opens the door to new gameplay opportunities.
NVIDIA worked closely with developer 4A Games on Last Light, and 2010's Metro 2033, and we're pleased to announce that this partnership has continued throughout the development of Metro Exodus. Meaning, Metro Exodus will launch on February 15th with Ray Tracing, DLSS, HairWorks, PhysX, Ansel, and Highlights, giving GeForce RTX users the definitive PC experience.
"Thanks to Ray Traced Global Illumination, RTX provides vastly-improved natural lighting resulting in a richer, more immersive, realistic world, with graphical fidelity that was previously beyond our reach." - Dean Sharp, CEO, 4A Games
In Metro Exodus, real-time Ray-Traced Global Illumination is debuted, enabling scenes to be illuminated naturally by the sun and sky, and be realistically affected as the sun's position changes during the day. This gives scenes realistic levels of brightness and darkness, greatly improving image quality, realism and immersion, bringing Metro Exodus closer to replicating the look and feel of the real-world than any other game to date. When it's supposed to be dark, it will be, so be ready to make use of your in-game flashlight.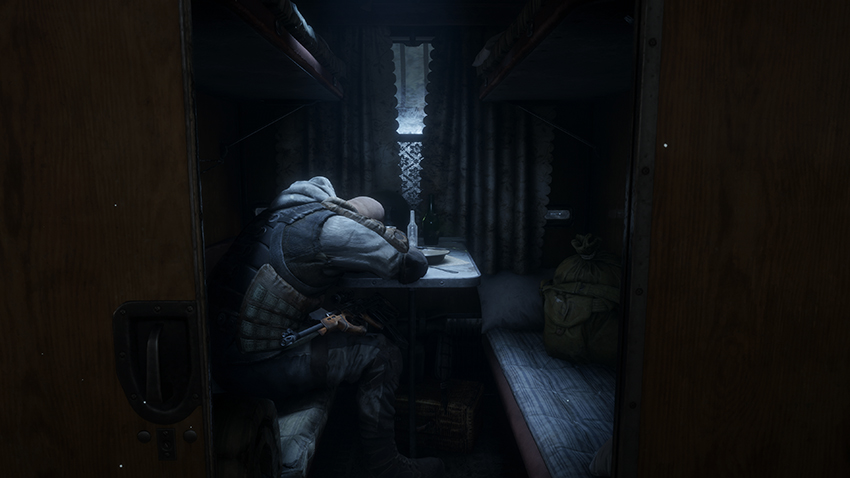 With Ray Tracing enabled, this evening scene is realistically illuminated, naturally darkening the soldier's surroundings
Furthermore, Ray-Traced Ambient Occlusion is utilized for the first time in a game, enabling 4A to calculate and display AO's contact shadowing based on the geometry of the scene. That ensures objects are grounded, and that shadows where two objects meet, or where detail is occluded, are more realistic.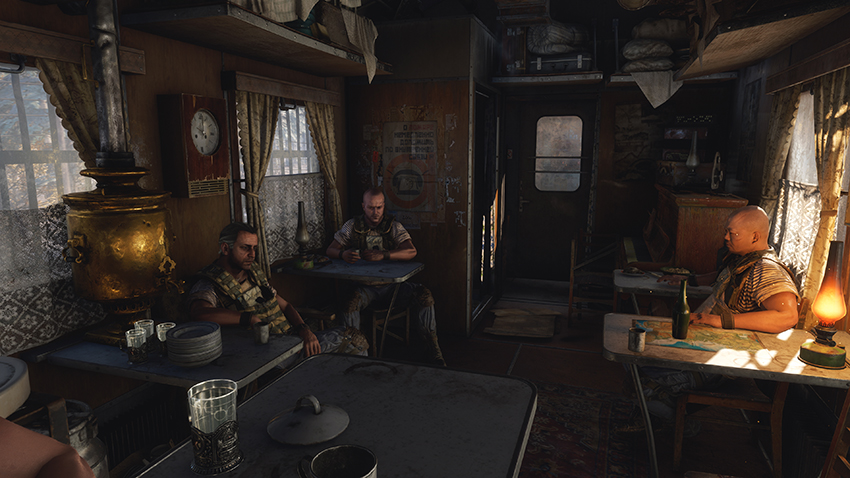 Ray Tracing adds realistic ambient occlusion shadowing throughout this scene: note the shadows around the clock, on the window nets and curtains, and elsewhere
Together, these ray tracing effects enhance the mood of the game, naturally darkening creepy, abandoned locales, and bathing others, in stark contrast, in bright, stunning sunlight. Artyom's hand-cranked flashlight becomes essential for searching every corner of the darkness, where threats lurk and prowl, and real care has to be taken when traversing the environment, lest the player become dinner for Metro Exodus' beasts.
The difference is dramatic, heightening a player's experience for the entirety of their time in Metro Exodus.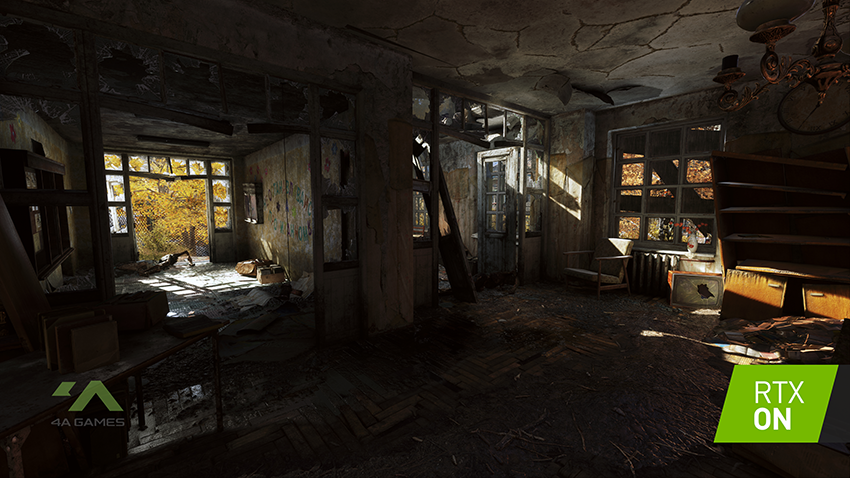 Metro Exodus features two ray tracing detail levels: High and Ultra. In motion, the difference is hard to discern, so we recommend users play at High to benefit from faster framerates. And of course, you can also enable DLSS for up to 30% faster performance throughout the game.
DLSS helps the most when the GPU is under maximum load and is available for the following settings:
3840x2160: Ray Tracing On or Off: RTX 2070, 2080, and 2080 Ti
2560x1440: Ray Tracing On: All RTX GPUs
1920x1080: Ray Tracing On: RTX 2060 and 2070
Based on our testing, we recommend the Ultra-quality preset, High Ray Tracing, and DLSS for 60 FPS Metro Exodus gameplay at the following resolutions*:
RTX 2060: 1920x1080
RTX 2070: 1920x1080
RTX 2080: 2560x1440
RTX 2080 Ti: 3840x2160
To enable ray tracing and DLSS in Metro Exodus on GeForce RTX PCs and laptops:
Install our new Game Ready Driver
Install Windows 10 October 2018 update (version 1809, or higher)
Enable "NVIDIA RTX" in the Video options menu, select a "Ray Tracing" detail level, and turn on "DLSS" (a game restart may be required). Note, that the DLSS box will automatically turn itself off if it is not available for your GPU, resolution, and ray tracing setting, as outlined above.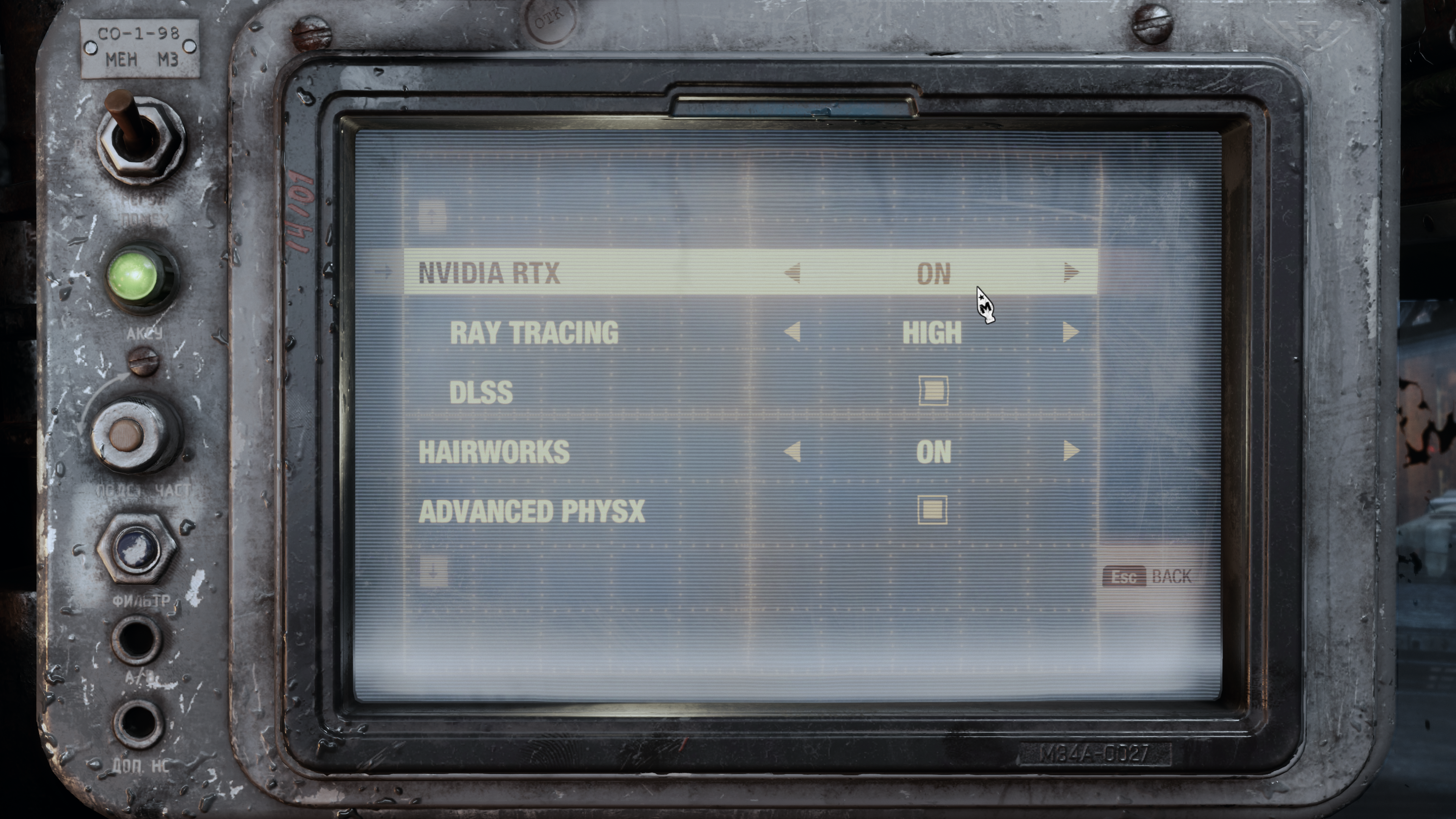 In addition to all that ray-traced, DLSS goodness, Metro Exodus also features several other NVIDIA technologies, further improving and enhancing the experience for GeForce GTX and GeForce RTX users:
NVIDIA Ansel: Capture screenshots from unique angles, with a full bevy of filters and other photo tools at your command. And starting on February 20th, we'll be launching the next Shot With GeForce contest. The Grand prize is a very special Artyom limited edition prize pack. Stay tuned to GeForce.com for more details.
NVIDIA Highlights: Automatically capture glorious kills, inglorious deaths, key story beats, achievements, and other gameplay moments to edit and share when you've finished playing.
NVIDIA HairWorks: Adds tessellated hair and fur to guard dogs and the mutated creatures of Metro Exodus' world, heightening realism, detail and immersion.
NVIDIA PhysX: Use your GPU's CUDA Cores to add physically-accurate dynamic particles to bullet impacts and explosions, that both you and NPCs can interact with, plus additional particle and cloth effects that further improve image quality, realism and immersion.
To enable these features, download and install our new Game Ready Driver and the latest version of GeForce Experience (included with the full driver install), hop into Metro Exodus' options, and enable HairWorks and PhysX. For Highlights options, press Alt+Z once you're in the game, click the cog icon, then click "Highlights"; and for Ansel, press Alt+F2 during gameplay.
With ray tracing, DLSS, and the tech listed above, your Metro Exodus experience will be more realistic and immersive, enhancing your enjoyment of 4A's much-anticipated threequel.
RTX On! The Way It's Meant To Be Played
Stay tuned to GeForce.com for all the latest news on Ray Tracing, DLSS, and other NVIDIA technologies.
*All our testing and recommendations are based on our test system using Windows 10 (RS5), i9-7900X, and 16GB RAM. Your results may vary based on your specific system configuration.