Battlefield VTM goes back to the series' roots, with an unexpected portrayal of World War 2, mankind's greatest conflict. In May,we announced a partnership with DICE to make the PC edition of Battlefield V even better with Game Ready drivers, Optimal Playable settings, and unspecified "advanced NVIDIA-platform gaming technologies." Now, we're lifting the curtain, unveiling spectacularly realistic and accurate ray-traced reflections, which enhance the fidelity of reflective surfaces in every level and locale in Battlefield V.
These new reflections, made possible by GeForce RTX graphics cards and the NVIDIA RTX Platform, overcome the limitations of traditional Screen Space Reflection techniques, enabling full-detail reflections that mirror the action happening in and around the player's field of view. As you'll see, they have a tremendous impact on fidelity and immersion, heightening realism and the intensity of events, as now even the surrounding chaos is visible, making players feel as though the battle is unfolding in a full 360 degrees around them.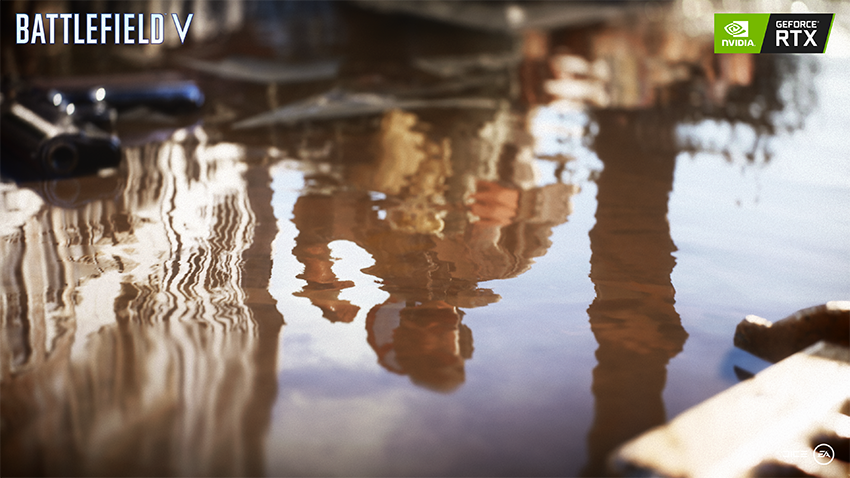 For a taste, check out our exclusive Battlefield V GeForce RTX Trailer below, captured on a GeForce RTX 2080 Ti, or head on down to our Gamescom 2018 event tomorrow, where we have 64-player Battlefield V multiplayer matches running with ray tracing enabled on GeForce RTX 2080 Ti PCs.
Capture Incredible Screenshots With NVIDIA Ansel
In Battlefield V, the acclaimed single-player War Stories return from Battlefield 1, where players will partake in the untold stories of World War 2. As players witness the war through the eyes of men and women who changed the world forever, you can capture these moments yourself just like they're shown in the game's stunning official screenshots.
Thanks to our partnership with DICE, you'll now have the chance to create your own impressive in-game screenshots using NVIDIA Ansel, which enables GeForce gamers to pause the action at any moment with Alt+F2, frame the scene with a floating freecam , and snap a custom in-game photo. These shots can then be further personalized with stackable filters and aesthetic tweaks, allowing the creation of truly unique images that can be shared to our ShotWithGeForce NVIDIA Ansel photo site with just a few clicks.
With a keen eye, exquisite, wallpaper-worthy in-game photos can be captured, like the example shown below: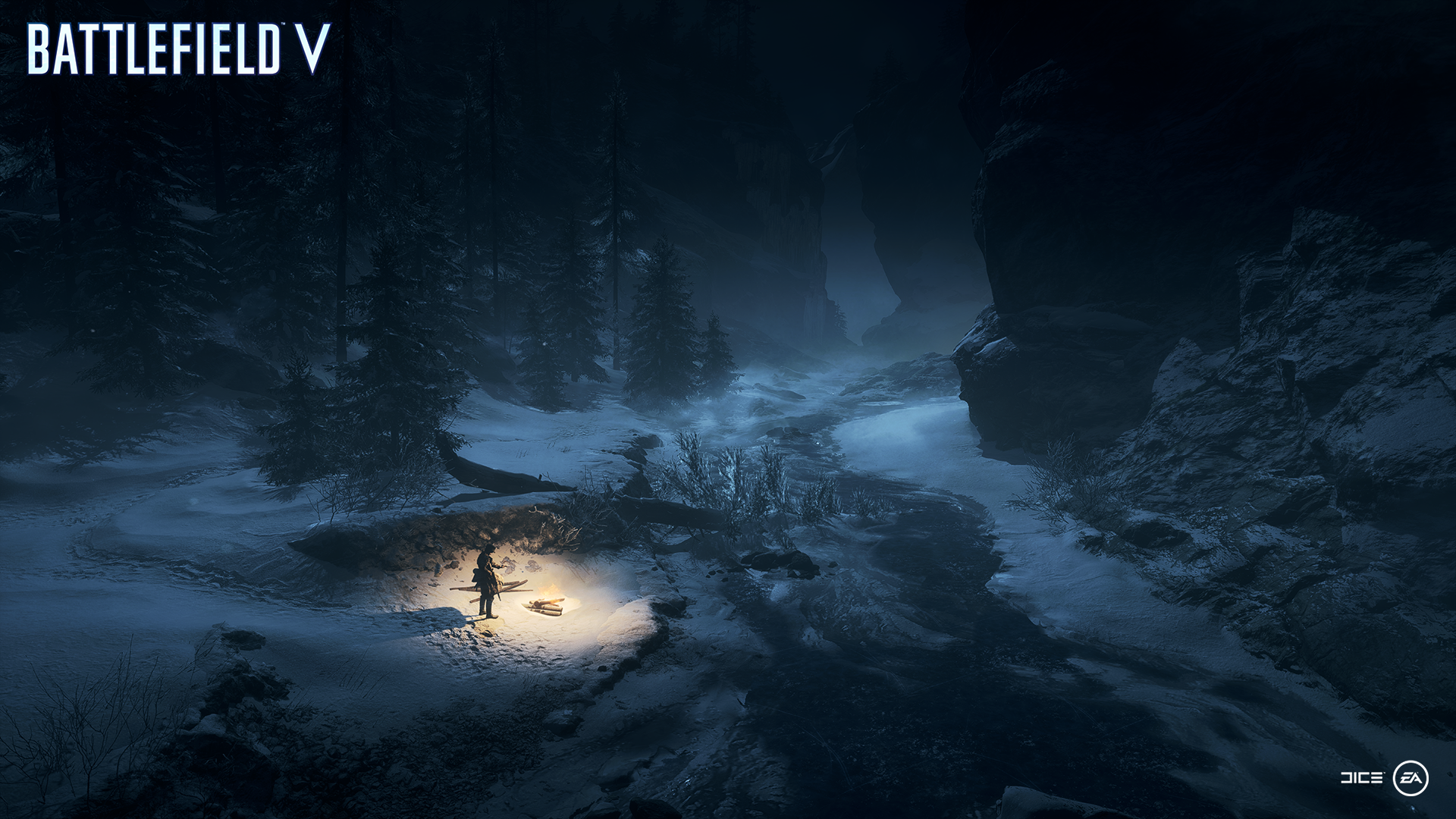 NVIDIA Highlights Heading To Battlefield V: Record and Share Your Best Multiplayer Moments
Battlefield's dynamic, massive multiplayer modes always create memorable and one-of-a-kind moments, and now, thanks to our partnership with DICE, many of these will be automatically recorded and saved with NVIDIA Highlights.
Once you've finished playing, recorded Highlights can be reviewed in-game, and your favorites quickly shared to YouTube and social media sites through the GeForce Experience overlay.
Participate In The Battlefield V Open Beta
Ahead of the release of Battlefield V, you can play the game starting September 4th as part of the early access period for those who pre-ordered or are Origin Access Premier, Origin Access Basic and EA Access members, and then on September 6th for everyone else thanks to the game's Open Beta.
In the beta, you can play Conquest on the Rotterdam and Arctic Fjord maps, and Grand Operations on Arctic Fjord, with Airborne mode on Day 1, and Breakthrough mode on Day 2.
To participate, it's recommended you match or exceed the following system requirements:
Battlefield V Open Beta Minimum System Requirements
GPU: NVIDIA GeForce GTX 1050 / GTX 660 2GB
Operating System: 64-bit Windows 7, Windows 8.1 or Windows 10
Processor (AMD): AMD FX-8350
Processor (Intel): Core i5 6600K
Memory: 8GB RAM
DirectX version: 11.0 Compatible video card or equivalent
Internet: 512 KBPS or faster, stable Internet connection
Free hard-drive space: 50GB
Battlefield V Open Beta Recommended System Specifications
GPU: NVIDIA GeForce GTX 1060 6GB

Operating System: 64-bit Windows 10

Processor (AMD): AMD Ryzen 3 1300X

Processor (Intel): Intel Core i7 4790 or equivalent

Memory: 12GB RAM

DirectX: 11.1 Compatible video card or equivalent
Internet: 512 KBPS or faster, stable Internet connection

Free hard-drive space: 50GB
For the final list of system requirements and recommendations, stay tuned to GeForce.com.
Battlefield V & NVIDIA RTX: Reinventing Graphics
DICE and NVIDIA have a long history of pushing the boundaries of what's possible, and now we've joined forces to place Battlefield V on the cutting-edge of videogame graphics with the addition of NVIDIA RTX Ray Tracing.
This brand new, real-time technology delivers unprecedented graphical fidelity in massive multiplayer levels filled with up to 64 players, running on the new GeForce RTX 2080 Ti. Never before has real-time ray tracing been possible in an actual game, let alone one with such scale and scope. So now, when you think 'graphics', be sure to ask whether they're real-time ray traced graphics.
For more on Battlefield V NVIDIA RTX Real Time Ray Tracing technology, stay locked to GeForce.com as Battlefield V's October 19th release date approaches. And to pre-order a GeForce RTX GPU head to our webstore.