Back in April we announced that we were working with Square Enix, Eidos-Montréal, Crystal Dynamics, and Nixxes to enhance Shadow of the Tomb Raider, following our work on the fantastic and critically-acclaimed Rise of the Tomb Raider. Now, we can exclusively reveal the partnership also includes the addition of NVIDIA RTX Ray Traced Shadows in Shadow of the Tomb Raider, for gamers with GeForce RTX GPUs.
These shadows offer--for the very first time--hyper-realistic representations of the shadows we see in real-life, with support for large, complex interactions, self-shadowing, translucent shadowing, and a litany of other techniques, at a level of detail far beyond that has previously been seen.
For a first look at the next-generation of video game shadows, check out our exclusive NVIDIA RTX Shadow of the Tomb Raider ray tracing video:
The key takeaway from the video is that we can now render lifelike shadows and shadow interactions, at high levels of detail, throughout every scene, with translucency. This was previously impossible, but with the arrival of NVIDIA RTX and GeForce RTX graphics cards, it's finally a reality.
The PC edition of the game will also feature a ton of other tech , which we're exclusively revealing in this Shadow of the Tomb Raider tech trailer:
NVIDIA RTX ray tracing will be added to Shadow of the Tomb Raider as a post-launch update. For further details, make sure you stay tuned to GeForce.com.
Capture and Share Your Best Moments With NVIDIA Ansel and NVIDIA Highlights
In addition to NVIDIA RTX, Shadow of the Tomb Raider will feature NVIDIA Ansel and NVIDIA Highlights, enabling you to take stunning screenshots, and to automatically capture and share key moments from Lara Croft's adventures.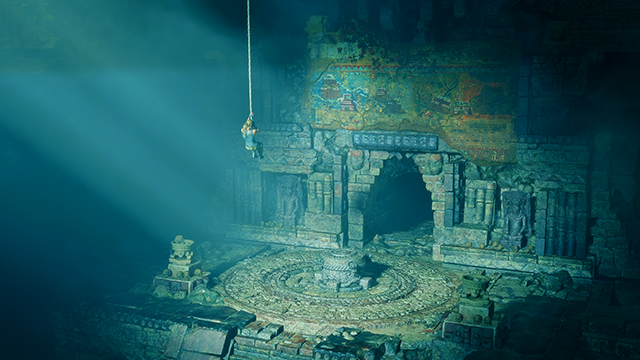 If you'd like to know more, head on over to our E3 2018 announcement article.
Play Shadow of the Tomb Raider On PC, Starting August 20th In Cologne, Germany
If you're in or near Cologne, Germany, you can go hands-on with the PC edition of Shadow of the Tomb Raider, tomorrow, at our GeForce Gaming Celebration. Head to the location listed here, and you'll find a whole load of PCs waiting for you. But arrive early, space inside is first-come first-served , and a lot of gamers have registered to attend.
Custom Shadow of the Tomb Raider GeForce RTX 20-Series PCs Up For Grabs, Soon
At our GeForce Gaming Celebration we've got a custom Shadow of the Tomb Raider GeForce RTX 2080 Ti PC on show , with top-to-bottom mods. Made by renowned builder and modder Ron Lee Christianson, the three-piece showcase system is inspired by a Maya monument found in the opening moments of the game.
Built on a now-unrecognizable Corsair 270R chassis, the case has been covered in a mix of MDF Fiberboard, sculpted styrofoam, 3D printing, and modelling clay, finished with airbrushing and hand-painting. Model-shop foliage and sculpted vines combine to create a jungle motif, while flickering LEDs and cotton balls create the appearance of fire-based torches. And finally, the system is topped off with an altar, a hand-sculpted dagger, and a 3D printed Tomb Raider climbing axe.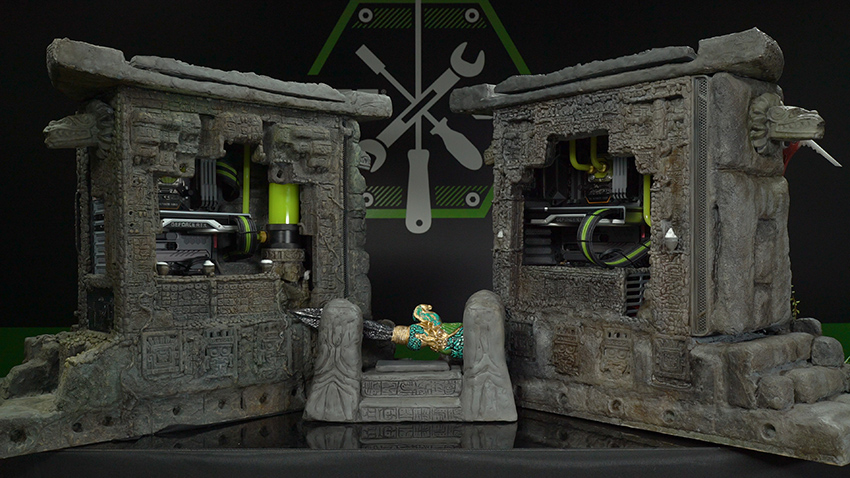 Inside each of the GeForce GTX 2080 Ti-powered PCs, there's an ASUS X299 TUF Mk1 motherboard, an i7-7820X, 32GB of Corsair Vengeance RGB Pro DDR4 RAM, a 512GB Samsung 970 Pro SSD, a Corsair RMX1000 PSU, Mainframe Customs Cables, and customized Primochill Watercooling.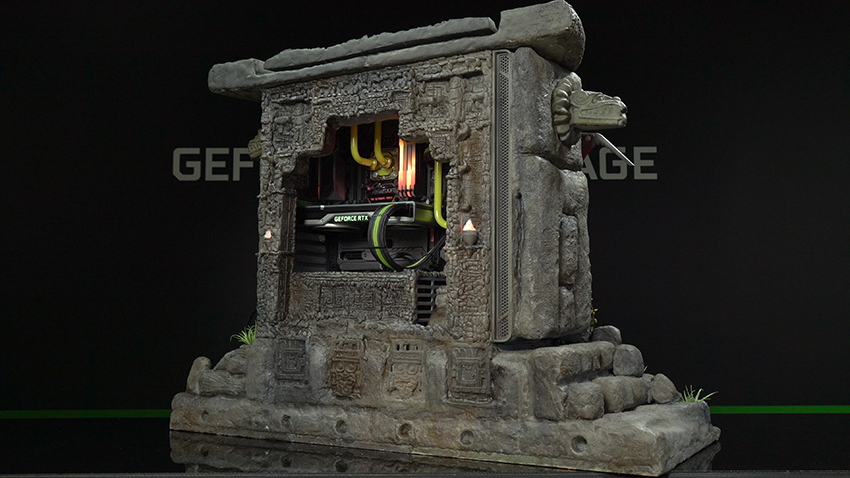 In the not too distant future, we'll be giving one of the PCs away to a member of our community. For details on how to win, stay tuned to GeForce.com.
Coming Soon: The Definitive Shadow of the Tomb Raider Experience
With the power of GeForce RTX Turing-architecture graphics cards, NVIDIA Ansel and NVIDIA Highlights integrations, day-one Game Ready drivers, GeForce Experience Optimal Playable Settings, and all the other features and benefits of the NVIDIA ecosystem, the best way to play and experience Shadow of the Tomb Raider will be on PC.