Last month, we released the Minecraft with RTX Beta in partnership with Microsoft and Mojang Studios. This much-anticipated release brought immersive, cutting-edge path-traced ray tracing to Minecraft for Windows 10, along with physically-based textures and 6 Creator Worlds that demonstrated the incredible benefits of the new technology.
The reception from players has been that of amazement and wonder, and similarly, the press is also blown away:
"Gamechanger" - Digital Foundry
"Minecraft with RTX hands-On beta impressions leave us slack-jawed." - Hot hardware
"The difference is stark enough to be happily called bananas." - VG247
Now, we're releasing Creator Worlds Pack #2, featuring 5 new Creator Worlds, with new gameplay, new uses of Minecraft with RTX's ray-traced effects, and new physically-based textures that further enhance the jaw dropping visuals.
World: Hilltop Lifestyle RTX
Creator: PearlescentMoon
Type: Survival Spawn
Download From: Minecraft Marketplace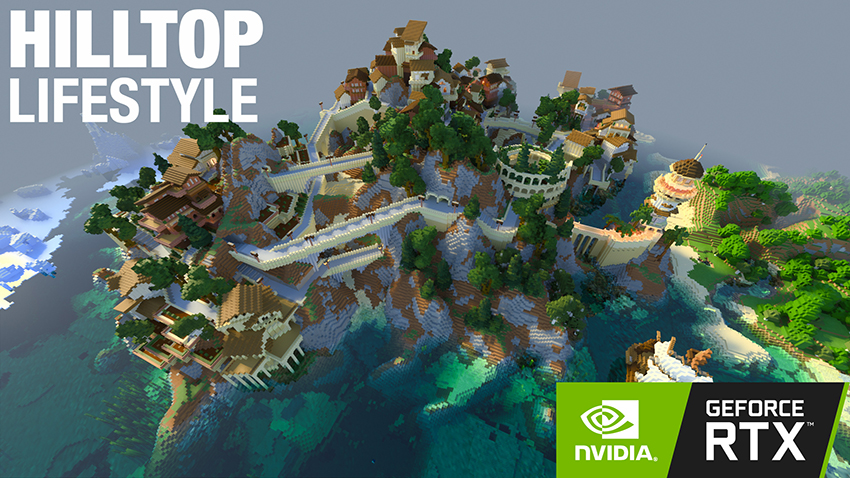 From PearlescentMoon, creator of Color, Light and Shadow RTX, comes a new outdoor map utilizing many of the concepts, advancements and features demonstrated in her previous ray tracing and physically-based texture showcase. In this new world, explore the beautiful Hilltop Lifestyle island, and learn to live off of the land in its Italian-inspired village.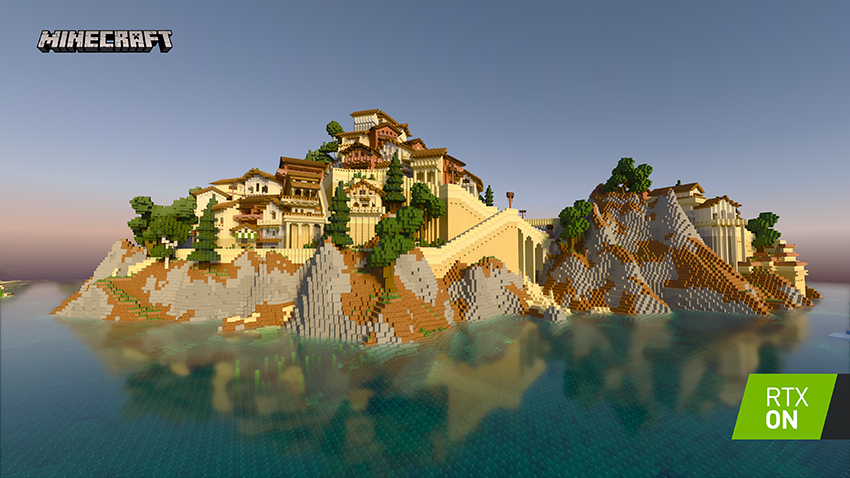 "I will always say that I believe ray tracing will improve gameplay functionality and level design in maps. The environment and visual impact that ray tracing allows via improved textures and lighting manipulation opens it up for so many possibilities; as exemplified in my RTX Showcase map. As a player that mains in creative building, I have a high interest in how small details can impact a build in such large ways." - PearlescentMoon
World: Egg Hunt RTX
Creator: Feed The Beast
Type: Mini-Game
Download From: Minecraft Marketplace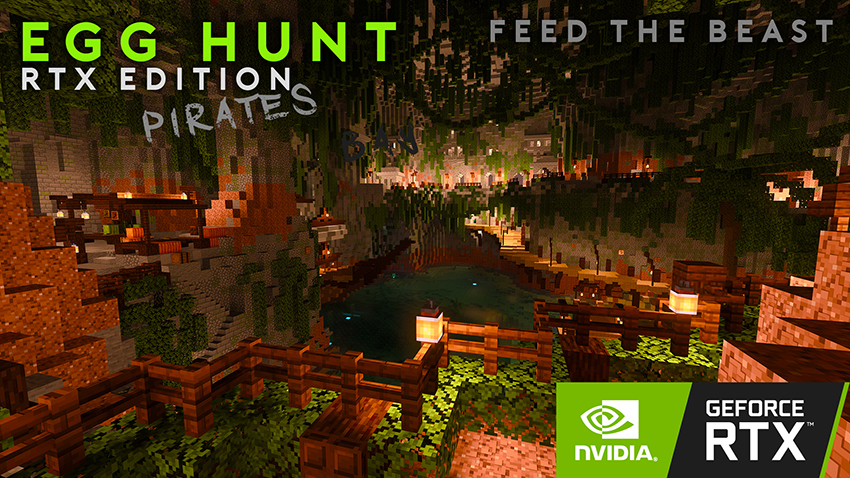 'Feed The Beast' has a long history, beginning life as a custom challenge map and mod for Minecraft. Since release in 2012, the unique experience expanded to include more maps, more features, new mods and a ton of stuff that modders the world over rely on for their own maps, mods, and custom games. And the folks working on the project formed the Feed The Beast Team, becoming the go-to experts for unique, engaging challenge map gameplay in Minecraft.
Now, these challenge map experts have turned their efforts to Minecraft with RTX, for a hand-crafted standalone map featuring a mysterious cave filled with puzzles, secrets, and fun challenges. Find the hidden eggs, complete the two game modes in the fastest time possible, and experiment with the many features of this unique RTX map.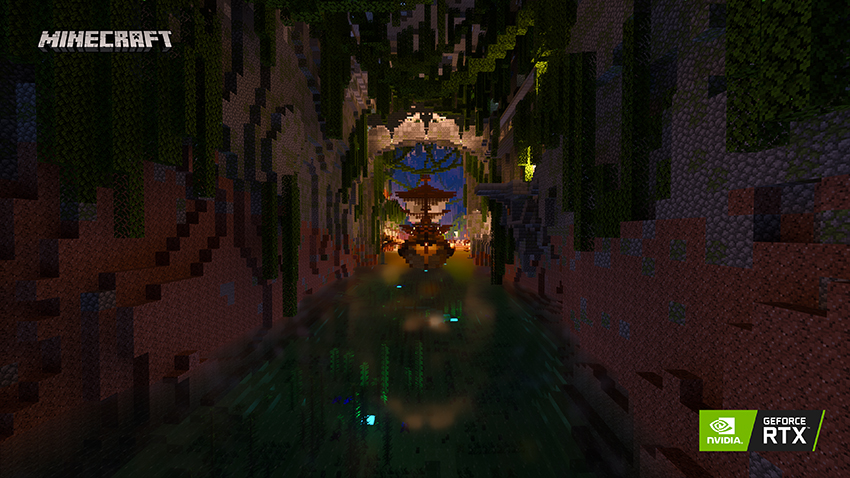 "The first time you flick that switch and turn RTX on and suddenly your world is transformed into something completely new, it is very hard to not feel emotional." - Team Feed The Beast
World: Medieval RTX
Creator: Aurelien_Sama
Type: Survival Spawn
Download From: Minecraft Marketplace
Belgian Minecraft YouTuber, Aurelien_Sama, mixes fun Minecrafting with designing and building. And for Minecraft with RTX, he has put those skills to use designing "Medieval RTX", featuring an idyllic medieval village nestled below an ancient ruin, with god-rays from the setting sun shining happily through the town. As night falls and the shadows grow longer and darker, danger awaits. Can you survive this beautiful but perilous world?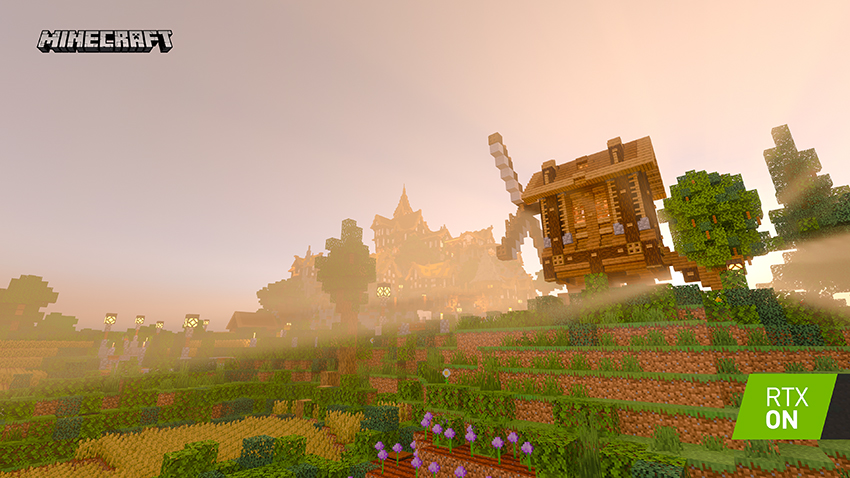 "Ray tracing brings a new dimension of possibilities to the game, now you can also choose how lighting will affect your build or even create something simple that looks amazing thanks to all the RTX effects." - Aurelien_Sama
World: The Dark Village RTX
Creator: Wyld
Type: Survival Spawn
Download From: Minecraft Marketplace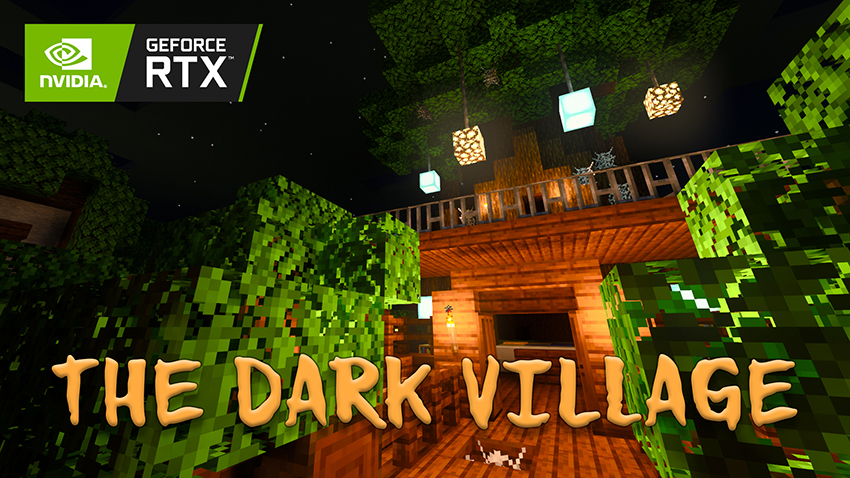 Long-time Minecraft modder and streamer, Wyld, brings us "The Dark Village RTX". An abandoned village lies overgrown in the forest, where effigies of the missing stand long-forgotten. Underneath this village lies the realm of hidden horrors – will your sanity survive as days pass? Follow the quest, solve interactive puzzles, discover secrets, and experience rich ray-traced shadows.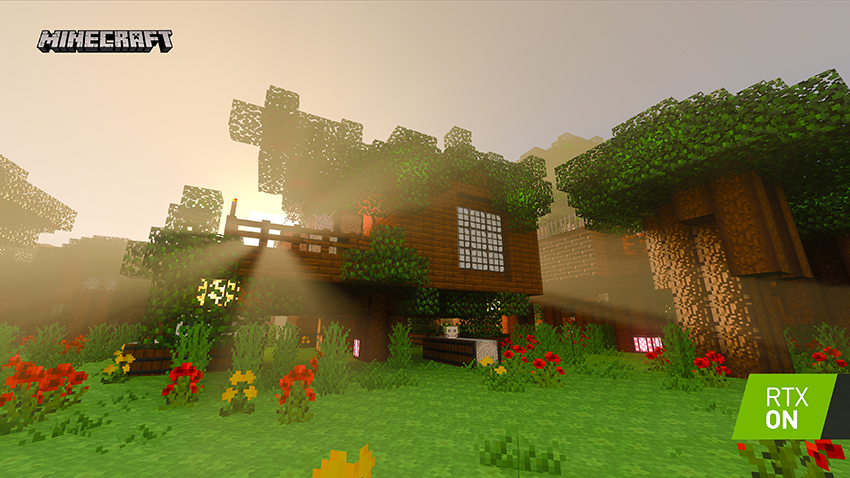 "Ray Tracing will have a significant impact on the player experience. Interestingly, it's not just the play on light, but the additional factor of extending what can be done with resource packs. Bump mapped ore, rough texture stone, it's going to be a blast to not just play, but to create with." - Wyld
World: The Observer RTX
Creator: IAmSp00n
Type: Adventure
Download From: Minecraft Marketplace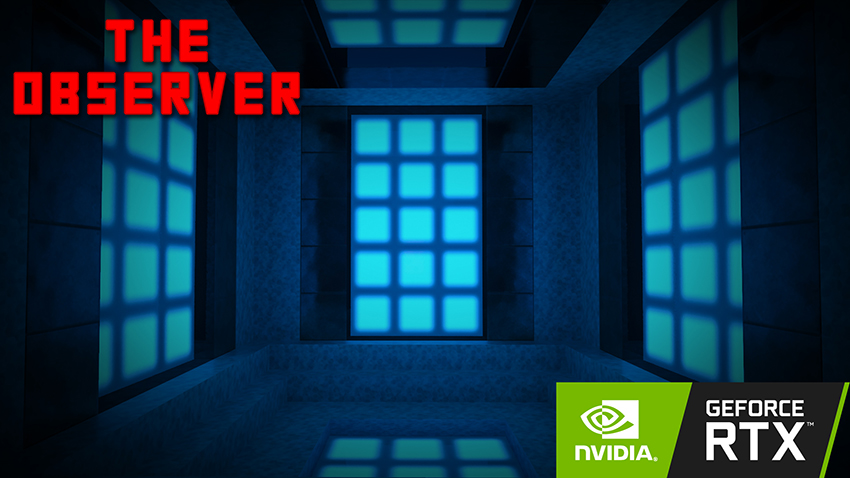 Streamer IAmSp00n, a USA-based Twitch Partner and Content Creator who has been involved in Minecraft gaming and modding for several years, has created "The Observer RTX", a world that starts with the player deep underground. Explore your newfound surroundings, uncover the mysteries of the entombed vault you find yourself stuck in, and discover the lore of the land to reveal the fate of the Observer's denizens.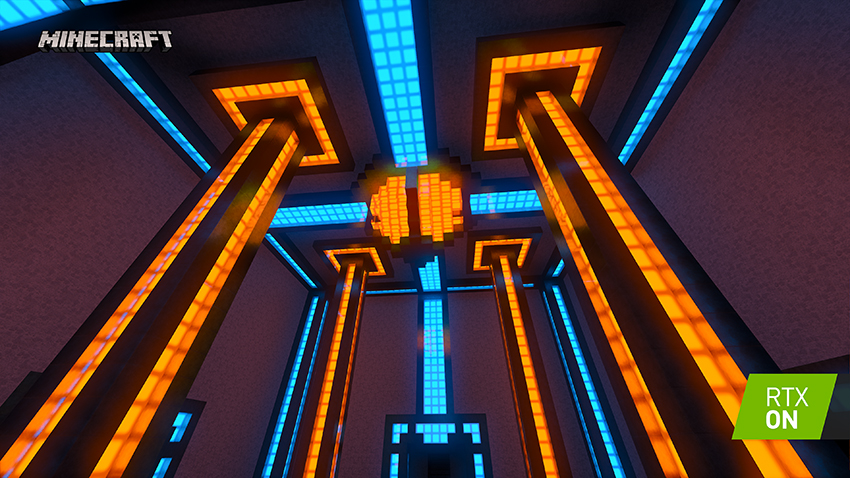 "I think that ray tracing will add a whole new style of playing the game. There are plenty of creative builders in Minecraft, but I think the addition of RTX will encourage people to customize their packs, their builds, and their play style in ways that haven't been seen before." - IAmSp00n
Download The Beta and Enter Our Sweepstakes
If you didn't try the Minecraft with RTX beta last month, it's still available to download and play! Simply head here and follow the steps.
Once you're playing, take and share screenshots from any world for a chance to win a GeForce RTX 2080 Ti and other fabulous prizes, via our GeForce RTX World Sweepstakes. Learn more here.
And if you want to know more about Minecraft with RTX's path-traced ray tracing, or it's performance-boosting DLSS 2.0 technology, head on over to our beta launch article for all the details.
Beta Updates Further Improve Ray Tracing and Your Experience
If you've already installed the Minecraft with RTX beta, load up the Microsoft Store app and check for updates, because a new version of the client was recently released. This improves performance, improves several ray-traced effects, and generally improves your experience. Specifically:
Improvements to glass transparency, tracing of effects through glass transparencies, and the reflection of transparent blocks on reflective surfaces
Increased performance on the GeForce RTX 2080 at 1920x1080
Adjusted night time lighting for improved visibility
More accurate per-pixel emissive lighting on low resolution textures, for improved image quality with low-res resource packs
For further Minecraft with RTX news and updates stay tuned to GeForce.com.