Following months of speculation, we have finally unveiled our new GeForce RTX 30 Series graphics cards, which give gamers unprecedented performance, best-in-class ray tracing, game-changing technologies like NVIDIA DLSS and NVIDIA Reflex, and other awesome advantages and benefits that are detailed in full in our announcement article.
To celebrate, we've lined up an amazing bundle that's available now. If you purchase one of our new GPUs or a pre-built GeForce RTX 30 Series PC at a participating partner, you'll get a PC digital download copy of Watch Dogs: Legion, and a 1-year subscription to our GeForce NOW cloud gaming service, enabling you to play your PC games on other devices and when you're away from home.
Furthermore, our bundled copy of Watch Dogs: Legion also comes with special digital items, including the Cthulhu Mask Skin, shown below, and the Golden King Pack, which features a Lux Car Skin, Uneasy Lies Mask Skin, and Serpent Sisters Gun Skin.
This offer extends only to select GPUs made by NVIDIA and our partners, and is available only at participating retailers and e-tailers, a full list of which is available on our GeForce RTX 30 Series Bundle homepage. So before you buy, be sure to check that your purchase is eligible for the bundle.
Watch Dogs: Legion
Ubisoft's highly anticipated Watch Dogs: Legion launches October 29th, and on PC NVIDIA is helping bring gamers the ultimate experience, enhanced with immersive ray-traced reflections, performance-accelerating NVIDIA DLSS, and HDR.
To learn more about the Ubisoft-NVIDIA partnership and the PC edition of Watch Dogs: Legion, head on over to our dedicated Watch Dogs: Legion article.
GeForce NOW: GeForce Gaming On Any Device
With a GeForce RTX 30 Series GPU, you can play any game at the highest detail levels, resolutions and framerates. But what happens if you're away from your PC and want to game? Or you want to show a friend the beauty and magnificence of PC gaming on their clapped-out Mac? Enter GeForce NOW, which enables you to play games you own on virtually any PC or Mac, SHIELD TV, Android device, and even Chromebook.
So if you're stuck with an old work-issued laptop, you can always access your games. And with the 1-year Founders Subscription included in our new GeForce RTX 30 Series bundle, you can enjoy priority access to gaming servers, extended session lengths, and RTX ON in supported games. It's your GeForce, NOW.
Learn more on the GeForce NOW website. Don't have a GeForce RTX 30 Series GPU yet? You can still try GeForce NOW for free to get a preview of the service's capabilities.
GeForce RTX 30 Series Bundle: Available Now
To be eligible for Watch Dogs: Legion and the GeForce NOW membership, purchase a participating GeForce RTX 3090, 3080, or 3070 graphics card, or GeForce RTX 30 Series PC at specific retailers and etailers before October 29th. For a full list, and links to participating products and partners, head on over to our GeForce RTX 30 Series Bundle homepage.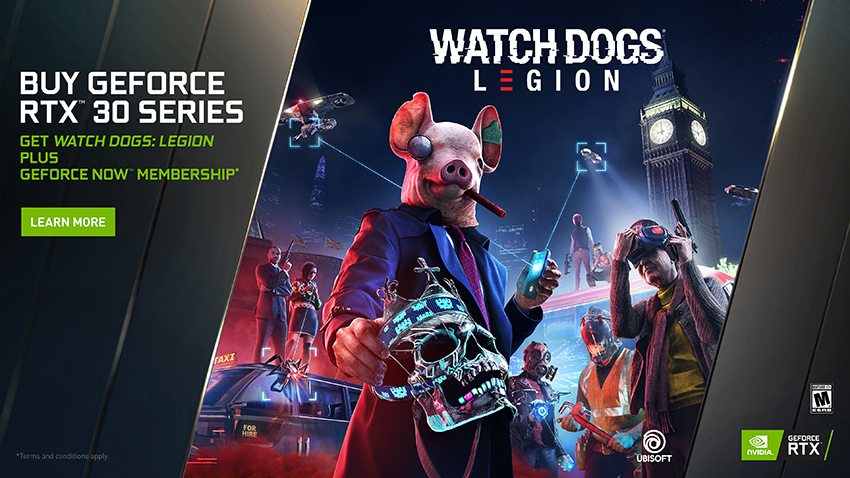 Watch Dogs: Legion will be playable starting October 29th, 2020. GeForce NOW subscriptions will begin when your bundle code is redeemed, which must be before November 30th, 2020.