In April, NVIDIA and Microsoft launched the Minecraft with RTX Windows 10 Beta, bringing incredible path-traced ray tracing to the world's best selling game. Now, to celebrate the unveiling of our new GeForce RTX 30 Series graphics cards, we're releasing two new ray-traced worlds.
Furthermore, we've worked with Mojang Studios to enhance the Minecraft with RTX Windows 10 Beta with support for the latest Nether features from v1.16, and to improve the quality, fidelity and performance of the path-traced visuals. For all the details, keep reading.
New Worlds To Download For Free
World: Portal Pioneers RTX
Creator: Cyclone Designs
Type: Adventure
Download From: Minecraft Marketplace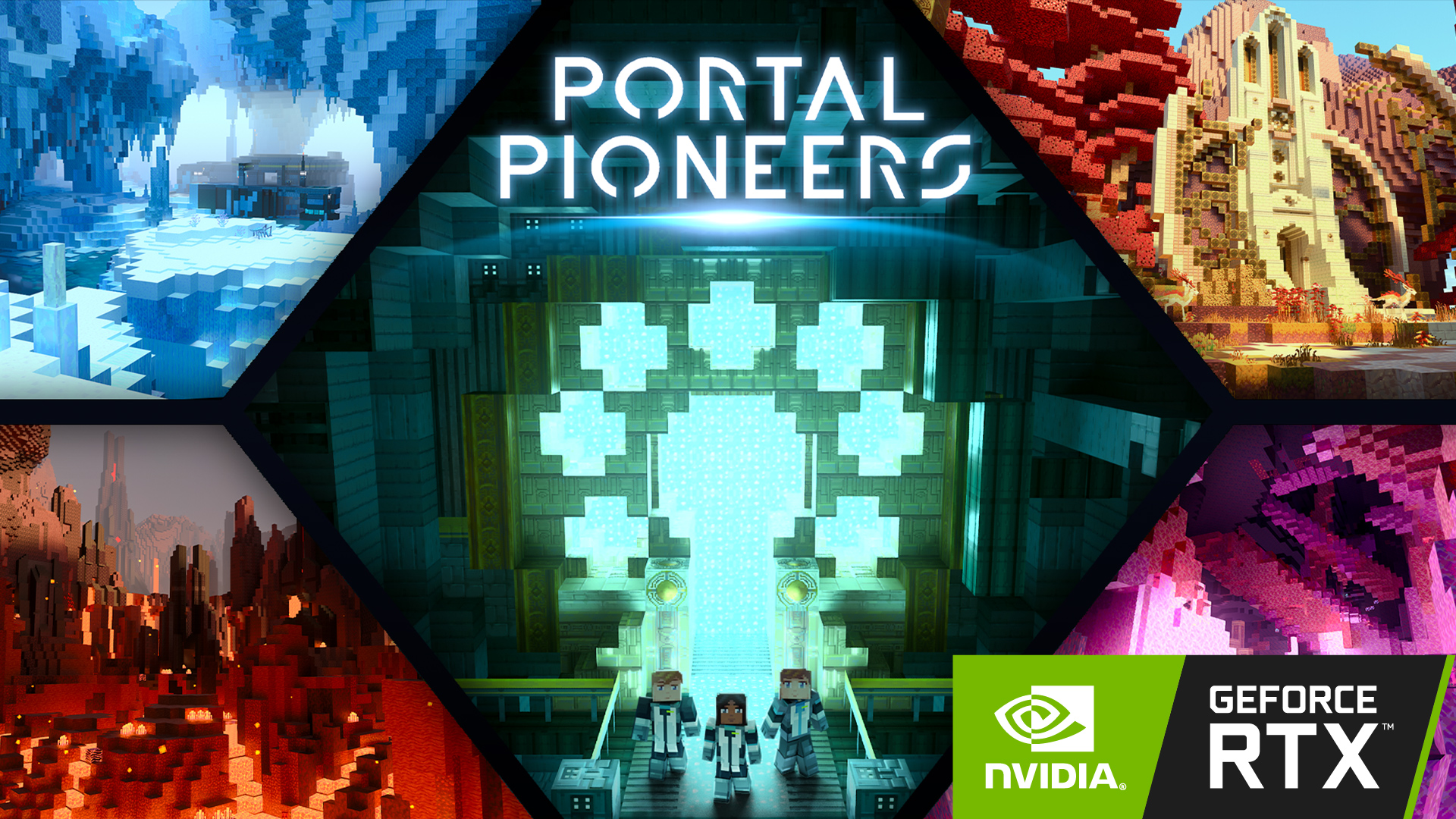 Cyclone Designs has gone all-out with Portal Pioneers RTX, creating a massive world with a fully voiced story, an NPC robot companion, and several unique biomes that leverage the power of path-traced ray tracing in different ways.
Play solo or with friends, complete challenging puzzles, fight new, unique monsters, and discover the many secrets of this incredible world, which you can download for free.
Click each image to load interactive RTX ON-OFF comparisons
World: Fins n' Flippers RTX
Creator: Razzleberries
Type: Adventure
Download From: Minecraft Marketplace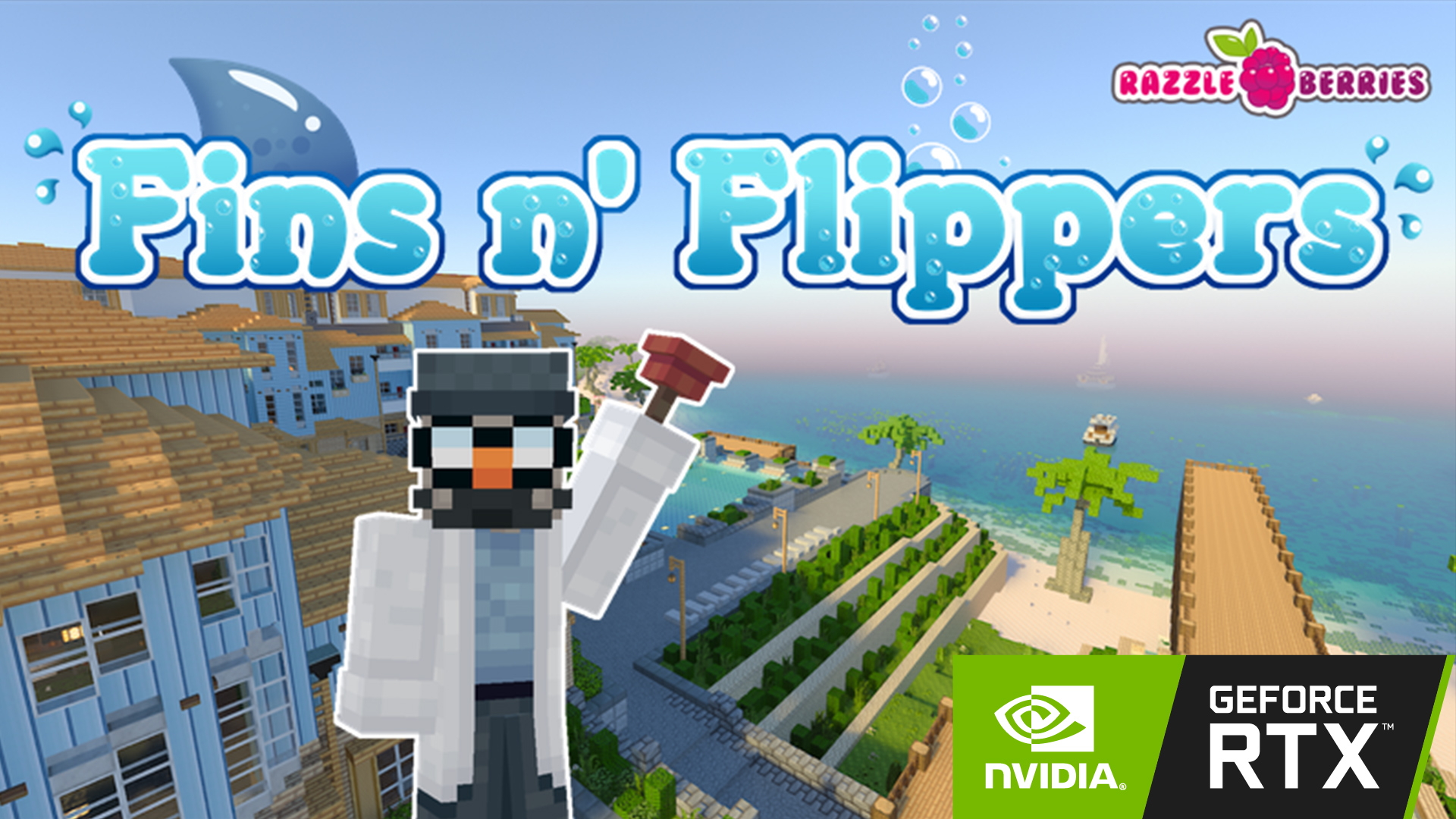 Razzleberries is back with another bespoke world, featuring stunning sights, new physically-based textures, and fresh gameplay.
Gather your friends to restore an abandoned aquarium, explore a vast island with majestic coral reefs, collect rare species of flora and fauna, discover unique animals, unlock new building materials, and work together to research new majestic creatures.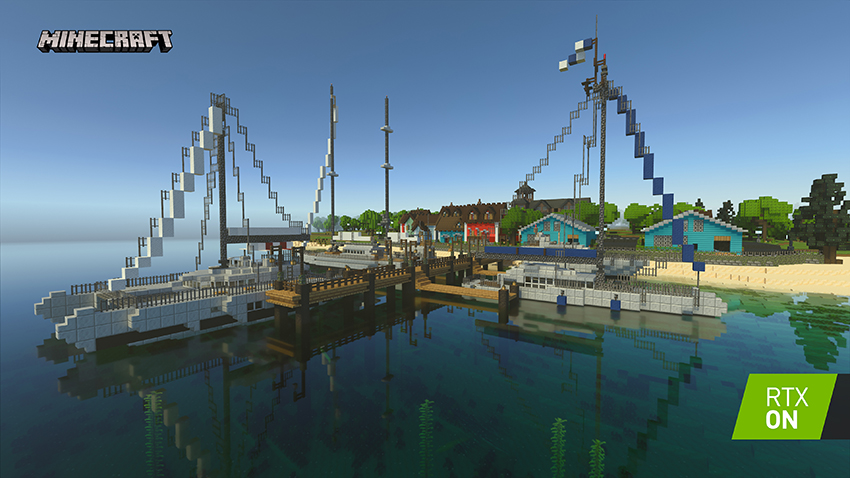 Click each image to load interactive RTX ON-OFF comparisons
Experience Minecraft with RTX Like Never Before on GeForce RTX 30 Series
Our new GeForce RTX 30 Series graphics cards are the world's fastest. Second generation Ray Tracing Cores and third generation Tensor Cores deliver massive boosts in RTX games, and a raft of new and improved features ensure unprecedented performance in all titles.
In Minecraft with RTX, performance is faster across the board, allowing you to experience stunning path-traced visuals at smoother, more responsive speeds, with chunk distance cranked up, and at higher resolutions.
Learn more about the capabilities of our new GeForce RTX 30 Series GPUs here.
Beta Updates Further Improve Ray Tracing and Your Experience
In partnership with Mojang's developers, we've also released updates for the game that further improve visuals and performance:
Improved sky visuals in "The End" and Nether
Adaptive Denoising, for improved, faster denoising, especially in areas transitioning between light and dark
Tonemapping Tune, for improved emissive lighting from torches and other emissive objects
Microsoft DirectX 12 Ultimate 1.1 Update, for improved performance
Load up the Microsoft Store and check for updates to ensure you've got the latest and greatest version of the Minecraft with RTX for Windows 10 beta.
Download The Beta Today
If you haven't tried the Minecraft with RTX Windows 10 beta yet, it's available to download and play! Simply head here and follow the steps.
And if you want to know more about Minecraft with RTX's path-traced ray tracing, or it's performance-boosting DLSS technology, head on over to our beta launch article for all the details.
For further Minecraft with RTX news and updates stay tuned to GeForce.com.