The highly anticipated Watch Dogs: Legion launches October 29th, taking players to a near-future London oppressed by authoritarian opportunists. To fight back, you'll need to recruit characters to your Dedsec Resistance. Each character has a different skill set, enabling you to tackle missions and the large open world in numerous ways.
Previously, we revealed the addition of beautiful ray-traced reflections that bring dynamic reflectivity to surfaces across London, and now, we are announcing that NVIDIA DLSS will also be available in Watch Dogs: Legion at release. If you haven't heard about the critically acclaimed DLSS before now, it's a deep learning neural network powered by dedicated AI processors (Tensor Cores) in GeForce RTX GPUs that boost frame rates while generating beautiful, crisp game images. DLSS gives gamers the performance headroom to maximize game settings and increase output resolutions, for a superior, higher-fidelity experience.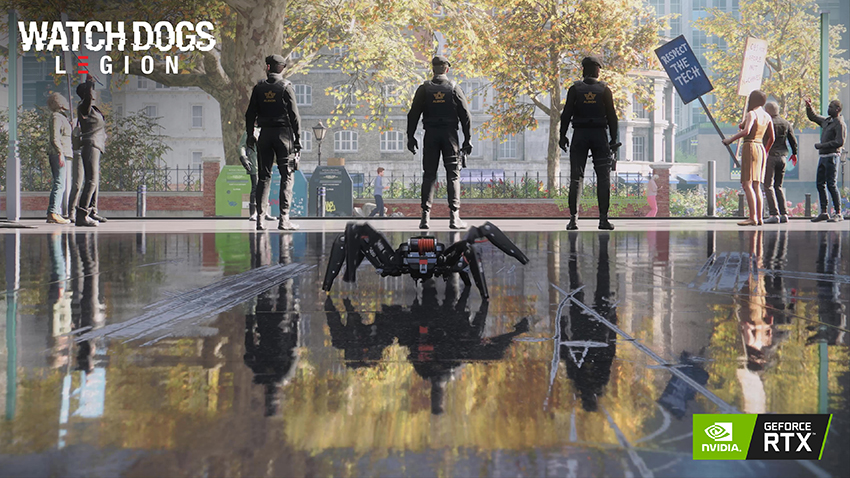 Introducing DLSS Ultra Performance Mode For 8K Gaming In Watch Dogs: Legion
Watch Dogs: Legion will also be one of the first titles to support our new DLSS Ultra Performance mode, which makes 8K gaming possible when playing on the new GeForce RTX 3090.
Driving 8K is incredibly demanding - it's 33 million pixels per frame, which is 4X the size of 4K. The new DLSS Ultra Performance mode delivers 9x AI Super Resolution (1440p internal rendering output at 8K using AI), while maintaining crisp image quality. And along with the GeForce RTX 3090's 24GB frame buffer and powerful rendering capabilities, 8K is now a reality, even in demanding ray-traced games like Watch Dogs: Legion.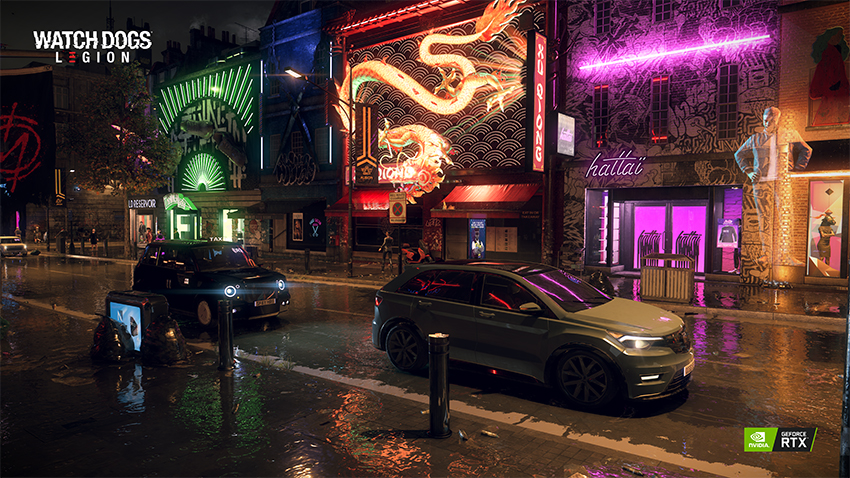 "I was blown away seeing near-future London come to life in 8K on the LG OLED TV. The GeForce RTX 3090 brings ray tracing to life at 8K with the power of AI and NVIDIA DLSS." – Lathieeshe Thillainathan, Producer, Ubisoft
New Ray-Traced Trailer
To demonstrate the power and beauty of DLSS-accelerated ray tracing, we're premiering a new Watch Dogs: Legion PC trailer with ray-traced reflections and NVIDIA DLSS enabled. Take a tour around London's hot spots, see the sights, and gawk at the stunning ray-traced reflections:
NVIDIA's partnership with Ubisoft ensures the definitive Watch Dogs: Legion PC experience, with game-changing ray tracing and DLSS tech, optimized day-0 Game Ready Drivers, GeForce Experience support, and support for HDR. Check out our new GeForce RTX 30 Series graphics cards to get the ultimate Watch Dogs: Legion experience.
GeForce RTX 30 Series Watch Dogs: Legion Bundle
To celebrate our Watch Dogs: Legion partnership with Ubisoft, and the announcement of our new GeForce RTX 30 Series graphics cards, we're giving buyers of select GeForce RTX 3090, 3080 and 3070 GPUs and PCs a digital download copy of the game.
In addition, you'll also receive a 1-year GeForce NOW Founder's Membership, enabling you to play games via the cloud, with legendary GeForce performance, even when you're not sitting behind your GeForce RTX 30 Series PC.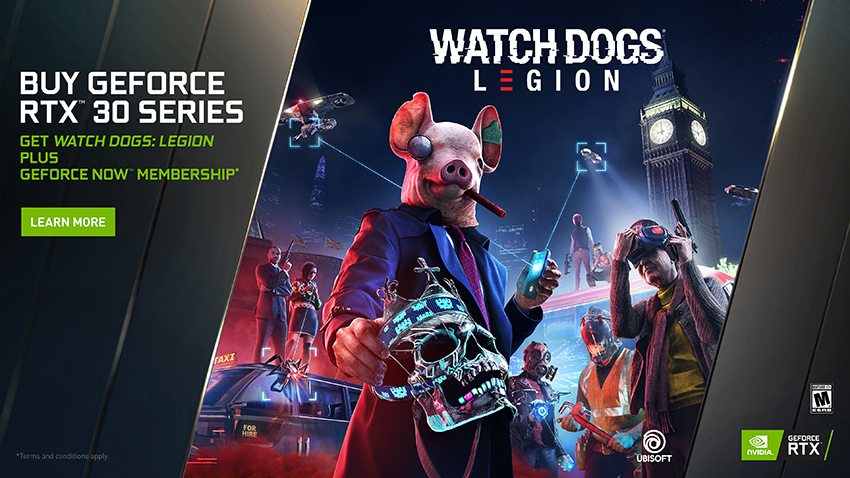 For a full list of participating products and partners, head on over to our GeForce RTX 30 Series Bundle homepage.
Watch Dogs: Legion - Playable On GeForce NOW At Launch
If you don't own a ray tracing-capable PC, or missed out on our bundle, don't despair: you will still be able to experience the beauty of ray-traced Watch Dogs: Legion with DLSS on GeForce NOW, NVIDIA'scloud game streaming service. Using the GeForce NOW app on PC, Mac, SHIELD TV, Android devices and Chromebooks, gamers can play their favorite already-owned PC titles from popular digital stores like Steam, Epic Games Store and Uplay.
For more on Watch Dogs: Legion, its tech, and GeForce RTX 30 Series graphics cards, stay tuned to GeForce.com.