Cyberpunk 2077, the year's most anticipated game, launches on December 10th. On PC, this breathtaking game is enhanced with ray-traced reflections, diffuse illumination, ambient occlusion and shadows, and NVIDIA DLSS, delivering the best possible Cyberpunk 2077 experience.
Check out our world premiere Behind The Scenes video featuring some of the devs from CD PROJEKT RED, showcasing new Cyberpunk 2077 RTX ON gameplay, captured on GeForce RTX 30 Series GPUs:
Today, we're also unveiling the recommended system configurations for RTX ON gameplay, helping you pick out the parts for a Cyberpunk 2077-ready system that delivers the experience you desire.
With RTX ON, Night City is transformed. Glorious ray-traced reflections are cast on every possible surface; substantially improved shadows naturally soften and sharpen; shops, streets and buildings are realistically illuminated with diffuse lighting; and in general the world is more immersive and detailed, enhancing your Cyberpunk 2077 experience.
The minimum GPU for Ray Tracing, at 1920x1080, is the GeForce RTX 2060. Gamers will explore Night City with Medium Ray Tracing Preset powered by DLSS.
At 2560x1440, we recommend a GeForce RTX 3070 or GeForce RTX 2080 Ti. Ray tracing is taken to Ultra, which greatly increases the fidelity of the aforementioned effects, and the distance at which they are visible, while DLSS provides boosted frame rates with uncompromised image quality. And with rasterized settings also being cranked to Ultra, GeForce RTX 3070 and 2080 Ti gamers receive an incredible experience at the highest detail levels, unmatched by any other platform.
And finally, if you're playing at 4K or beyond, the GeForce RTX 3080 and GeForce RTX 3090 deliver the performance to play Cyberpunk 2077 with ray tracing at Ultra at this incredibly demanding resolution. Both GPUs are powered by Ampere—NVIDIA's 2nd gen RTX architecture—with dedicated RT Cores for ray tracing, and Tensor Cores for DLSS AI acceleration, delivering an unrivaled cinematic-quality experience.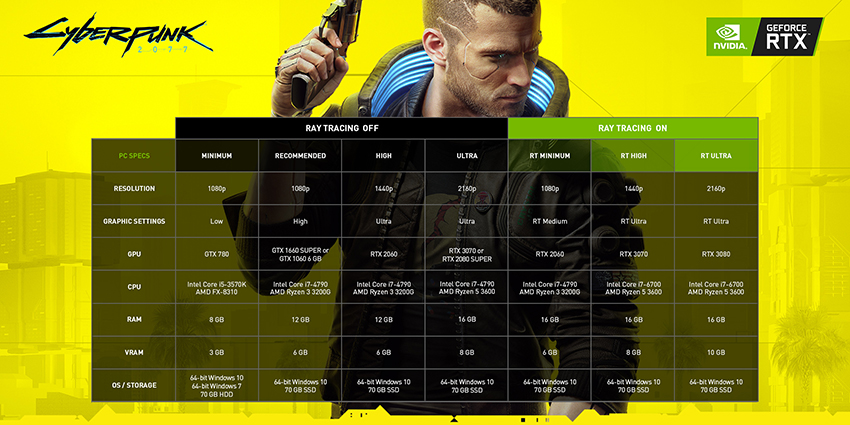 If you lack a GeForce RTX PC or laptop, or are away from your gaming system, you can play RTX-enhanced Cyberpunk 2077 at release via GeForce NOW, our cloud gaming service. GeForce NOW gives your low-end rig the power to stream Cyberpunk 2077 with RTX ON. Explore the streets of Night City across all your devices, streaming from the cloud. And instantly play your existing PC library from stores like Steam, UPlay and the Epic Games Store.
As we approach Cyberpunk 2077 release on December 10th, stay tuned to GeForce.com for more RTX ON trailers and screenshots, our Cyberpunk 2077 Game Ready Driver, and more Cyberpunk 2077 PC content.