The venerable GeForce GTX 1060 is the most popular graphics card on Steam, having offered users years of high quality 1080p gaming. Now, however, it's starting to show its age as the production values of the latest and greatest games continue to improve, demanding more and more from your GPU.
For example, gamers were playing Watch Dogs 2 with high settings at 60 frames per second on the GeForce GTX 1060, but with Watch Dogs: Legion, released last October, they only get 24 frames per second. And an even bigger change is underway: turn ray tracing on and these games become unplayable on the GeForce GTX 1060. Furthermore, the GeForce GTX 1060 lacks the latest enhancements and features of the newest GPUs; features that can further improve your experience.
Enter the GeForce RTX 3060, a $329 upgrade launching late February that brings the power of Ampere, our 2nd Generation RTX architecture, to every gamer. With it, you get twice the raster performance and 10x the ray tracing performance of the GeForce GTX 1060 - a massive increase.
The GeForce RTX 3060 has the power to dazzle you with immersive ray-traced effects in Control, Cyberpunk 2077, Fortnite, Minecraft with RTX For Windows 10, Watch Dogs: Legion, and many other titles. And of course, NVIDIA DLSS is included, too, greatly accelerating frame rates in over 40 RTX games.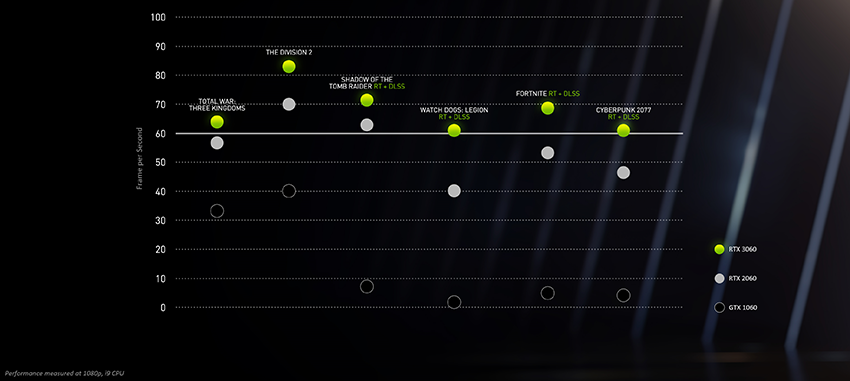 The GeForce RTX 3060 is built with a 192-bit bus, which allows us to equip this latest addition to the 3060 family with 12 GB of fast GDDR6 memory. The 12GB of faster GDDR6 also makes it a great choice for creators working with large datasets, models, and detailed scenes.
Having been built using the same NVIDIA Ampere Architecture as the rest of the GeForce RTX 30 Series, the new GeForce RTX 3060 offers all the same advancements, benefits and features, improving your gaming, live streaming, content creation, and work.
Resizable BAR will be supported on the GeForce RTX 30 Series, too, starting with the RTX 3060. When combined with a compatible motherboard that supports the feature, this advanced PCI Express technology enables all of the GPU memory to be accessed by the CPU at once, providing a performance boost in many games. Read more here.
2nd Generation Ray Tracing Cores give you the hardware to run the latest ray-traced titles with solid performance.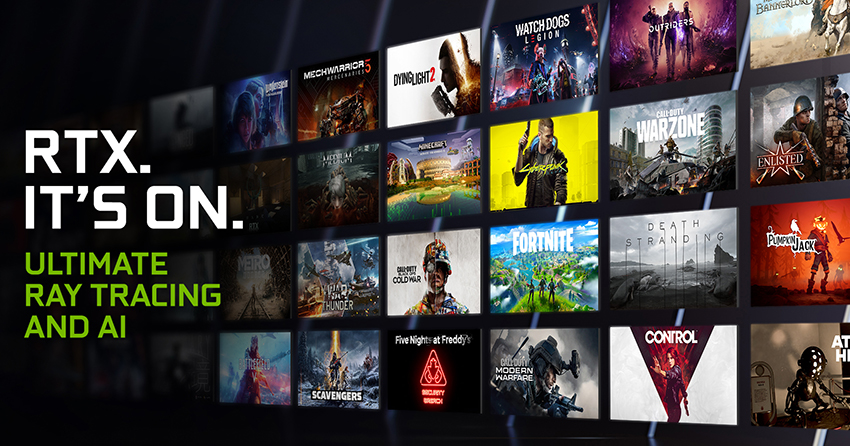 The critically acclaimed, AI-powered NVIDIA DLSS uses 3rd Generation Tensor Cores to boost frame rates in ray-traced and rasterized games. Enjoy Cyberpunk 2077, Minecraft with RTX, Call of Duty: Black Ops Cold War and other games at 60 FPS by simply enabling GeForce Experience's One Click Optimal Settings.
NVIDIA Reflex reduces system latency in competitive multiplayer games, helping get shots off faster, which can make all the difference between success and defeat.

NVIDIA Broadcast uses Tensor Cores and AI to enhance your live streaming and conference calls with near-magical noise removal, virtual green screens, and more features that transform your space into a home studio.
This allows content creators to significantly reduce the time it takes to create amazing content, be it videos, photos, or 3D animations.
Take your creative projects to a whole new level with the GeForce RTX 3060. Creators get full support from the NVIDIA Studio ecosystem, which provides content creators with the best performance and experience, including hardware acceleration in leading creative apps, AI-assisted workflows, and NVIDIA Studio drivers for increased stability.
Built to perform in record time — whether that's 3D rendering, video editing in UHD, or livestreaming with the best encoding and image quality — the GeForce RTX 3060 gives you the performance to create your best.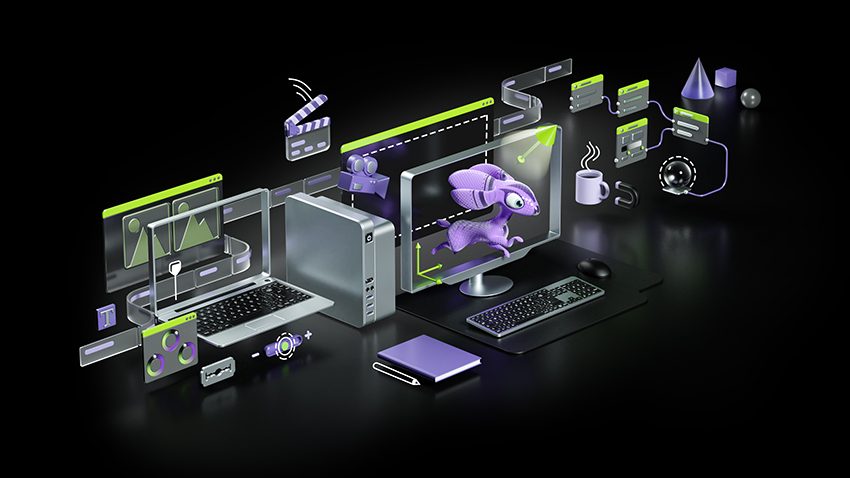 GeForce RTX 30 Series GPUs are also the first to include support for the latest industry advancements, such as HDMI 2.1, DirectX 12 Ultimate, AV1 decode support, and Direct Storage.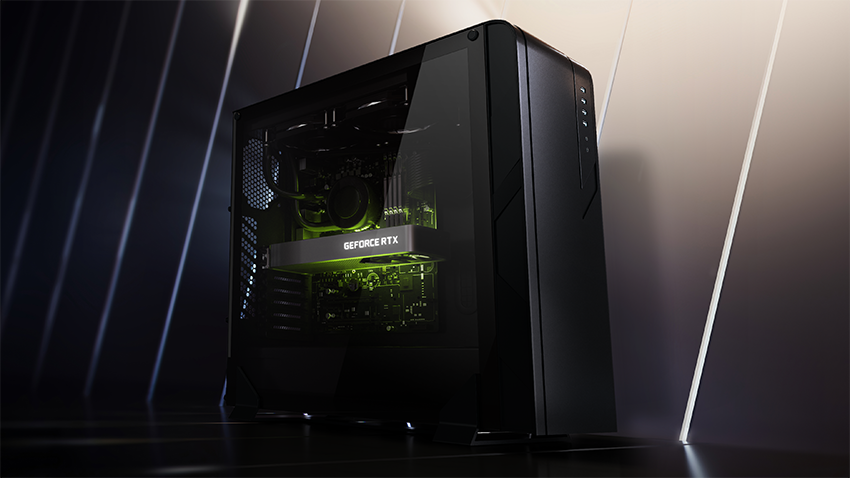 All of this tech, and our feature-rich apps like GeForce Experience and NVIDIA Broadcast, make your gaming, live streaming, video calls, and work faster, smoother and all round better. No other platform offers this breadth of technology, or the range of enhancements for gaming, work and everyday tasks.
And with the GeForce RTX 3060 we're bringing these features to every gamer, starting late February.