NVIDIA's starting 2021 with a bang, bringing GeForce RTX 30 Series GPUs to laptops, unveiling the GeForce RTX 3060, and announcing new RTX and NVIDIA Reflex games, new G-SYNC monitors, new tech, and much more, to make your gaming and creating even better.
For a roundup of everything announced in our new-year video presentation, keep reading!
GeForce RTX 30 Series Laptops - The World's Fastest for Gamers & Creators
Laptops are about to reach a whole new level. The critically-acclaimed NVIDIA Ampere architecture -- that has won hundreds of global awards from reviewers -- is now coming to laptops with the GeForce RTX 3080, 3070, and 3060. You'll get all the same industry-leading features and capabilities seen on our GeForce RTX 30 Series graphics cards, plus new 3rd gen Max-Q technologies for peak efficiency and performance in laptops.
Over 70 new laptops will sport our GeForce RTX 30 Series Laptop GPUs, giving gamers and content creators record-breaking performance in a portable form factor. Availability starts January 26th.
GeForce RTX 30 Series laptops boast 3rd generation Max-Q technologies, including new Dynamic Boost 2.0, WhisperMode 2.0, and Resizable BAR, plus NVIDIA DLSS. Altogether, these innovations improve efficiency, performance, acoustics and battery life. To learn more, and to see why your next laptop should be powered by a GeForce RTX 30 Series Laptop GPU, head here.
GeForce RTX 3060 Launches Late February
The GeForce RTX 3060, the newest member of the GeForce RTX 3060 family of graphics cards, is an enticing upgrade for mid-range users looking to enjoy the latest games at great detail levels and frame rates.
For example, gamers still rocking the GeForce GTX 1060, the most-used GPU on Steam, will instantly supercharge their performance. They'll be able to take on the latest games that are more stunning and graphically demanding. They'll additionally get to experience ray-traced visuals for the first time, and have complete access to our latest game-changing technologies, including NVIDIA DLSS, NVIDIA Broadcast, and more.
The GeForce RTX 3060 will also support Resizable BAR, along with the rest of the GeForce RTX 30 Series on compatible motherboards. This advanced feature of PCI Express enables the CPU to access the GPU frame buffer, improving performance in many games. For more on this upcoming feature, head here.
The GeForce RTX 3060 launches late February, starting at $329. For all the details, hit up our dedicated announcement article.
Ray Tracing and NVIDIA DLSS Coming To More Games
RTX technology has set a whole new standard in gaming. In fact, 36 games are now powered by RTX, including the #1 Battle Royale game, the #1 RPG, the #1 MMO and the #1 best-selling game of all time - Minecraft. Now, we're announcing more games that support RTX technology, including DLSS, which is coming to both Call of Duty: Warzone and Square Enix's new IP, Outriders.
To get further details about the technology coming to these titles, head on over to our January 2021 RTX Games article.
New NVIDIA Reflex Games, Monitors, Mice and Features
Esports is a game of milliseconds where system responsiveness is absolutely critical. We built NVIDIA Reflex to deliver the lowest system latency for competitive gamers - from mouse click to display. Since Reflex's launch in September, a dozen games have added support.
Today, we are announcing that Overwatch and Rainbow Six Siege are also adopting NVIDIA Reflex. Now, 7 of the top 10 competitive shooters support Reflex.

Also in September, we announced four 360 HZ G-SYNC esports displays with the innovative Reflex Latency Analyzer that gives gamers a way to accurately measure system latency. Today we are announcing five new G-SYNC gaming displays featuring Reflex Latency Analyzer, that expand the Reflex ecosystem to include 1440p resolution and 34 inch ultrawide panels.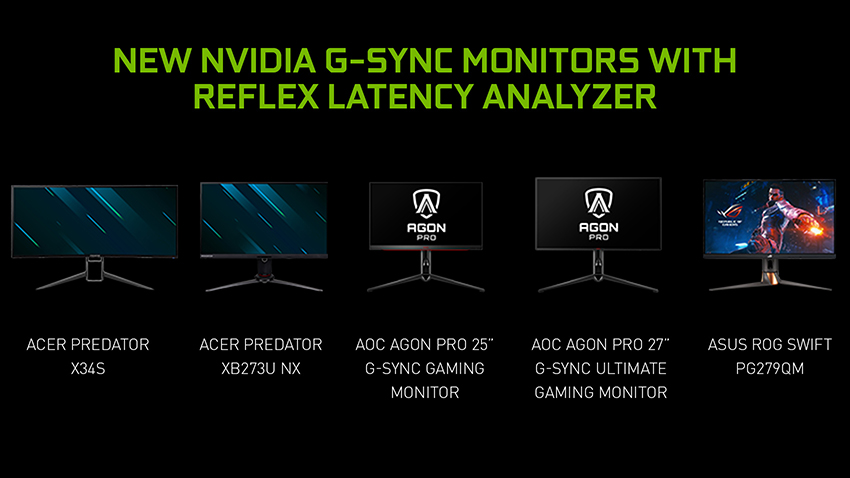 As the Reflex ecosystem continues to grow, mouse vendors are making their mice Reflex Latency Analyzer compatible. In September, we announced Reflex Latency Analyzer support from mouse partners Logitech, Razer, Steelseries, and ASUS. Today, we are announcing new Reflex Latency Analyzer compatible mice from Acer, Alienware, and Corsair.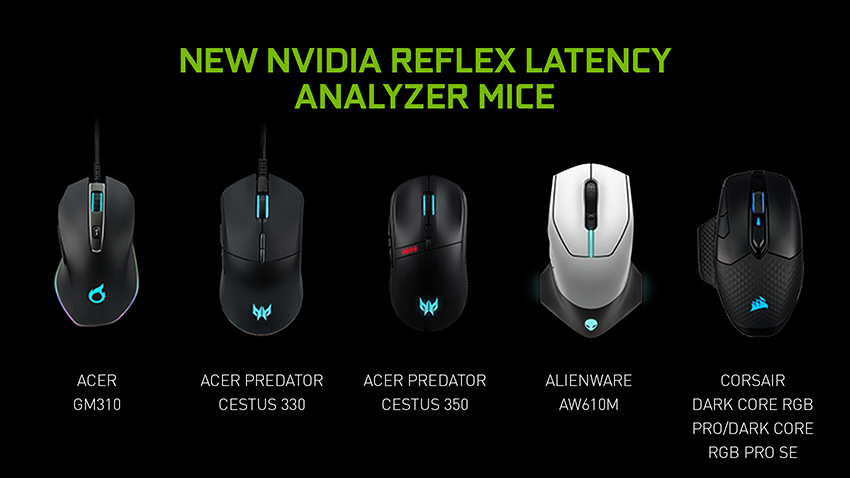 To learn more about these announcements, new Reflex compatible mice and other Reflex updates, check out our detailed NVIDIA Reflex article.
New G-SYNC, G-SYNC Compatible and G-SYNC ULTIMATE Displays and TVs
CES is where manufacturers announce their latest TVs, monitors and display technologies, bringing ever-better panels and features to the table each year. In the world of PC gaming, our G-SYNC technologies ensure the very best experiences for your eyes, and today things get even better with the announcement of new G-SYNC, G-SYNC Compatible and G-SYNC ULTIMATE displays and TVs.
For all the details, head on over to our G-SYNC announcements article.
NVIDIA Broadcast - Adding AI to Livestreams, Conference Calls and More
Our users seek versatile machines that allow them to game, work or study. The NVIDIA Broadcast app, powered by GeForce RTX 30 Series GPUs, levels up your live streams, voice chats, and remote meetings with AI-powered virtual background and noise removal. And GPU-accelerated encoding delivers the performance and image quality to show off all your best moments in exquisite detail. GeForce RTX 30 Series delivers the ultimate broadcast experience for live streaming, work and play—every time.
Introducing GeForce RTX 30 Series Laptops to NVIDIA Studio
If you can imagine it, NVIDIA Studio laptops will help you bring it to life. The newest Studio laptops are powered by GeForce RTX 30 Series Laptop GPUs. They come equipped with pixel-accurate displays, up to 16 GB of video memory, and GPU acceleration for ray tracing, artificial intelligence and video encoding that allow artists to create in record time.
Six new Studio laptops were announced today, powered by the GeForce RTX 30 Series:
ASUS Zenbook Pro Duo UX582

Razer Blade 15 and Blade Pro 17

MSI Creator 15

GIGABYTE AERO15 and AERO17
There are now over 100 Studio systems in total from over 25 OEMs, and hundreds of applications accelerated for NVIDIA GPUs - including 50 accelerated for NVIDIA RTX GPUs.
Studio laptops take advantage of NVIDIA Studio Drivers, providing artists, creators and 3D developers the best performance and reliability when working with creative applications.
Stay Up To Date With GeForce.com
Throughout the year we make new announcements about GPUs, laptops, monitors, games and technology. To ensure you're up to date on all of 2021's news, bookmark GeForce.com.