Esports has become the preferred sport for 10s of millions of gamers. 75% of GeForce gamers play competitive games like Fortnite, Valorant and Apex Legends, and 99% of esports pros are competing on GeForce.
Esports is a game of milliseconds, and system responsiveness is critical. We built NVIDIA Reflex to reduce latency and deliver gamers the best system responsiveness -- from the time the mouse is clicked to when the display updates. With lower latency you get the edge on opponents, and gameplay feels more responsive.
Reflex has been a big hit since its introduction in September, with a dozen games adding support. And today, we're excited to announce that Rainbow Six: Siege and Overwatch are adopting NVIDIA Reflex. Now, 7 of the top 10 competitive shooters support the technology.
NVIDIA Reflex Comes To Overwatch and Rainbow Six Siege
Already, gamers in Apex Legends, Call of Duty Black Ops Cold War, Modern Warfare and Warzone, Fortnite, and Valorant are enjoying the benefits of NVIDIA Reflex. And soon, players in Overwatch and Rainbow Six: Siege can also reduce system latency when Reflex is added to each game.
"NVIDIA Reflex is coming to Rainbow Six Siege soon. If you want to reduce system latency and get the best Rainbow Six Siege gaming experience, enable Reflex when it launches." - John Huelin, Tech Lead 3D, Ubisoft
"NVIDIA Reflex will optimize input latency in Overwatch, leading to the most responsive gameplay." – Ryan Greene, Lead Graphics Engineer, Overwatch

To enjoy the more responsive gameplay NVIDIA Reflex delivers, keep your system up to date with our Game Ready Drivers, and play each title using a GeForce GTX 900 Series or newer GPU.
The NVIDIA Reflex Software Development Kit is also now available in Unreal Engine and from our developer portal, enabling developers worldwide to quickly and easily add Reflex to their games. As with other NVIDIA technologies, this public release will accelerate adoption, ensuring more games benefit from Reflex's system latency-reducing magic.
New High Refresh Rate G-SYNC Monitors Include The Reflex Latency Analyzer
In September, we announced four 360Hz G-SYNC Esports displays that feature an innovative tool -- the Reflex Latency Analyzer. The Latency Analyzer is to an esports gamer what a heart rate monitor is to a runner -- a critical tool for measuring system health and performance.
With hardware built into the display, it measures full click to display latency.
Today, we are announcing 5 new G-SYNC gaming monitors from Acer, AOC, and ASUS, all featuring the Reflex Latency Analyzer. These panels expand the Reflex ecosystem to include 1440p resolution and 34 inch ultrawide panels.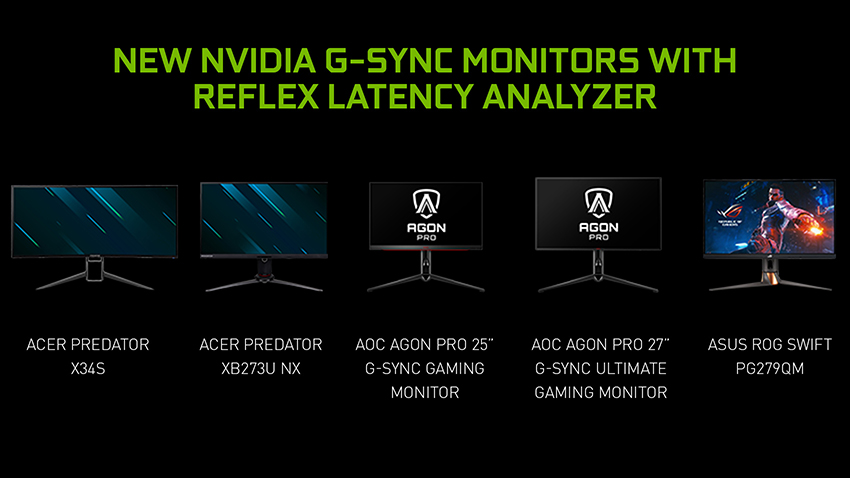 The new monitors, launching in the near future, are the:
Acer Predator X34 S - 34", 180Hz, 3440x1440

Acer Predator XB273U NX - 27", 240Hz, 1440p

AOC Agon Pro 25" G-SYNC Gaming Monitor (AG254FG) - 25", 360Hz, 1080p

AOC Agon Pro 27" G-SYNC Ultimate Gaming Monitor (AG274QG ) - 27", 240Hz, 1440p

ASUS ROG Swift PGM279QM - 27", 240Hz, 1440p
Designed for those serious about their system latency, the NVIDIA Reflex Latency Analyzer offers the best, quickest, easiest and most reliable way to test and measure system latency, and discern whether game and system changes positively or negatively affect system latency.
We're also announcing a new enhancement for the NVIDIA Reflex Latency Analyzer: the ability to automatically move the Reflex Latency Analyzer monitoring rectangle when the flash indicator is enabled. In games such as Fortnite, which implement the NVIDIA Reflex SDK's "Flash Indicator", the monitoring rectangle will be automatically positioned over the top of the flash indicator's white square. When the flash indicator is not enabled, the monitoring rectangle is reverted back to its original user defined location. This makes it even quicker and easier to set up system latency testing, and removes the chance of user error that can occur when defining the measurement area. Simply update to the latest GeForce Experience, and instantly get this benefit!
More Mice Include Support For The NVIDIA Reflex Latency Analyzer
Plugging a NVIDIA Reflex-compatible mouse into a monitor with NVIDIA Reflex Latency Analyzer technology yields click-to-display system latency measurement. This is the be all and end all of system latency testing, revealing how long it takes for your mouse click to be transmitted through hardware and software before appearing on-screen in the game.
Mice have differing latencies. Using any mouse, Reflex Latency Analyzer can capture PC Latency, Display Latency, and average mouse latency if the mouse is recognized in our average mouse latency database. For the most accurate, real-time measurement of mouse latency, we have teamed up with mouse vendors like Logitech, Razer, Asus, and SteelSeries to dynamically measure per click latency on the fly with the NVIDIA Reflex Latency Analyzer. And so, today, we're announcing the addition of NVIDIA Reflex technology to 7 mice from 4 manufacturers: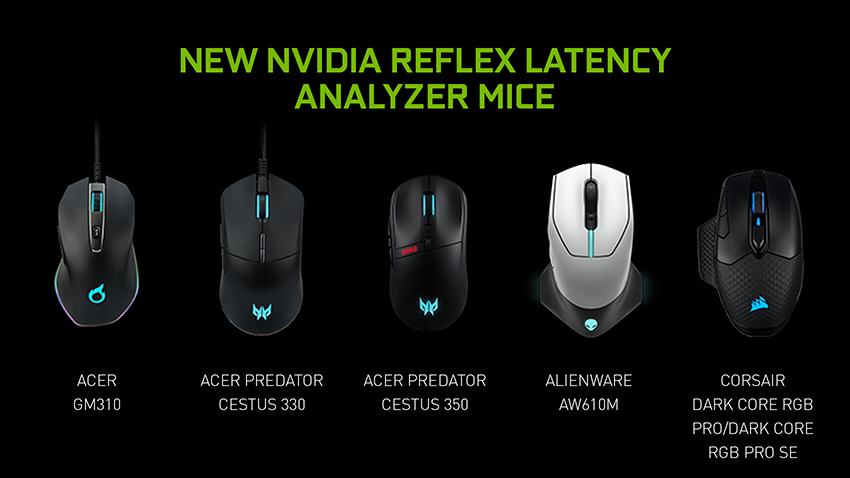 Acer GM 310

Acer Predator Cestus 330

Acer Predator Cestus 350

Alienware AW610M

Corsair DARK CORE RGB PRO

Corsair DARK CORE RGB PRO SE

MSI GM41
In total, 11 gaming mice now support NVIDIA Reflex technology, and we're working on additional integrations that'll be announced in the future.
New Game Ready Driver Latency Improvements
One common method that savvy gamers have used to optimize latency is setting games to run in fullscreen exclusive mode. This is because Windows OS typically adds a compositing step that increases latency when running in windowed mode or borderless mode.
With our January 7th Game Ready Driver, we implemented new optimizations to reduce this latency in DirectX 12 and select DirectX 11 games that take advantage of a hardware and OS feature called Multiplane Overlay.
Multiplane Overlay allows for the GPU to composite the final image planes in hardware instead of the Desktop Windows Manager (DWM), and using this gamers can get low latency while playing in their preferred window mode.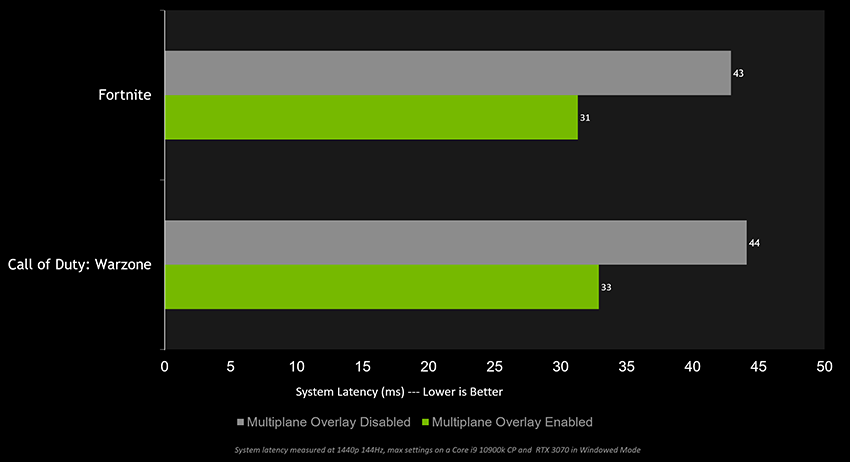 To enable this functionality you will need a GeForce GTX 16 Series (Turing) or higher GPU, which features advanced hardware support for Multiplane Overlay. Then simply update to the latest driver and the optimizations will work automatically out of the box when Windows is in SDR mode (support in HDR mode will be enabled in a subsequent driver). To verify that your system latency is lower, you can use Reflex Latency Analyzer to measure your improved responsiveness.
More To Come
At NVIDIA, we are making it easier for gamers to both measure and optimize their PC's latency. Stay tuned for more news and updates in the months ahead.