Over 50 million people have gamed for 14 billion hours on GeForce laptops, making them the world's fastest growing gaming platform. Today, 7 times as many people have bought GeForce laptops than they did 7 years ago thanks to the incredible advancements made to performance, efficiency and device portability.
Now, we're bringing our critically acclaimed NVIDIA Ampere architecture to laptops. GeForce RTX 30 Series Laptop GPUs increase efficiency by up to 2X, accelerate performance, and introduce new 3rd gen Max-Q Technologies. Altogether, these give gamers the fastest gaming laptops ever seen, delivering stunning ray-traced experiences in Cyberpunk 2077 and other top titles, and enabling content creators to produce incredible art pieces in hundreds of GPU-accelerated apps.
Starting January 26th, manufacturers worldwide will begin shipping over 70 different GeForce RTX gaming and creator laptops featuring GeForce RTX 3080 and GeForce RTX 3070 Laptop GPUs, followed by GeForce RTX 3060 Laptop GPUs on February 2nd.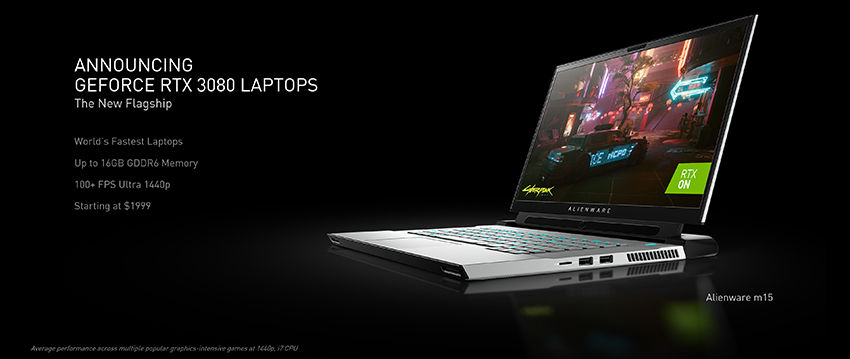 For details on everything new we've cooked up for these portable powerhouses, keep on reading!
NVIDIA Ampere Architecture, On The Go
Our record-breaking, award-winning NVIDIA Ampere Architecture powers our complete range of GeForce RTX graphics cards, and now our laptops, too.
Our laptop GPUs feature NVIDIA Ampere Streaming Multiprocessors (SMs), which offer 2x FP32 throughput --delivering vastly improved performance with improved performance per watt-- as well as PCI Express 4.0 support and numerous other architectural enhancements.
For ray tracing in Cyberpunk 2077, Minecraft with RTX, and other titles, as well as 3D rendering apps like Blender, new 2nd Generation Ray Tracing Cores have up to 2x the throughput, enabling GeForce RTX gamers and content creators to enjoy high quality ray-traced effects.
And to accelerate performance we pack in new 3rd Generation Tensor Cores, with up to 2x the throughput of Turing-architecture Tensor Cores. These power our now-famous NVIDIA DLSS, which accelerates performance in titles such as Control, Cyberpunk 2077, Death Stranding and Minecraft with RTX, while generating beautiful, crisp game images that are often clearer and sharper than native resolution rendering with Temporal Anti-Aliasing.
Additionally, these Tensor Cores have enabled the creation of new experience-enhancing technologies, such as NVIDIA Broadcast for live streaming, video calls and voice chat.
And if all that wasn't enough, you get NVIDIA Reflex to make gameplay more responsive in supported titles, GeForce Experience and its ever-expanding list of features that are used by millions of gamers, NVIDIA Studio hardware acceleration and optimization for demanding work apps, and so much more. Each designed to improve, accelerate and optimize your experience, whether that's gaming, working, or creating.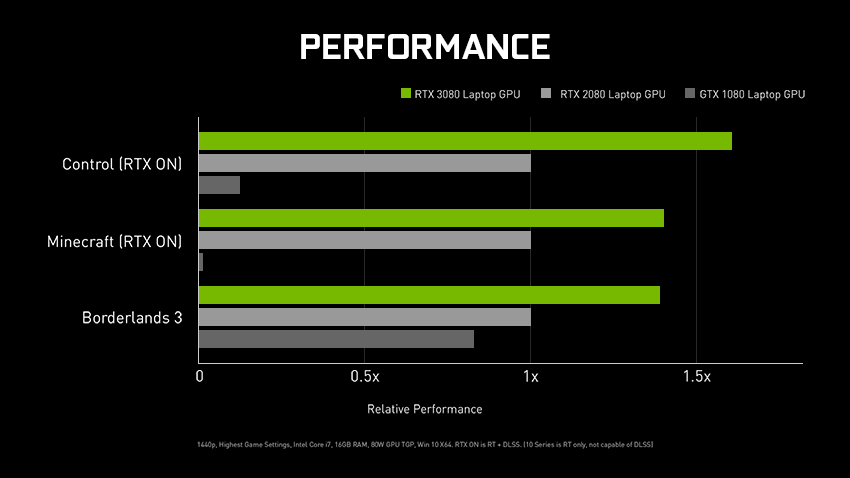 Introducing Third Gen Max-Q Technologies for Optimal Power and Performance
Four years ago, we introduced Max-Q, a system design approach that delivers high performance in thin and light gaming laptops.
Max-Q has been a paradigm shift in the way laptops are designed and built. Every component and element of the laptop - GPU, CPU, software, PCB design, power delivery, thermals - is optimized for power and performance.
For our GeForce RTX 30 Series laptops, we've developed new 3rd gen Max-Q Technologies that leverage our expertise and leadership in AI and new system optimizations to deliver substantial improvements to efficiency, performance, battery life, and acoustics.
Dynamic Boost 2.0
Traditionally, gaming laptops statically set the power for the GPU and CPU. Yet, games and creative apps are dynamic, and demands on the system change from frame to frame.
With our new laptops we're introducing Dynamic Boost 2.0, which uses AI to balance power between the CPU, GPU and GPU memory. The AI networks in Dynamic Boost 2.0 manage power on a per-frame basis, so your laptop is constantly determining where power is needed the most and optimizing for maximum performance.
Whether the application is loading the CPU, the GPU, or the GPU memory, the result is a larger performance boost than ever before. In a GPU-bound workload, like gaming or 3D rendering, the system can allocate up to 20W more to the GPU, automatically and seamlessly boosting frame rates or reducing rendering times.
Dynamic Boost 2.0 is available on all GeForce RTX 30 Series Max-Q laptops and is enabled out of the box, helping maximize performance in every app and game.
WhisperMode 2.0
WhisperMode 2.0, debuting on GeForce RTX 30 Series laptops, delivers a new level of acoustic control for gaming laptops.
WhisperMode has been reengineered from the ground up and is custom-built into laptops at a system level. Users now choose a desired acoustic level, and WhisperMode 2.0's AI-powered algorithms will do the rest, dynamically managing the CPU, GPU, game settings and fan speeds to deliver great acoustics and the best possible performance.
NVIDIA DLSS
Our magical AI-powered NVIDIA DLSS technology is now in over 30 games and support is coming to a bunch of new games with many more integrations in the works. In Cyberpunk 2077 it accelerates performance by up to 60%, and in Minecraft with RTX for Windows 10 the frame rate is more than doubled.
DLSS is a breakthrough for gaming laptops. It uses AI and RTX Tensor Cores to deliver up to 2X the performance in the same power. A GPU needs to calculate almost 4 million pixels for a single 1440p frame. DLSS requires only a fraction of the pixels, which improves efficiency and increases performance.
NVIDIA DLSS is also available in content creation apps, such as D5 Render, letting you visualize beautiful 3D environments in real time as you create them.
Resizable BAR Support
The standardized PCI Express interface features a technology called "Resizable BAR", which allows modern CPUs to access all GPU VRAM simultaneously, rather than the much smaller multiple requests of old. As the CPU and GPU are constantly swapping data, doing this in one big batch rather than multiple smaller ones can increase performance in certain games.
Resizable BAR improves performance without increasing power usage, helping increase efficiency and battery life, giving players more battery-powered game time. And when plugged in, it'll help gamers achieve even higher frame rates.
GeForce RTX 30 Series laptops will support Resizable BAR via a driver release for laptops that implement it. For more information about Resizable BAR read the full article here.
GeForce RTX 30 Series Laptops
Over 70 GeForce RTX 30 Series laptops from every OEM will be available starting January 26th, with a wide array of features and specs to meet almost every need.
New systems being announced today include the incredibly slim Razer Blade 15 Advanced, which packs a GeForce RTX 3080 Laptop GPU, 3rd gen Max-Q Technologies, and a 1440p 240Hz display featuring Advanced Optimus in a 16.99mm thin package.
You'll also find Alienware's new m15 R4 and m17 R4, featuring a GeForce RTX 3080 Laptop GPU and ultra-responsive 360Hz display.
The ASUS TUF Gaming Dash F15 pairs the GeForce RTX 3070 Laptop GPU and 3rd gen Max-Q Technologies with an 11th Gen Intel CPU and a speedy 240Hz display.
MSI's GS66 has also received an upgrade, featuring GeForce RTX 30 Series GPUs and 3rd gen Max-Q Technologies.
The new Lenovo Legion 7 comes with the GeForce RTX 3080 Laptop GPU and Advanced Optimus displays.
And Gigabyte's Aero 15 has been updated with GeForce RTX 30 Series GPUs, Advanced Optimus, and 3rd gen Max-Q Technologies.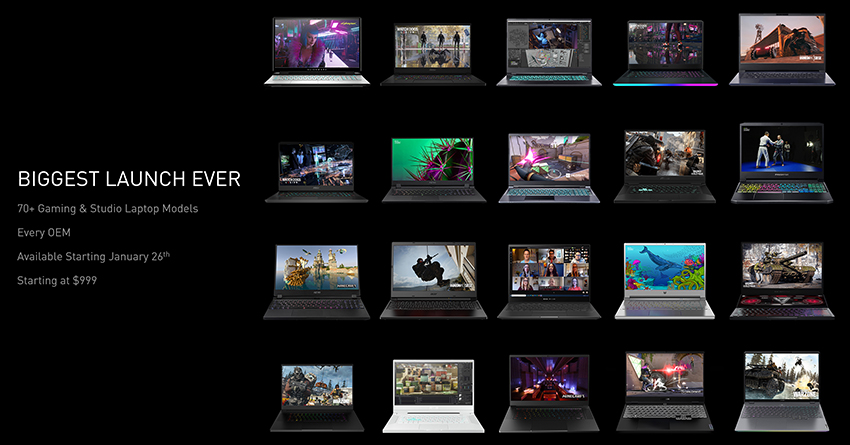 1440p Gaming and Creator Laptops
Gamers know that 1440p displays provide the perfect mix of high fidelity graphics and great performance. Creators seek crisp, high-pixel density displays to create their art with added clarity. With twice the pixels of 1080p, individual pixels on 1440p displays are virtually invisible to the human eye at typical usage distances.
We've been collaborating with display manufacturers and OEMs for years, and now for the first time, 1440p displays will be widely available, on systems including the Razer Blade Pro, HP OMEN 15, Lenovo Legion 5 Pro, and ASUS ROG Zephyrus G15. Combined with the performance of GeForce RTX 30 Series GPUs, the time has come for 1440p laptops.
240+ FPS Esports Laptops
If Counter-Strike, Fortnite, Overwatch, Rainbow Six Siege and Valorant are your jam, over half of the new GeForce RTX 30 Series laptops will offer displays with a 240Hz or higher refresh rate, and some will even offer up to a staggering 360Hz. With the performance of GeForce RTX 3080, gamers will be able to play at 240 frames per second or higher across top titles like Overwatch, Rainbow Six Siege, Valorant, and Fortnite.
Also, experience unparalleled smoothness and super low system latency, further optimized by NVIDIA Reflex in supported titles.
GeForce RTX 30 Series Studio Laptops
Just as the NVIDIA Ampere Architecture powers the latest gaming laptops, it also powers new NVIDIA Studio laptops.
The newest Studio laptops come equipped with pixel-accurate displays, up to 16 GB of video memory, and GPU acceleration that delivers up to 2x rendering performance; up to 8K RAW and HDR video editing with AI-assisted workflows; and big improvements in performance while running on battery, allowing you to keep working while on the go.
Built upon the new 3rd Generation Max-Q Technologies, our Studio partners are launching new NVIDIA Studio laptops from Asus, Razer, MSI and Gigabyte, all with the new GeForce RTX 30 Series GPUs.
The Ultimate Play
The GeForce RTX 30 Series powers the world's fastest desktops, and now laptops, too. They're built with the award-winning NVIDIA Ampere architecture, and feature 3rd Generation Ray Tracing Cores, 2nd Generation Tensor Cores, and streaming multiprocessors to give you the most realistic ray-traced graphics and cutting-edge AI features.
Leveraging our leadership in AI, the new GeForce RTX 30 Series laptops also include innovative 3rd gen Max-Q Technologies that maximize performance, efficiency, battery life and acoustics, to give you the best user experience possible.
If you need a laptop for a task, and also like to game, GeForce RTX 30 Series laptops are the ultimate play.