Our newest GeForce Game Ready driver ensures the definitive gaming experience in Back 4 Blood, Crysis Remastered Trilogy, and The Riftbreaker. And also includes support for the launch of NVIDIA DLSS in Baldur's Gate 3, Chivalry 2, Rise of the Tomb Raider, Shadow of the Tomb Raider, and Sword and Fairy 7.
Additionally, we've got 15 new GeForce Experience Optimal Playable Setting profiles for the latest games.
To download and install on Windows 10 and Windows 11 systems, simply fire up GeForce Experience and click the "Drivers" tab.
Game Ready For Back 4 Blood, Enhanced With NVIDIA DLSS
Back 4 Blood is out now! You and your team of three Cleaners are at the center of a war against the Ridden. These once-human hosts of a deadly parasite have turned into terrifying creatures bent on devouring what remains of civilization. With humanity's extinction on the line, it's up to you and your friends to take the fight to the enemy, eradicate the Ridden, and reclaim the world in a series of co-op campaign levels featuring randomized elements, a unique loadout system, and 8 different characters with their own perks.
If you're heading into the war against the Ridden, be sure to download our new Game Ready driver, which offers optimizations and enhancements for your PC or laptop, and support for NVIDIA DLSS. Using DLSS, performance is boosted by up to 46%, allowing virtually every GeForce RTX gamer to max out Back 4 Blood's graphics at 4K at over 60 FPS: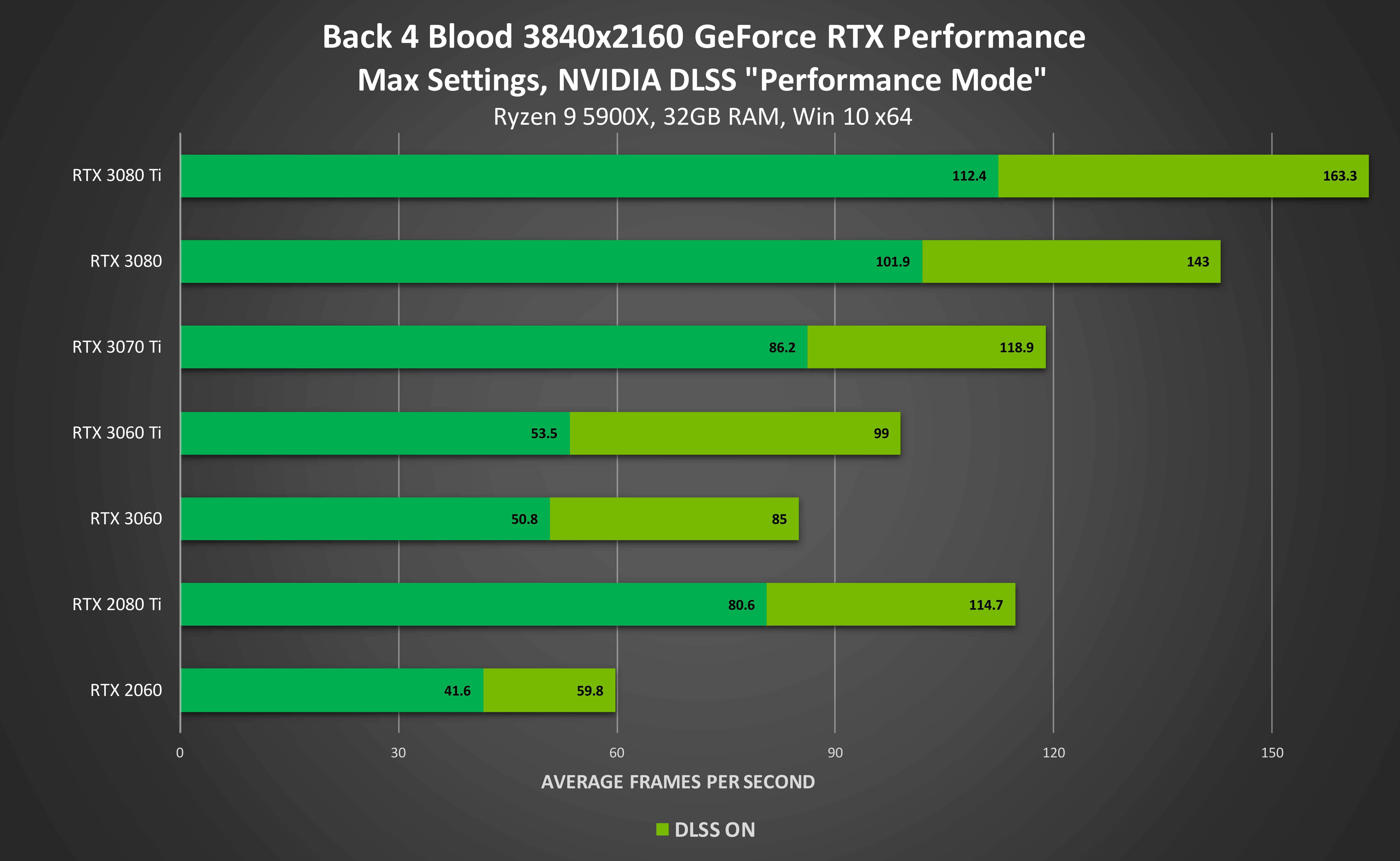 Game Ready For New Games & NVIDIA DLSS Enhancements
Our latest Game Ready Driver also includes optimizations and enhancements for several other new games, plus support for NVIDIA DLSS in numerous titles.
Baldur's Gate 3: Baldur's Gate 3 launched last year in Early Access and has already achieved tremendous success. Larian has continued to improve the game with new updates, new chapters, and player-requested changes. And this week, the newest Baldur's Gate 3 update arrives on Steam, bringing a massive number of exciting new changes, including NVIDIA DLSS.
Learn more in our new NVIDIA DLSS article.
Crysis Remastered Trilogy: Launching October 15th, the remastered trilogy features NVIDIA DLSS and ray-traced reflections, along with enhanced textures, models, lighting and environments, giving PC gamers the definitive Crysis experience.
Rise of the Tomb Raider & Shadow of the Tomb Raider: Shadow of the Tomb Raider was one of the earliest RTX games, adding ultra-quality ray-traced shadows and NVIDIA DLSS 1.0 in early 2019, making the critically acclaimed game even better for those gaming on PC with a GeForce RTX GPU.
On October 18th, Shadow of the Tomb Raider will be updated with the latest version of NVIDIA DLSS, improving both image quality and performance. And Rise of the Tomb Raider, the second game in the trilogy, originally released 2016, will get an update adding NVIDIA DLSS.
In Shadow of the Tomb Raider, NVIDIA DLSS performance more than doubles at 4K, with max settings and ray tracing enabled:
And in Rise of the Tomb Raider, NVIDIA DLSS boosts performance by up to 75%, enabling all GeForce RTX gamers to play at over 60 FPS at 4K, with max settings enabled.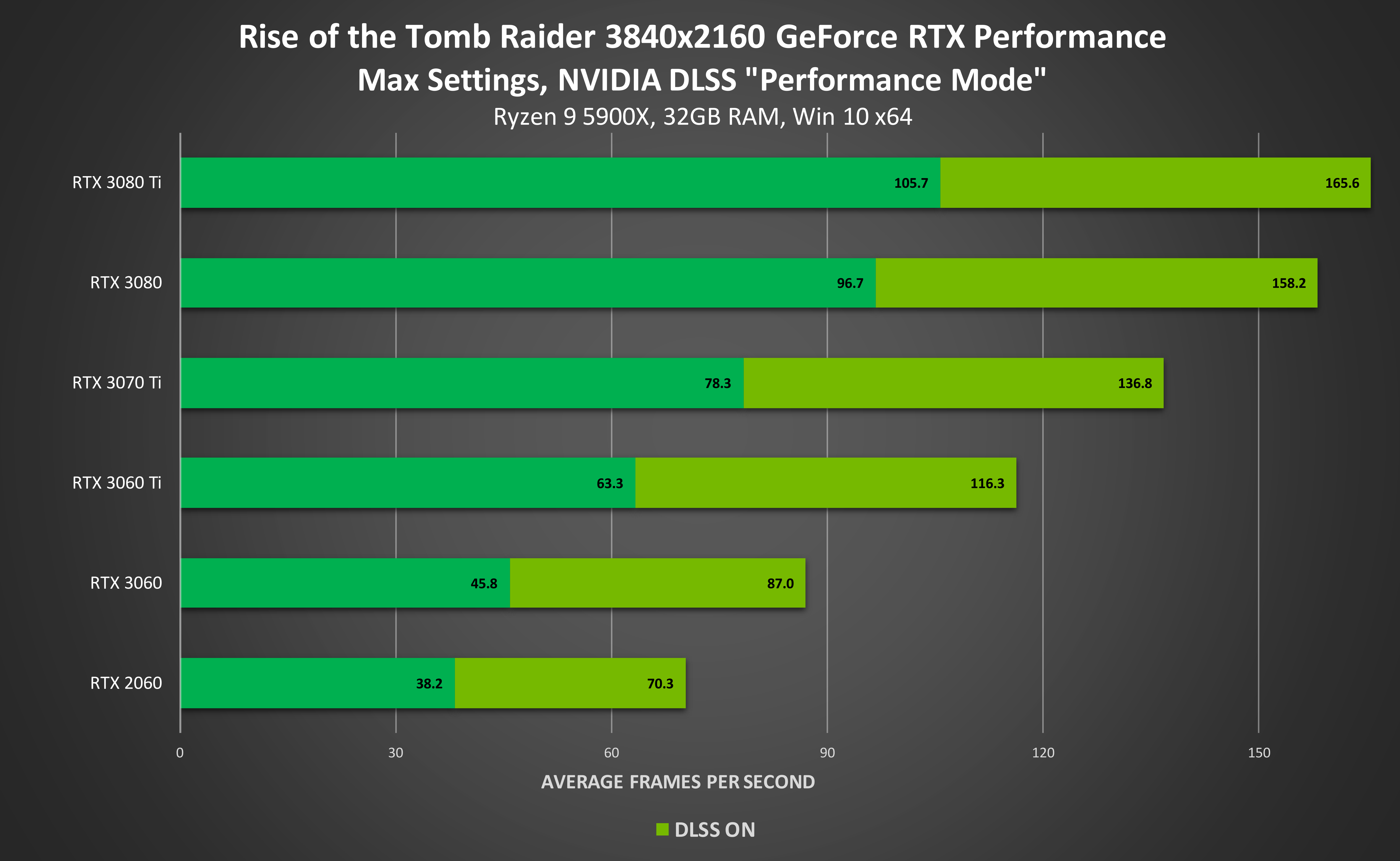 Learn more in our NVIDIA DLSS article.
Chivalry 2: Torn Banner Studios' Chivalry 2 is an incredibly entertaining 64-player PvP melee slasher multiplayer title. On October 26, Chivalry 2's introducing NVIDIA DLSS in a new update, boosting performance by up to 45%, enabling all GeForce RTX gamers to play at 4K at over 60 FPS, with max settings enabled: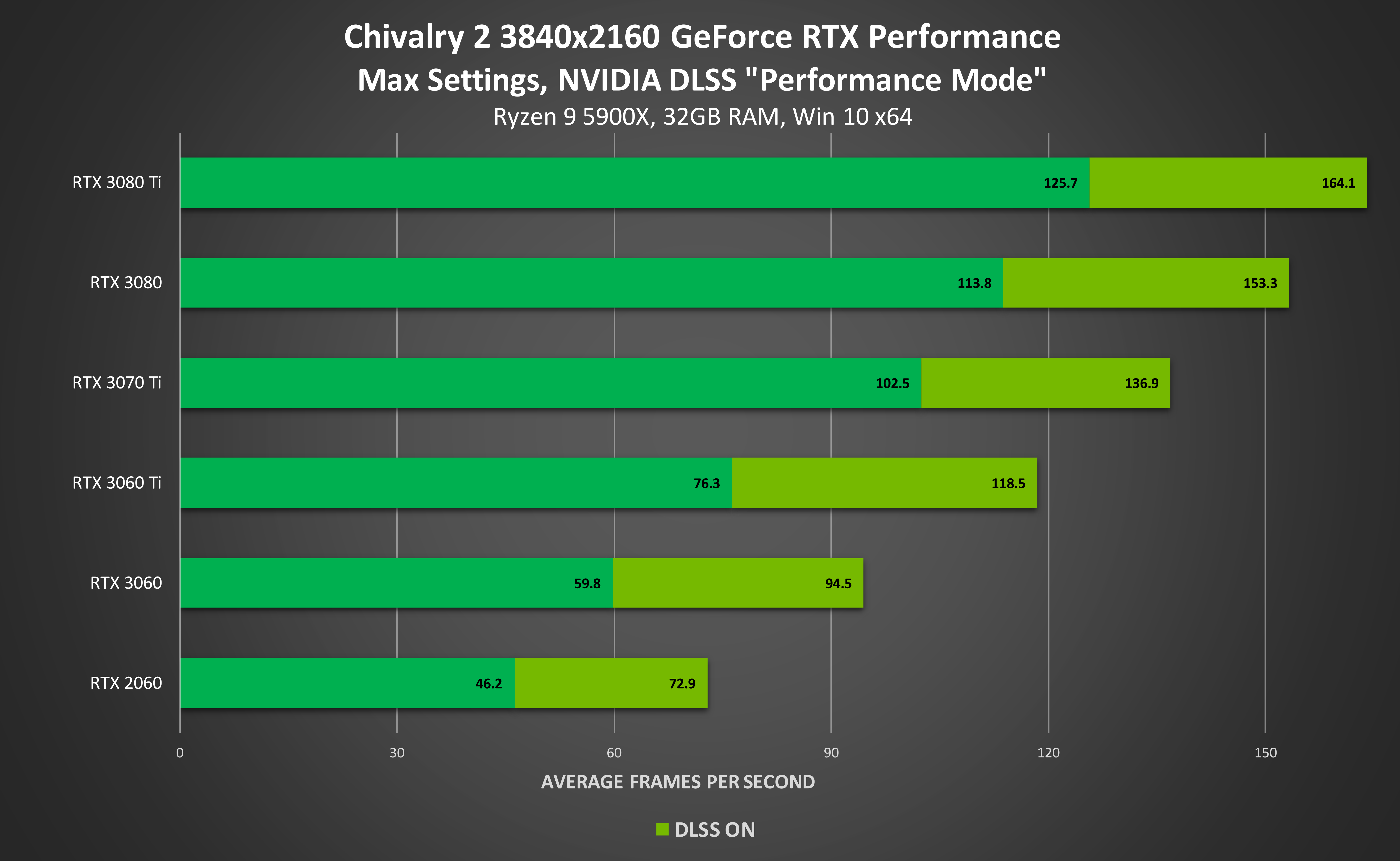 Check it out in action in our new Chivalry 2 NVIDIA DLSS video:
Sword and Fairy 7: The franchise's latest mainline title launches October 21st with ray-traced reflections, ray-traced shadows, ray-traced caustics, ray-traced ambient occlusion, and Spatiotemporal Importance Resampling for Many-Light Ray Tracing (ReSTIR) global illumination lighting. When maxing out your experience with all that ray-traced goodness, activate NVIDIA DLSS to more than double performance.
The Riftbreaker: The greatly anticipated base building, survival action game launches October 14th. Hack & slash countless enemies. Build up your base, collect samples, and research new inventions to survive.
New Games Supported By GeForce Experience's Optimal Settings
GeForce Experience's one-click optimal settings enable you to instantly configure game options for your system's hardware, giving you smooth, optimized gameplay. Over 1000 titles are supported, and since our last driver release we've added support for 15 more:
Alan Wake Remastered

Diablo II: Resurrected

Far Cry 6

FIFA 22

Hot Wheels Unleashed

Industria

Kena: Bridge of Spirits

MIR4

New World

Sable

Severed Steel

Tales of Arise

The Legend of Heroes: Hajimari No Kiseki

Titan Quest: Anniversary Edition

World War Z: Aftermath
GeForce Experience also enables you to capture and stream your gameplay, take screenshots, upload videos to social networks, and more. For all the details, head here.
GeForce Game Ready Driver - Download Now
You can download the new GeForce Game Ready 496.13 WHQL driver through GeForce Experience.
If you experience any technical issues with the new Game Ready drivers please post a detailed report on the GeForce.com Driver Feedback Forum, where our Customer Care team can better assist you. And if you're looking for a full list of fixes in this driver, for previously-reported issues, head here.