In competitive gaming, split second decisions can mean the difference between virtual life or death. And just like getting a new racket or pair of shoes can help you play your best in traditional sports, powerful GPUs, high refresh displays, and tuned game settings can help gamers unlock their full potential.
Now there's also NVIDIA Reflex, a free update for many popular competitive games that reduces system latency to further improve player competitiveness. Acquire targets faster, react quicker, and increase aim precision simply by enabling NVIDIA Reflex in a game's settings.
NVIDIA Reflex is now available on the Overwatch Public Test Region (PTR). When enabled, system latency is reduced by up to 50%, greatly improving your experience: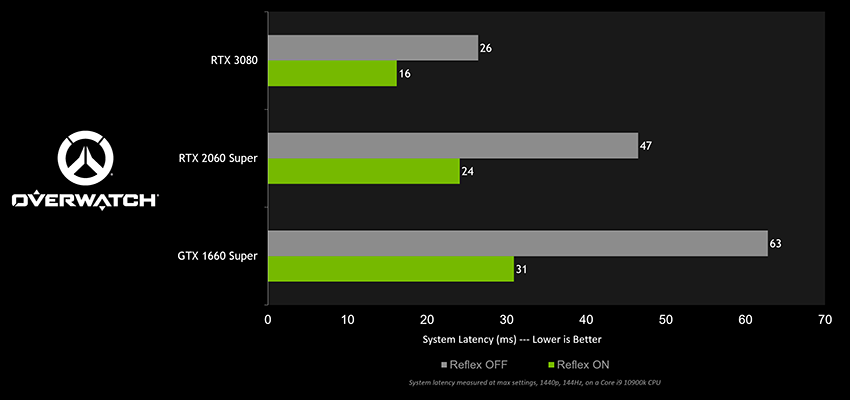 To participate in the NVIDIA Reflex public test, you must have an Overwatch game license for Windows attached to your Battle.net account, that's in good standing (i.e. it hasn't been suspended or banned). Additionally, you must have installed Overwatch and logged into the game at least once. If the PTR is not available for you in the Battle.net client after following the steps below, try logging into Overwatch, exiting the game client, and then launching the PTR again.
Step 1: Restart the Battle.net desktop app.
Step 2: Navigate to the Overwatch tab on the left-hand menu.
Step 3: Select "Public Test Region(PTR)" from the "GAME VERSION" drop-down menu.

Step 4: Click "Install" to begin the installation process.
Step 5: Once the PTR client is installed and updated, click "Play" to begin
Once you have the Overwatch PTR client installed, and have the March 11th update downloaded, open the game, go to Options, Video settings, and enable NVIDIA Reflex. With NVIDIA Reflex activated, gameplay will instantly be more responsive, increasing your chances of victory online.
Overwatch also features the Latency Flash Indicator. If you are sporting a new Reflex Latency Analyzer compatible monitor and have GeForce Experience installed, simply enabling the flash indicator and positioning your monitoring rectangle over the indicator location will give you accurate results every time - regardless of hero, ability, or weapon you use.
If you wish to reduce system latency further still, there are a number of system tweaks, game tweaks and hardware upgrades that you can make, detailed in full in our System Latency Optimization Guide.
Stay Tuned For More Reflex and GeForce Updates
To be the first to learn about the latest NVIDIA Reflex games, bookmark GeForce.com and follow our social media accounts on your platform of choice. Also, be sure to check out our extensive NVIDIA Reflex and system latency primer.