NVIDIA DLSS adoption continues at rapid pace, with an additional five titles adding the game-changing, performance-accelerating AI and Tensor Core-powered GeForce RTX technology this month. This follows the addition of DLSS to 9 other games this year, and the launch of the Unreal Engine 4 plugin, which enables developers to add DLSS to their titles with less than a day's work.
This month, the games adding DLSS include Call of Duty: Warzone, one of the planet's most popular battle royale multiplayer shooters, Call of Duty: Modern Warfare, Naraka: Bladepoint, Outriders, and Mortal Shell.
By enabling NVIDIA DLSS in each, frame rates are greatly accelerated, giving you smoother gameplay and the headroom to enable higher-quality effects and rendering resolutions.
For gamers, only GeForce RTX GPUs feature the Tensor Cores that power DLSS, and with DLSS now available in over 40 titles and counting, GeForce RTX offers the fastest frame rates in leading triple-A titles and indie darlings.
Call of Duty: Warzone & Call of Duty: Modern Warfare Add NVIDIA DLSS Today
Call of Duty: Warzone is Activision's phenomenally popular free-to-play, continually-updated battle royale shooter, and Call of Duty: Modern Warfare remains one of the most popular online multiplayer games out there. With the release of the Call of Duty update today, you can enable NVIDIA DLSS in Call of Duty: Warzone, Modern Warfare's multiplayer modes, and Modern Warfare's co-op Spec Ops mode.
By enabling NVIDIA DLSS in the options menu, you'll boost performance on GeForce RTX graphics cards by up to 70% at 4K. Alternatively, reinvest the extra performance in higher detail levels and higher rendering resolutions, which will help you spot distant targets, and make gameplay prettier and more immersive.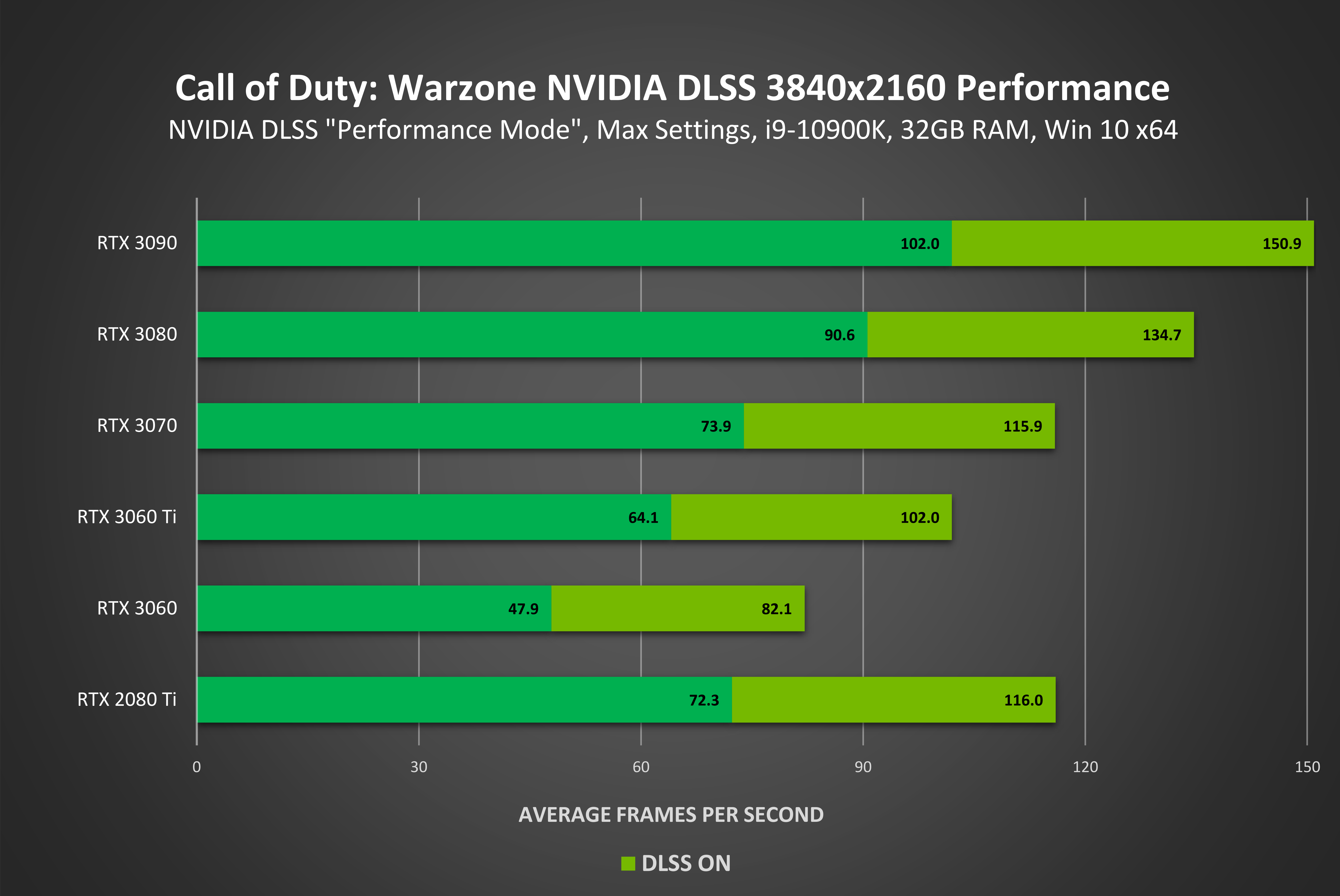 NVIDIA DLSS is now available for use in Call of Duty: Modern Warfare's campaign, as well as in Call of Duty: Black Ops Cold War's Zombies, multiplayer and campaign modes, enabling GeForce RTX gamers to maximize performance in the full slate of currently available Call of Duty modes.
To see NVIDIA DLSS in action in Call of Duty: Warzone, check out our new video below:
NVIDIA DLSS Heading To Unity This Year
Unity is one of the most used game engines amongst developers. In 2019, Unity introduced support for real-time ray tracing, and before the end of this year Unity will be adding support for NVIDIA DLSS as part of their High-Definition Render Pipeline.
With the addition of NVIDIA DLSS to Unity, game developers will be able to accelerate frame rates with minimal effort, giving GeForce RTX gamers superior experiences in ray-traced and rasterized games.
At GTC 2021, Light Brick Studio demonstrated how stunning Unity games can look when real-time ray tracing and DLSS are combined. Watch their full talk for free here.
Mortal Shell Adds Ray Tracing, And Doubles Performance With NVIDIA DLSS
Mortal Shell, a single-player Souls-like action-RPG from Cold Symmetry, was developed by just 15 people and first launched last August to critical acclaim. Now, the devs are back with a next-gen RTX game update, available now, which adds ray-traced shadows, and NVIDIA DLSS for GeForce RTX players.
By activating NVIDIA DLSS in Options --> Graphics, performance rockets by 130% at 4K: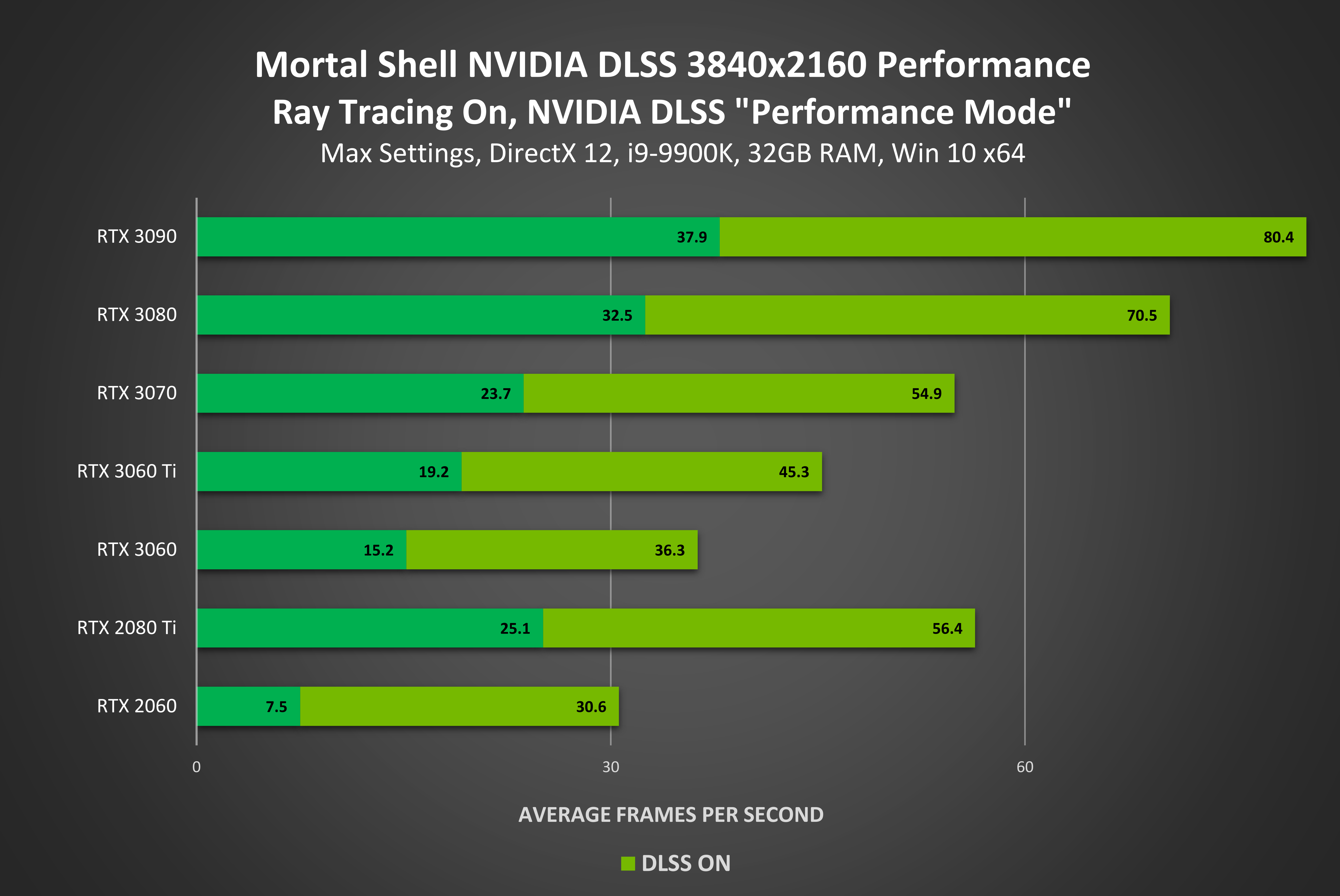 To see Mortal Shell's new ray tracing and NVIDIA DLSS technology in action, check out our DLSS video below:
Naraka: Bladepoint Adds NVIDIA DLSS - Sign Up For The April Closed Beta Now
24 Entertainment's Naraka: Bladepoint is one of the first Unity-powered games to incorporate NVIDIA DLSS, when its developers introduced support in a closed beta that rolled out last month. An online multiplayer PvP game with battle royale and death match modes, Naraka: Bladepoint further differentiates itself by offering plenty of verticality, with fast traversal powered by parkour and grappling hooks.
When NVIDIA DLSS was introduced, GeForce RTX gamers enjoyed up to 60% faster performance at 4K with max settings: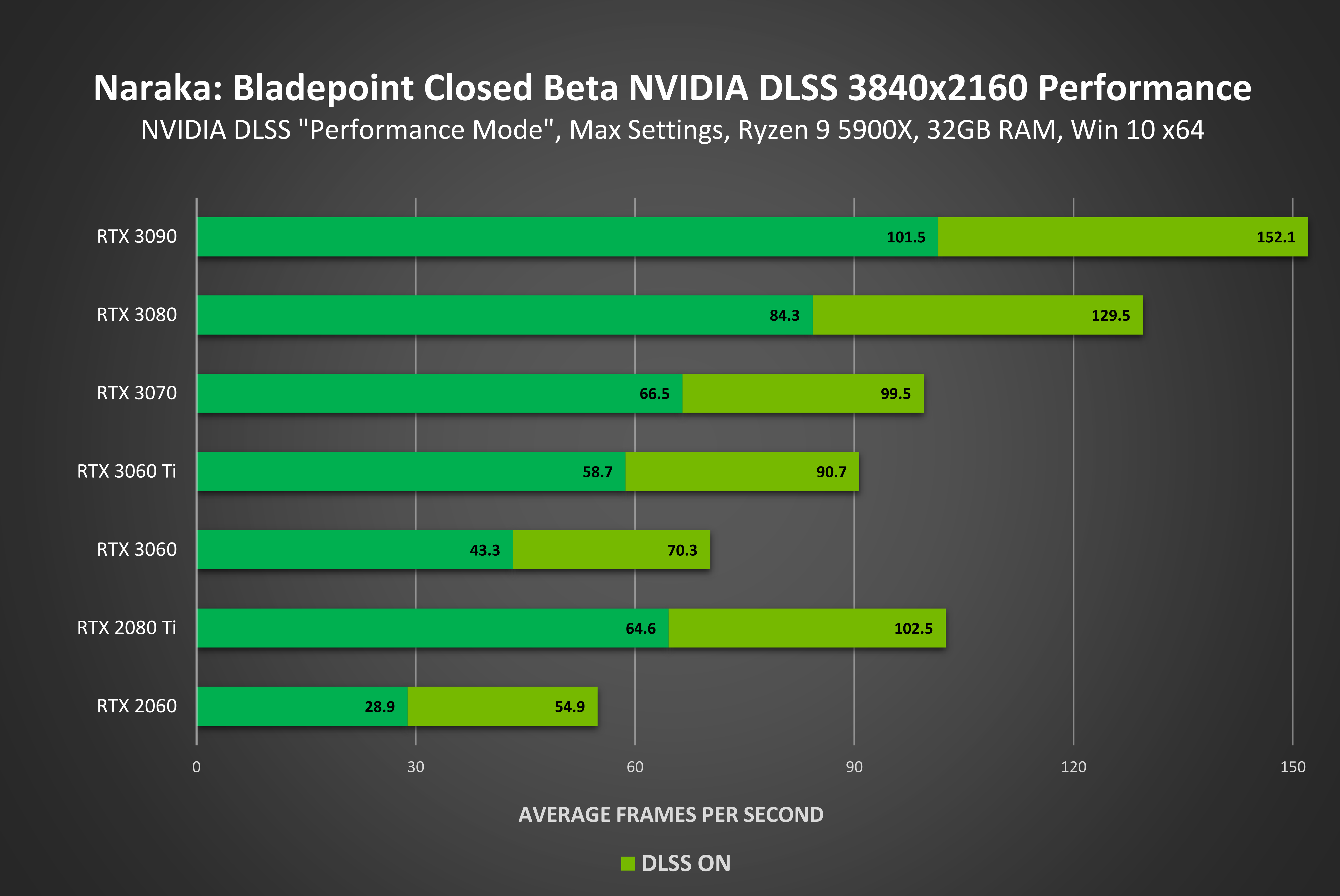 With the free increase in performance provided by NVIDIA DLSS, all GeForce RTX 30 Series players were able to enjoy the game's action at 60 FPS+ with max settings at 4K. And being a multiplayer battle royale, where you're out of the match if you die, having higher-fidelity visuals in concert with fast, responsive frame rates gave players the best possible chance of victory. Spot enemies with greater ease, get your attacks off that bit faster, and avoid slowdown during the most action-packed moments; it all helps in high stakes battle royales.
If you missed out on Naraka: Bladepoint's last closed beta, you can sign up to participate in another that starts April 23rd - simply head to the game's Steam page and click the "Request Access" button. When the time comes, selected gamers will be granted access to the test, and can check out the game and its NVIDIA DLSS integration for themselves.
Outriders Launches With NVIDIA DLSS
People Can Fly and Square Enix's Outriders launched April 1st with a NVIDIA DLSS integration that boosts frame rates by up to 73% at 4K: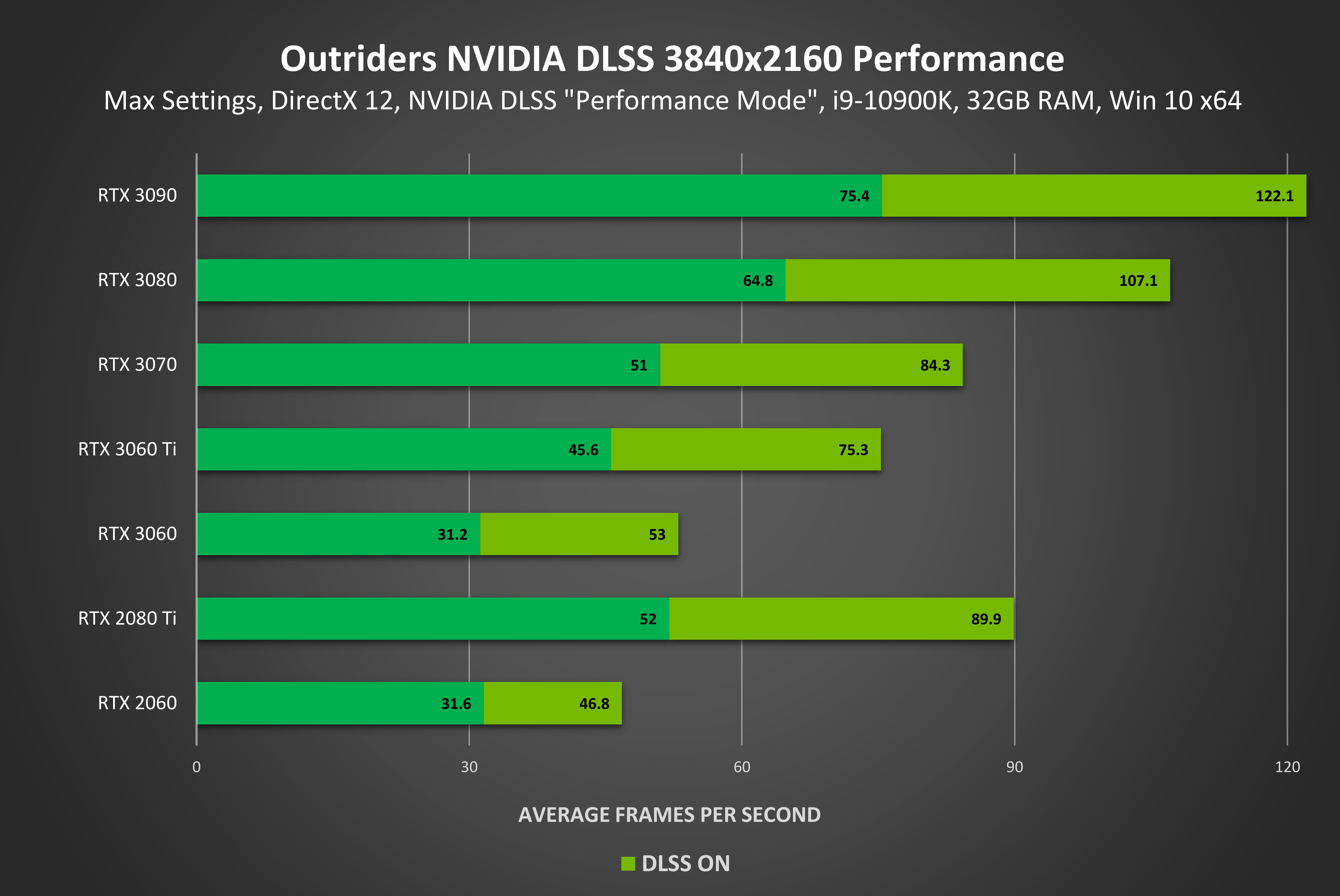 Learn more about the game and its NVIDIA DLSS technology in our dedicated Outriders article, and check out DLSS in action in our video:
As Always, There's More To Come
With the addition of another 5 titles, there are now over 40 games with NVIDIA DLSS. Plus, plenty of other titles with ray tracing and NVIDIA Reflex, which recently launched in Rainbow Six Siege and Overwatch. And of course, many more implementations of these technologies waiting in the wings to be announced and released in the coming weeks and months.
For details, stay tuned to GeForce.com.