Gaming on a GeForce RTX graphics card or laptop ensures the latest and greatest titles run at their best, and with RTX enhancements that are unavailable on any other platform. Experience ray tracing effects at stunning detail levels thanks to RT Cores, accelerate frame rates with the award-winning NVIDIA DLSS in over 60 titles, and gain the competitive edge in 12 of the top 15 competitive games with NVIDIA Reflex.
Livestream at max frame rates and with the highest levels of video quality using the dedicated NVIDIA Encoder, enhance your streams and conference calls using microphone and webcam AI effects powered by NVIDIA Broadcast and your GPU's Tensor Cores, and leverage Game Ready Drivers, GeForce Experience and other technologies to record and stream gameplay, take screenshots, automatically overclock your GPU, and balance your laptop's power and performance for optimum efficiency.
Each month, our development partners release new games with DLSS, ray tracing and Reflex, and RTX updates for already-available titles. This month is no different, and at this week's virtual Gamescom 2021, we're showcasing 13 games that are launching with RTX technologies, or are adding these game-changing features in the near future.
These include Battlefield 2042, Dying Light 2 Stay Human, Marvel's Guardians of the Galaxy, Black Myth: Wukong, Bright Memory: Infinite, Chivalry 2, Faraday Protocol, GRIT, Loopmancer, Myst, Naraka: Bladepoint, SYNCED: Off-Planet, and The Ascent. To learn more about the enhancements coming to these popular games, keep on reading.
Marvel's Guardians of the Galaxy Launching With NVIDIA DLSS and Ray Tracing
Today, we announced that when Marvel's Guardians of the Galaxy launches on October 26, the PC version will launch with ray-traced reflections and NVIDIA DLSS, giving GeForce RTX gamers the definitive PC experience.
Developed by Eidos-Montréal in collaboration with Marvel Entertainment, this original take on the fan-favorite Guardians of the Galaxy will take players on a journey throughout the cosmos.
Playing as Star-Lord, the self-proclaimed leader of the Guardians of the Galaxy, you will blast your way from one explosive situation to another and call-on the unique abilities of each Guardian to save the universe from some seriously overpowered, evil beings. Luckily, you've got each other, and sometimes that's all you need! You got this. Probably…?
Check out this exclusive new cutscene from the game, captured on PC at 4K, with a GeForce RTX 3080:
"Marvel's Guardians of the Galaxy combines original storytelling and electrifying single-player gameplay with an edgy aesthetic. With the addition of ray tracing and NVIDIA DLSS, PC players will enjoy this stunning universe's visuals with even higher performance." - Olivier Proulx, Senior Producer, Eidos-Montréal
If you lack a GeForce RTX PC or laptop, or are away from your gaming system, you can play RTX-enhanced Marvel's Guardians of the Galaxy at release via GeForce NOW, our cloud gaming service. GeForce NOW gives your low-end rig the power to stream Marvel's Guardians of the Galaxy with RTX ON. Keep your progress as you blast from one device to another, seamlessly, streaming from the cloud. And instantly play your existing PC library from stores like Steam and the Epic Games Store.
For a first look at the GeForce RTX technology coming to Marvel's Guardians of the Galaxy, stay tuned to GeForce.com.
Dying Light 2 Stay Human Launches December With NVIDIA DLSS and Several Ray-Traced Effects
Techland's Dying Light was a hit back in 2015, enthralling players with its fluid parkour movement in a big, zombie-filled open world, all of which was playable with up to four people in co-op. This December, the long-awaited sequel launches, taking players to 'The City', one of the last remaining refuges of humanity, over two decades later. You're an unusually-talented wanderer, who traveled to The City haunted by his own memories. The path and allies you choose will be entirely up to you. These decisions will have game-changing ramifications.
To once again craft an amazing PC edition, following our work on the original game, NVIDIA's partnered with developer Techland to bring GeForce RTX technology to Dying Light 2 Stay Human. Get an exclusive first look in the exclusive video below:
"Our partnership with NVIDIA has helped us create an immersive, visceral experience for Dying Light 2 players. Ray tracing enhances the realism of our unforgiving, infected world while NVIDIA DLSS provides a massive performance boost without sacrificing image quality, so you'll never miss a beat traversing the landscape." - Tomasz Szałkowski, Rendering Director, Techland
Dying Light 2 Stay Human features a dynamic day-night cycle - using ray tracing, Techland can accurately update the appearance of the world every second, delivering unprecedented image quality. Ray-traced Global Illumination brings incredible bounced lighting to every area of the world, ray-traced shadows with pixel-perfect detail update accordingly, and ray-traced reflections add dynamic detail to suitably-reflective surfaces throughout The City.
You'll also be able to play Dying Light 2 Stay Human later this year, with RTX ON on GeForce NOW. Both the Steam and Epic Games Store versions will be streaming at launch.
For more on Dying Light 2 Stay Human's GeForce RTX enhancements, stay locked to GeForce.com in the months to come.
Battlefield 2042: Enhanced With NVIDIA DLSS and NVIDIA Reflex. And Now, Bundled With GeForce RTX Desktops and Laptops
Battlefield 2042 launches October 22nd, taking players to near-future conflict zones where extreme weather is just as deadly as the enemy. For the PC edition, NVIDIA GeForce RTX is the official graphics platform partner, ensuring a brilliant Battlefield 2042 experience.
Playing Battlefield 2042 on a GeForce RTX graphics card or laptop, you can enhance every moment of gameplay with NVIDIA DLSS and NVIDIA Reflex making this the ultimate competitive experience.
To celebrate the addition of these amazing, experience-improving technologies, we're bundling Battlefield 2042 with select GeForce RTX desktops and laptops for a limited time. For all the details, head on over to our bundle announcement article.
Myst Launching With Ray Tracing and DLSS On August 26
Cyan Worlds' Myst drove adoption of the new CD-ROM format upon release in 1993, and was officially the best-selling PC game of all time until 2002! Countless editions and updates later, Cyan is currently crafting an entirely new, remastered Myst that takes full advantage of the latest hardware to create settings, scenes and set pieces that Cyan could only dream of nearly three decades ago.
Launching August 26th for desktops, laptops and virtual reality headsets, the new Myst's performance will be more than doubled using NVIDIA DLSS, if you play on a GeForce RTX GPU. And on GeForce RTX desktops and laptops you can further enhance your experience with ray-traced reflections.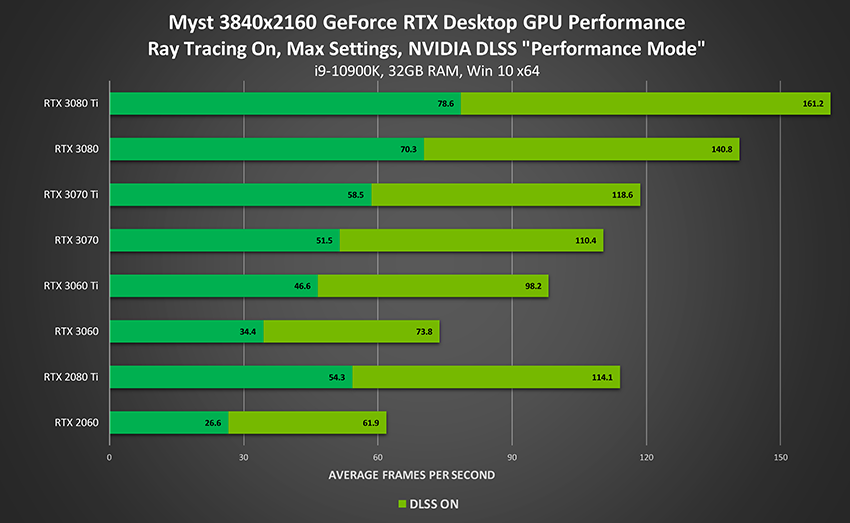 "The responsibility you take on when you remaster a classic like Myst is to take the visual fidelity of this classic game to the next level. Ray tracing allows players to experience their favorite Myst moments in a whole new light and NVIDIA DLSS ensures smooth performance as a new generation of players journey to the ages." - Hannah Gamiel, Development Director, Cyan Worlds
Using DLSS in Myst's VR mode makes it possible to play the classic puzzle game at a stunning 4864 x 2448 while maintaining 90 FPS, for a smooth and immersive headset experience.
Myst VR on Oculus Quest 2 @ 4864 x 2448, Max settings - RTX 3080

DLSS Off

DLSS Quality

Avg Delivered FPS

59

90
Chivalry 2 Adding NVIDIA DLSS
Torn Banner Studios' Chivalry 2 is an incredibly entertaining 64-player PvP melee slasher multiplayer title. Pick one of four classes, each with three sub-classes, and head out onto the field of battle in objective and team deathmatch modes, outwitting opponents in intense clashes that are as much about strategy as they are video game skill.
In a future update, NVIDIA DLSS will come to the PC version of the game, further accelerating performance.
"In Chivalry 2 we wanted to throw our players into massive battles with clashing swords, flaming arrows, and sprawling castle sieges. NVIDIA DLSS guarantees that as the battle rages on, our players will always get maximum performance and visual fidelity." - Brian Etheridge, Publishing Director, Tripwire Interactive
Start streaming Chivalry 2 today on GeForce NOW and get the RTX update when it hits the cloud alongside the update. For more information about that new update, stay tuned to the official Chivalry 2 website.
GRIT: Wild West Battle Royale Launches September 1 With NVIDIA DLSS
Team GRIT's GRIT is a gritty wild west battle royale that's launching into Early Access on September 1. Saddle up and ride across town, building the best poker hand from found weapons to make a killing. Grab the best weapon and gun your way to infamy on the new frontier. Explore the towns, oil fields and plains of the untamed west as you try to hitch a ride on the last man alive train. And if you're downed, you're not quite out, as a 1v1 wild west showdown could put you back in action.
If you ride into action on a GeForce RTX GPU, activate NVIDIA DLSS in the options menu to boost performance by up to 60% at 4K:
"To win over the Wild West, you always want the best weapons at your side. NVIDIA DLSS is a gamer's best weapon, because it gives you maximum performance and image quality so you can saddle up and take down any gunslingers in your way." - Jon Mavor, Team GRIT
Head on over to the game's Steam page to mosey on out from September 1, and watch our DLSS video below to see how our AI-powered tech makes the action even faster:
Black Myth: Wukong Trailer Reveals Unreal Engine 5 Upgrade, Enhanced By NVIDIA DLSS
Last year, Game Science unveiled Black Myth: Wukong, an Unreal Engine 4-powered, ARPG based around the well-known Monkey King mythology, and the 16th Century Journey To The West novel. Featuring excellent visuals and exciting action, the debut trailer and gameplay video racked up tens of millions of views.
Now, Game Science has announced that they're taking visual fidelity one step further by upgrading to Unreal Engine 5, and adding NVIDIA DLSS for enhanced performance and image quality.
In the new 12-minute trailer you'll get the first ever look at an Unreal Engine 5 game enhanced with NVIDIA DLSS. As you watch, you'll travel through the world of Black Myth: Wukong, getting a taste of the action-RPG's gameplay, story, beautiful visuals, and cutscenes. Experience the combat against bosses, be dazzled by visual effects, and discover the intriguing characters of Journey To The West.
Black Myth: Wukong is one of our most anticipated games, and our game developer support organization is working diligently with Game Science throughout its development to ensure GeForce RTX users receive the definitive experience.
The Ascent: Available Now With Ray Tracing and NVIDIA DLSS
Neon Giant and Curve Digital's The Ascent is a solo and co-op twin-stick shooter with a smattering of dialogue, a pinch of RPG, and other fresh ideas that evolve the genre. Play with up to three friends locally or online, and blast your way through a range of locales as you traverse the titular Ascent arcology, unravelling the mystery of what befell The Ascent Group.
If you enter the arcology toting a GeForce RTX GPU, you can enhance your experience with both ray tracing and NVIDIA DLSS.
Enabling The Ascent's ray-traced reflections will see water and all other suitably reflective surfaces mirror geometry, cyberpunk-esque neon signage and advertisements, enemies, allies, the player, and of course, all the spectacular weapons effects and explosions. Further enhancements come courtesy of the ray-traced shadow setting, which will refine detail, adding pixel-perfect contact hardening and softening shadows that make The Ascent look even better.
And to maximize performance when marveling at the real-time ray traced effects, NVIDIA DLSS is included from day one, accelerating your performance by up to 2x:
SYNCED: Off-Planet Trailer Shows The Latest RTX Tech & Adds DLSS
At Gamescom 2019, Tencent Next Studios announced SYNCED: Off-Planet, a PvPvE and co-op action game that was to feature a range of RTX technology. Two years later, and with the game's release getting closer, SYNCED: Off-Planet has been further enhanced with NVIDIA DLSS, and even more tech - now, it boasts ray-traced reflections and ray-traced shadows. With a full sweep of RTX enhancements, the game's a looker, and plays best on GeForce RTX graphics cards and laptops.
Take a look in our new GeForce RTX gameplay video:
Bright Memory: Infinite Launches Late 2021 With Ray Tracing and NVIDIA DLSS
FYQD-Studio's Bright Memory and Bright Memory: Infinite will be no stranger to long-term readers - the original and extremely entertaining Bright Memory added ray tracing and DLSS in early 2020, and a ray-traced benchmark was released to promote the sequel last September.
Both games are fast-paced first-person shooters with dazzling visuals, amazing set pieces, and exciting action, and today we can reveal that Bright Memory: Infinite will be launching late 2021 with even more ray tracing technology.
To demonstrate, FYQD's sent us a new trailer, showing ray-traced reflections, ray-traced shadows, ray-traced caustics and the dazzling RTX Global Illumination. And of course, NVIDIA DLSS is along for the ride, boosting performance significantly.
For further details about Bright Memory: Infinite, check out the game's Steam page, and stay tuned to GeForce.com.
Loopmancer Adding Ray Tracing & NVIDIA DLSS
eBrain Studio's 18 developers are getting close to finishing Loopmancer, a 3D action-platformer roguelite that debuted at this year's E3. Playing as a detective caught in a death loop, you'll need to find answers in the game's cyberpunk-styled Dragon City in the year 2046.
Using freely-available Unreal Engine 4 features, plugins and SDKs, eBrain Studio has rapidly and easily added ray tracing to Loopmancer. To get a preview, check out our new Loopmancer video below, showing ray-traced reflections, ray-traced shadows, and ray-traced global illumination:
Faraday Protocol: Available Now With NVIDIA DLSS
Faraday Protocol is a newly-released, first-person, direct control, story-driven puzzle game. Built on Unreal Engine 4, developer Red Koi Box has leveraged our free NVIDIA DLSS plugin to bring the performance accelerating technology to the game with minimal effort.
So, if you play on a GeForce RTX graphics card or laptop, you'll get up to 75% faster performance at 4K: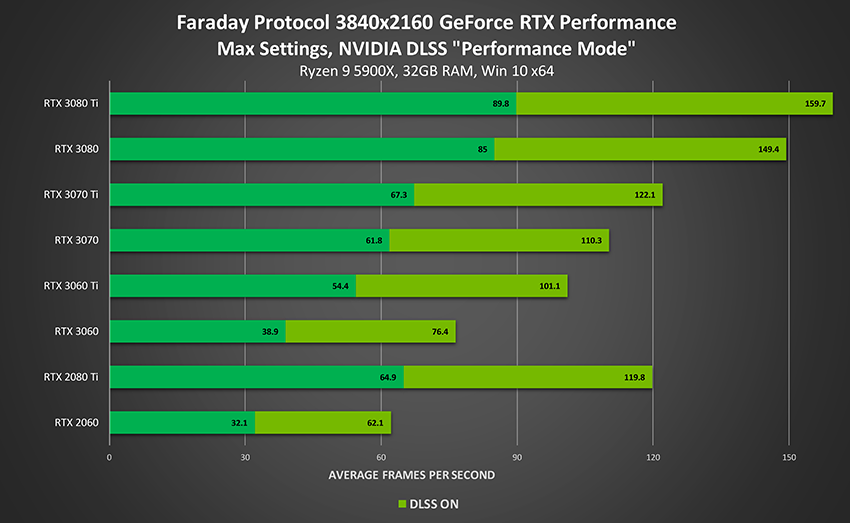 Naraka: Bladepoint Available Now With NVIDIA DLSS And NVIDIA Reflex
24 Entertainment's Naraka: Bladepoint is a popular new battle royale, eschewing guns for fantasy action, grappling hooks, and verticality. If you load it up on a GeForce RTX system, you'll get frame rates accelerated by NVIDIA DLSS, and system latency optimizations courtesy of NVIDIA Reflex.
Get all the details in our dedicated Naraka: Bladepoint GeForce RTX article.
NVIDIA DLSS Linux Proton DirectX 11 and DirectX 12 Game Support Launches Next Month
Recently, we launched support for NVIDIA DLSS in Proton, enabling Linux gamers to play Vulkan API games with NVIDIA DLSS, including DOOM Eternal, No Man's Sky, and Wolfenstein: Youngblood. Next month, support extends to dozens of DirectX 11 and DirectX 12 games, including Control, Cyberpunk 2077, Death Stranding, F1 2020, Mechwarrior 5: Mercenaries, and Necromunda: Hired Gun.
Stay tuned for further details.
As Always, There's More To Come
Above are just some of the games being enhanced with GeForce RTX technologies this year - with free SDKs available, and plugins for Unreal Engine and Unity, it's easy for developers to add meaningful enhancements to their PC games, giving players superior experiences.
Over 70 games feature RTX tech, including the most played Steam and Twitch titles, making GeForce RTX graphics cards and laptops a must have for PC players seeking the fastest, most responsive, and most beautiful gaming.
As always, stay locked to GeForce.com to get the lowdown on all future DLSS, ray tracing and Reflex announcements in the coming weeks and months.