Today, Sony Interactive Entertainment and Santa Monica Studio's God of War goes live on PC with enhanced graphics, performance accelerating AI-powered NVIDIA DLSS, and latency-optimizing NVIDIA Reflex, bringing GeForce gamers the definitive PC experience in one of the best action games ever made. Play as Kratos, a Spartan warrior in the realm of Norse gods and monsters where he must fight against epic beasts while teaching his son how to survive in this mystical world of the gods.
Boost Performance in God of War By Up To 45% With NVIDIA DLSS
NVIDIA DLSS (Deep Learning Super Sampling) is a groundbreaking AI-rendering technology that increases graphics performance via dedicated Tensor Core AI processors on GeForce RTX GPUs. When enabled, performance is boosted by up to 45% at 4K, allowing you to play God of War with phenomenal graphics, higher frame rates, and uncompromised image quality: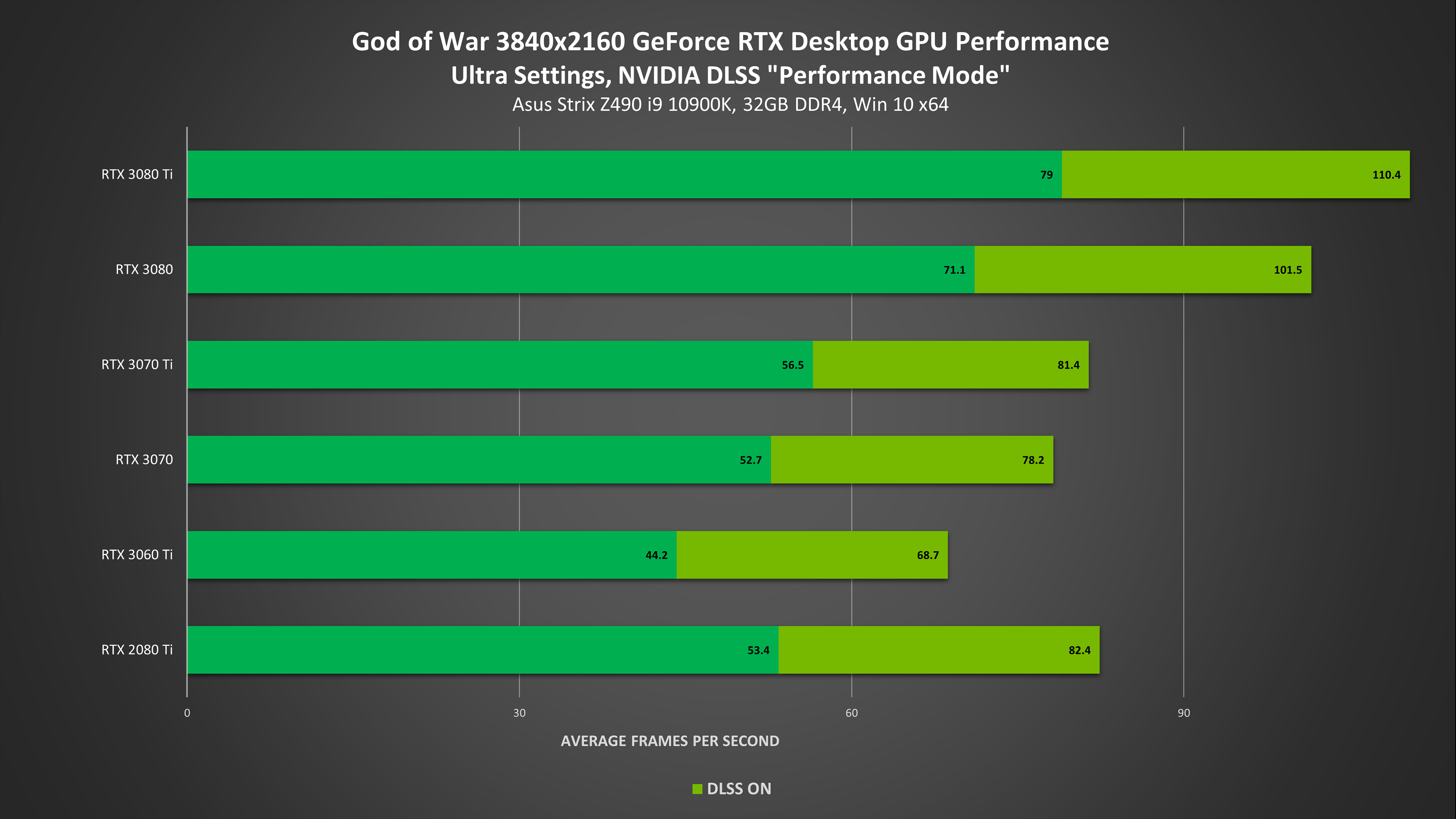 Faster performance provides smoother gameplay, or if you prefer the fine detail of a cinematic scene in the midst of gameplay, turn up the detail level and rendering for a jaw-dropping visual experience. Witness this game changer for yourself in the new God of War 4K DLSS Comparison video:
To get the best God of War launch experience, download and install our latest Game Ready Driver, purchase God of War on Steam or Epic Games Store, then enable DLSS in-game by pressing Escape > Settings > Display > to select your desired DLSS Mode under RESOLUTION SCALING.
Increase God of War's Responsiveness With NVIDIA Reflex
God of War is a fast action game with spectacular combos that are key to overcoming the game's most difficult challenges. If your PC's system latency is high, gameplay feels sluggish, and controls are unresponsive, the overall experience feels slow. Enable NVIDIA Reflex to quickly and easily reduce system latency by up to 22% for GeForce 900 Series and newer GPUs, making gameplay snappy and more responsive, allowing you to beat the boss with tighter dodges and combos.
To enable Reflex in God of War, press Escape > Settings > Display > Advanced and turn on NVIDIA Reflex Low Latency mode in the options menu.
Get Game Ready For God of War On PC
Be sure to also download and install our new Game Ready Driver to ensure you receive the best launch day experience in God of War on PC.
More Titles to Come
God of War is the latest game to harness the power of NVIDIA DLSS and Reflex, and each month more titles add NVIDIA technologies. With the release of engine plugins and NVIDIA SDKs, it's easier than ever for developers to expand their game's features.
As always, stay tuned to GeForce.com for further details.
©2022 Sony Interactive Entertainment LLC. God of War is a trademark of Sony Interactive Entertainment LLC. "PlayStation Family Mark", "PlayStation", and "PlayStation Studios logo" are registered trademarks or trademarks of Sony Interactive Entertainment Inc.