The GeForce RTX 4090 is available now from NVIDIA and top add-in card providers ASUS, Colorful, Gainward, Galaxy, GIGABYTE, INNO3D, MSI, Palit, PNY, and ZOTAC, as well as from gaming system integrators and builders worldwide.
Boasting our 3rd generation RTX architecture, the GeForce RTX 4090 is beyond fast, delivering a quantum leap in performance and AI-powered graphics for games and apps, giving buyers the definitive experience.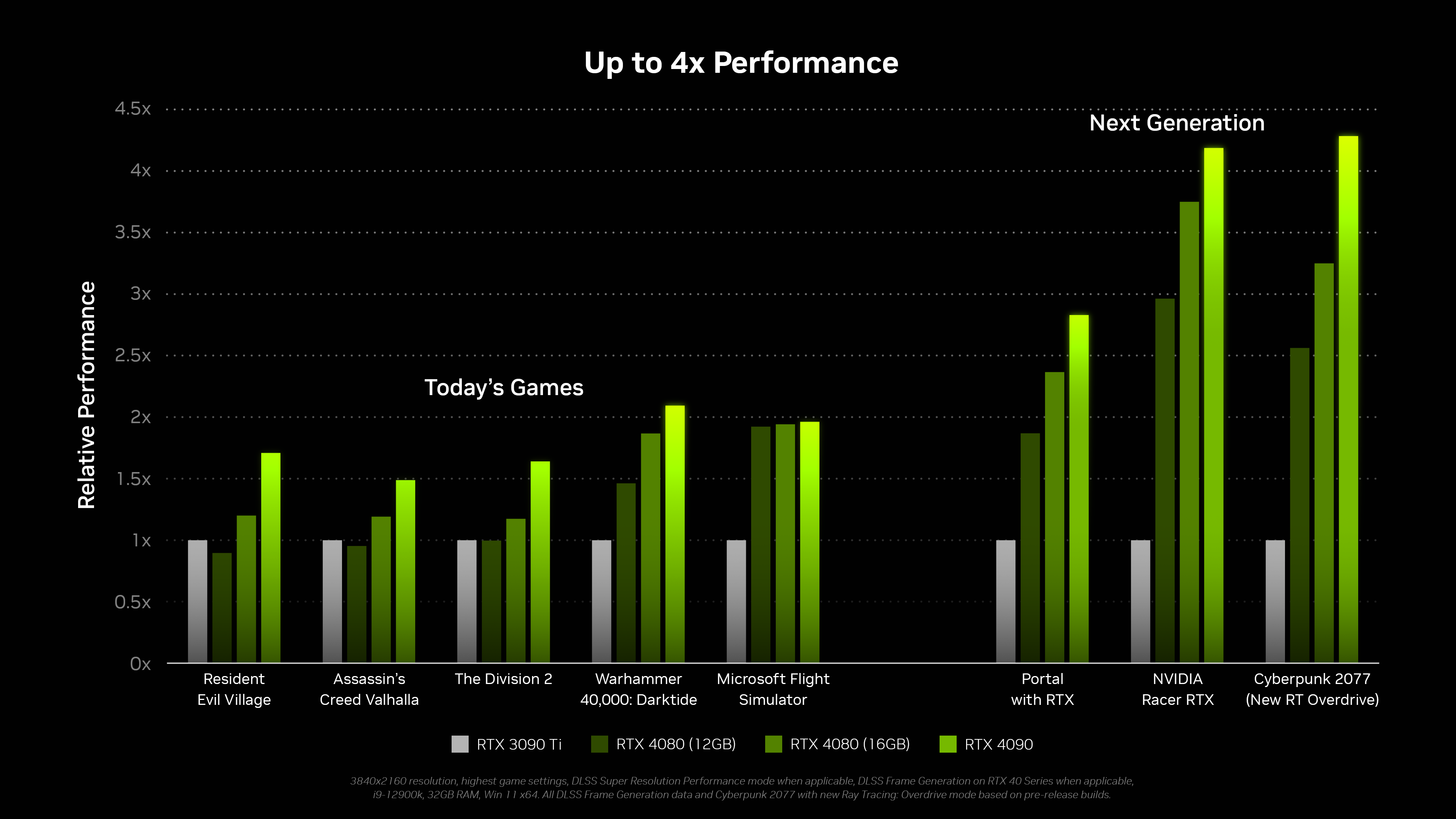 Today's games see their performance increase by up to 2X compared to the GeForce RTX 3090 Ti, and up to 4X in next-gen titles with full ray tracing! These previously impossible levels of performance give you the power to play fully ray-traced games such as Portal with RTX, NVIDIA Racer RTX, and Cyberpunk 2077 with the upcoming Ray Tracing: Overdrive Mode upgrade.
Today also marks the launch of NVIDIA DLSS 3. 5 games are available this week, multiplying performance, giving GeForce RTX 4090 players 4K, max setting, high FPS gameplay. Additionally, there are numerous other DLSS launches this month, so head over to our new RTX Games article to get the full rundown.
In creative apps, the GeForce RTX 4090 is up to 2X faster. Thanks to the addition of dual 8th Gen NVIDIA Encoders, which include support for the next-gen bandwidth-optimizing AV1 codec, export times are slashed in half for video production. Live streamers will see 40% better efficiency, allowing them to produce higher quality streams with the GeForce RTX 4090 added to their home production setups. And AI tools will speed up previously tedious tasks, like Rotoscoping in Blackmagic Design's DaVinci Resolve, which will now be 70% faster than the previous gen on the new GeForce RTX 40 Series GPUs.
Partner apps for NVIDIA Studio will upgrade with support for new features that benefit both gamers and creators that pick up the GeForce RTX 40 Series GPUs. Creative editing apps like Blackmagic Design's DaVinci Resolve, the Vokoder plugin for Adobe Premiere Pro, and Jianying will bring dual encoder and AV1 support in updates later in October. NVIDIA is also working with popular video effects apps to enable AV1 with Notch and AV1 and dual encoder support with Topaz.
Live streamers can look forward to OBS Studio updates releasing later this year with the native integration of the popular AI-powered NVIDIA Broadcast effects, including Virtual Background, Noise Removal and Room Echo Removal. The features will soon be available to NVIDIA Studio partners. Get all the details in our new NVIDIA Studio article.
GeForce RTX 40 Series graphics cards are also loaded with new technology to make work and play faster and better. For all the details, check out our GeForce RTX 40 Series, RTX Games, NVIDIA DLSS 3, NVIDIA Reflex, NVIDIA RTX Remix, Portal with RTX, and NVIDIA Studio articles.
Beyond the new additions, every existing innovation and enhancement is available for buyers of GeForce RTX 40 Series graphics cards, including G-SYNC, GeForce Experience one-click overclocking and game optimization, Shadowplay recording and streaming, and so much more. See the full list here.
Once you get your GeForce RTX 4090, install our new Game Ready Driver to enhance your gaming and accelerate your workloads.
GeForce RTX 4090 Reviews
The world's press and YouTubers have been putting the GeForce RTX 4090 through its paces - here's a sampling of what they said in their reviews:
GeForce RTX 4090 Out Now
If you're itching to add the GeForce RTX 4090 to your system, or want a pre-built with the beyond fast graphics card, head over to our Product Finder.
To learn more about the games and apps adding support for RTX technologies, stay tuned to GeForce.com. By bookmarking, you'll also be one of the first to hear about new technologies, new Game Ready Drivers, and other exciting announcements.