Fatshark's hotly-anticipated Warhammer 40,000: Darktide is now available, building upon the four-player co-op gameplay of Warhammer: End Times - Vermintide and Warhammer: Vermintide 2 that millions of players know and love. Set in the 41st millennium, players dive deep into the dilapidated bowels of Tertium, an industrial city that's fallen under the influence of Chaos. Go full melee against the enemy, using Vermintide's lauded combat system, or pick up a visceral Warhammer 40,000 weapon to dispatch all manner of demons at a distance.
To deliver the definitive PC experience, NVIDIA and Fatshark have worked closely to pack Warhammer 40,000: Darktide with cutting-edge technology.
NVIDIA DLSS 3 Accelerates Darktide Performance
NVIDIA Deep Learning Super Sampling (DLSS) is a groundbreaking revolution in AI-powered graphics, increasing performance on GeForce RTX GPUs using dedicated Tensor Cores. And our newest iteration, DLSS 3, generates entirely new high quality frames, rather than just pixels.
Powered by new hardware capabilities of the NVIDIA Ada Lovelace architecture, DLSS 3 combines DLSS Super Resolution technology and DLSS Frame Generation to reconstruct 7/8ths of the displayed pixels, accelerating performance to previously unimaginable degrees. Get the full breakdown of how it works in our NVIDIA DLSS 3 article.
DLSS 3 games are backwards compatible with DLSS 2 technology - developers simply integrate DLSS 3, and DLSS 2, also known as DLSS Super Resolution, is supported by default.
Ray Tracing: Get A More Immersive & Realistic Experience
Tertium's sprawling city extends up and past the clouds, allowing its denizens to occasionally enjoy natural lighting that streams in through rarely-cleaned windows. Using RTX Global Illumination (RTXGI), this light naturally propagates through environments, illuminating rooms and ensuring other areas are naturally darkened, as in the real world.
Ray-traced reflections are also available in Warhammer 40,000: Darktide, adding realistic, accurate reflections to puddles, mirrors, and many metallic surfaces, further increasing image quality and realism.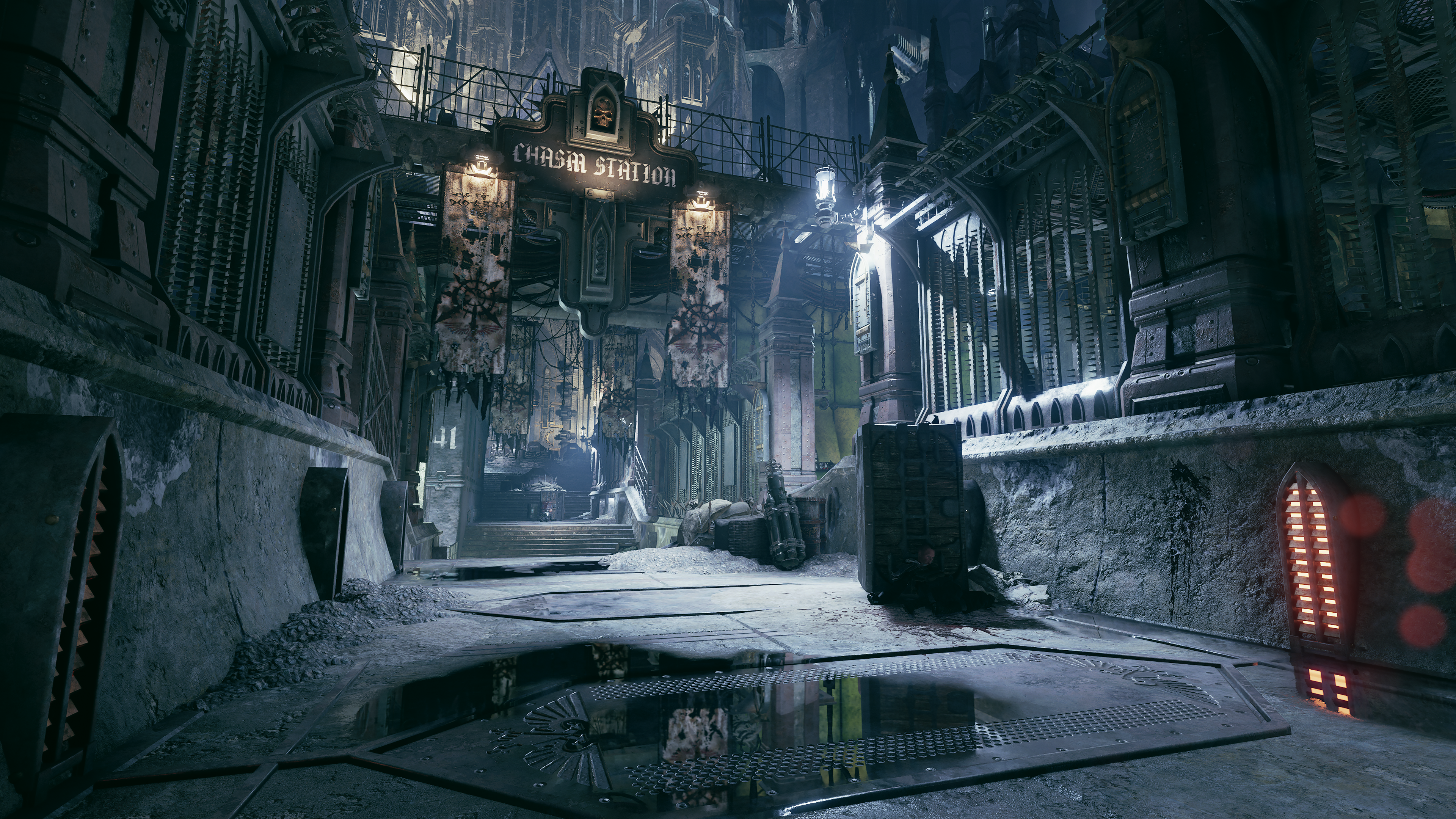 With both effects enabled, you'll have the highest quality visuals, increasing the atmosphere in Tertium's moody, metallic environments.
NVIDIA Reflex: Reduce System Latency By Up To 43%
Smooth, responsive gameplay is as-important as having a high frame rate, and to ensure Warhammer 40,000: Darktide's high-intensity action is the smoothest around, we're also brought NVIDIA Reflex to the game.
Reflex feature reduces system latency, meaning your actions occur faster, making gameplay feel snappier and more enjoyable. When enabled, Reflex reduces system latency by up to 43%.
In-game, enter the video options and activate NVIDIA Reflex. For even lower latency, select "On + Boost", and optimize other parts of your system to further reduce system latency.
Don't Have A Suitable System? Play On GeForce NOW Instead
Even if you don't have a GeForce RTX PC or laptop, gamers can still enjoy Warhammer 40K: Darktide with support for NVIDIA RTX and DLSS by streaming it from the cloud with NVIDIA GeForce NOW. Members can play over 1,400 full PC versions of games they already own from Steam, Epic Games Store, Ubisoft Connect, and GOG.com.
GeForce NOW RTX 3080 membership gives you the power of a GeForce RTX 3080-class PC in the cloud. Members can stream their games at up to up to 4K / 60 FPS or 1440p 120 FPS on PC and Mac, up to 4K HDR on NVIDIA SHIELD TV, and up to 120 FPS on select Android devices.
Sign up for free at GeForceNOW.com.
Warhammer 40,000: Darktide GeForce Game Ready Driver Available Now
GeForce Game Ready Drivers deliver optimizations and enhancements direct to your PC, ensuring your gameplay in Warhammer 40,000: Darktide, and every other game, is at its very best. So for the fastest performance, smoothest gaming, and an optimized experience when using NVIDIA DLSS, NVIDIA Reflex, and ray tracing, download and install our new Warhammer 40,000: Darktide GeForce Game Ready Driver from GeForce Experience or GeForce.com.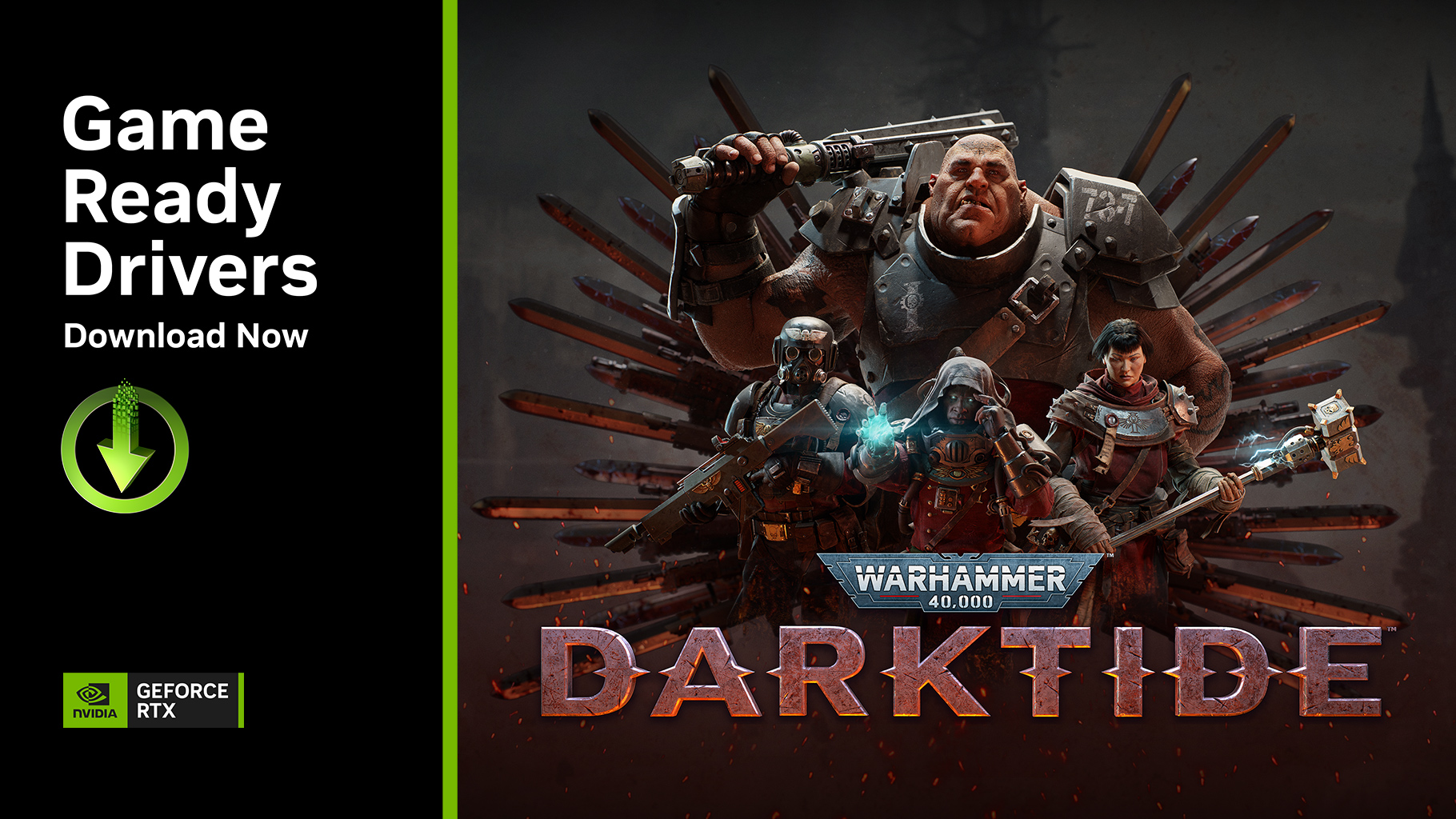 Warhammer 40,000: Darktide Is Available On PC Now!
Warhammer 40,000: Darktide is out now on PC, and we're proud to have collaborated with Fatshark to bring GeForce RTX gamers the definitive PC experience, enhanced with NVIDIA DLSS 3, DLSS 2, NVIDIA Reflex, RTXGI ray-traced global illumination, and ray-traced reflections.
Darktide is the latest in a long line of RTX-enhanced games, and each month sees adoption of these technologies increase, so be sure to head back to GeForce.com frequently to learn what's next for NVIDIA DLSS and ray tracing.