Team Rainbow returns against their greatest threat yet: an alien invasion. Ubisoft's Rainbow Six Extraction is a tactical co-op FPS with over 90 advanced weapons, 13 mission types, 12 ever-evolving maps, and one ever-mutating horde of enemies – no Extraction experience is ever the same.
Rainbow Six Extraction is out now, and your experience can be enhanced using NVIDIA DLSS and NVIDIA Reflex. From optimized performance to reduced latency, gameplay is faster, smoother, and more responsive.
Boost Performance In Rainbow Six Extraction By Up To 2x At 4K With NVIDIA DLSS
NVIDIA DLSS (Deep Learning Super Sampling) is a groundbreaking AI-rendering technology that increases graphics performance via dedicated Tensor Core AI processors on GeForce RTX GPUs. When enabled, performance is boosted by up to 2x at 4K, allowing you to play Rainbow Six Extraction with maxed out graphics, higher frame rates, and uncompromised image quality: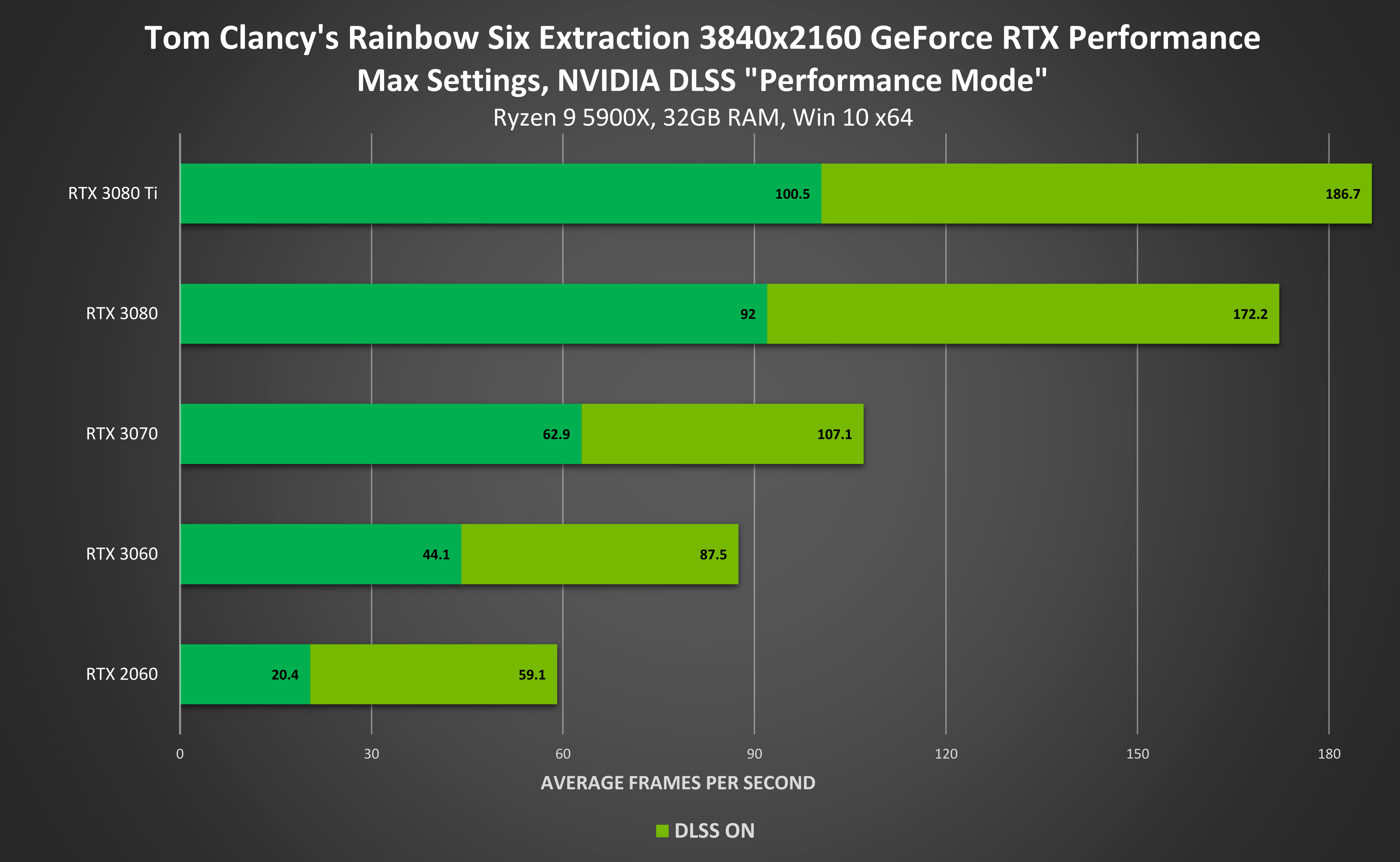 At 4K, virtually all GeForce RTX graphics cards can max out Rainbow Six Extraction at over 60 FPS, for the definitive experience. At 2560x1440, every GeForce RTX GPU exceeds 80 FPS, while at 1920x1080 framerates blow past 100, and high-end cards break the 300 FPS barrier, for the fastest, smoothest gaming possible.
On laptops, frame rates of over 120 FPS can be had using a GeForce RTX 3050 laptop GPU, and GeForce RTX 3080 laptop GPUs approach 200 FPS: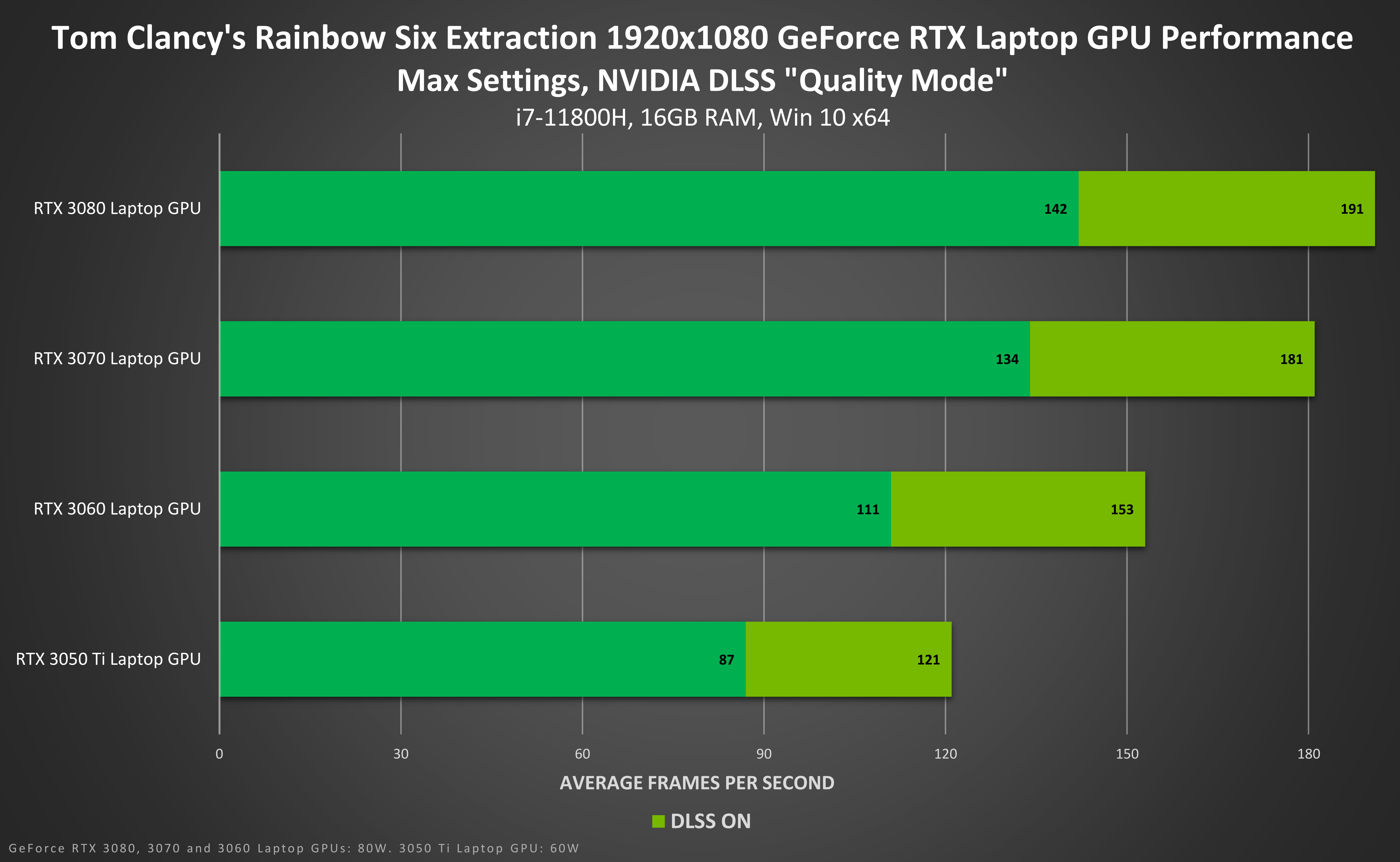 To get the best Rainbow Six Extraction launch experience, download and install our latest Game Ready Driver, open Rainbow Six Extraction, go to Settings > Display, set "Resolution Quality" to "Fixed 100%", and then select your desired DLSS Mode under "Resolution Scaling."
Increase Rainbow Six Extraction's Responsiveness With NVIDIA Reflex
Rainbow Six Extraction is a tactical high action game with an incredible assortment of weapons and maneuvers that are key to overcoming the game's most difficult challenges. If your PC's system latency is high, gameplay may feel sluggish, and the overall experience may feel slow.
Enable NVIDIA Reflex to quickly and easily reduce system latency by up to 27% at 4K for GeForce GTX 10 Series and newer GPUs using Vulkan, making gameplay snappy and more responsive.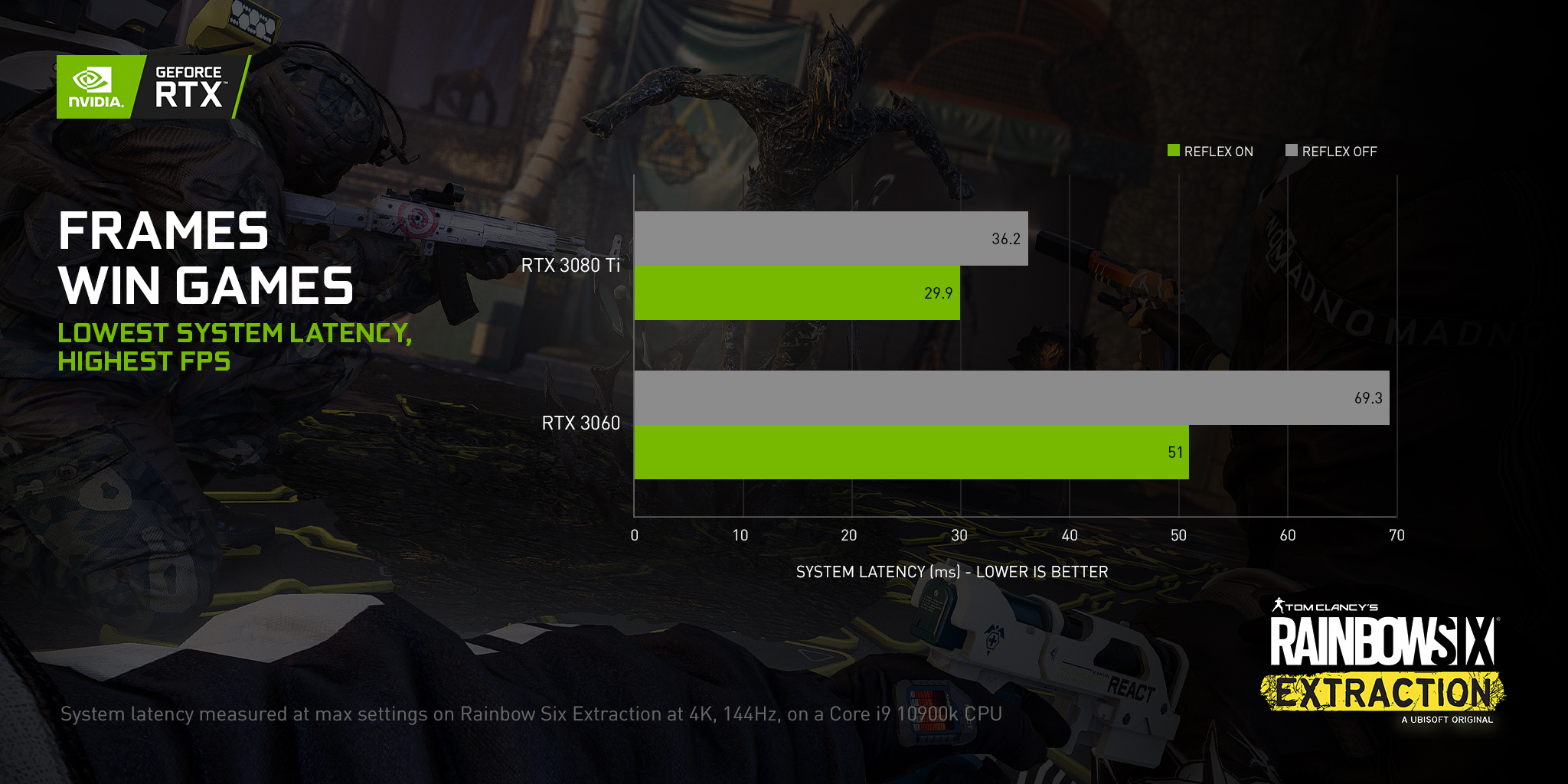 To enable Reflex in Rainbow Six Extraction, press Escape > Settings > Display > Advanced and turn on NVIDIA Reflex Low Latency mode in the options menu.
Rainbow Six Extraction PC System Requirements
To play Rainbow Six Extraction at its very best, check out Ubisoft's system requirements and recommendations chart, below, to update your PC accordingly: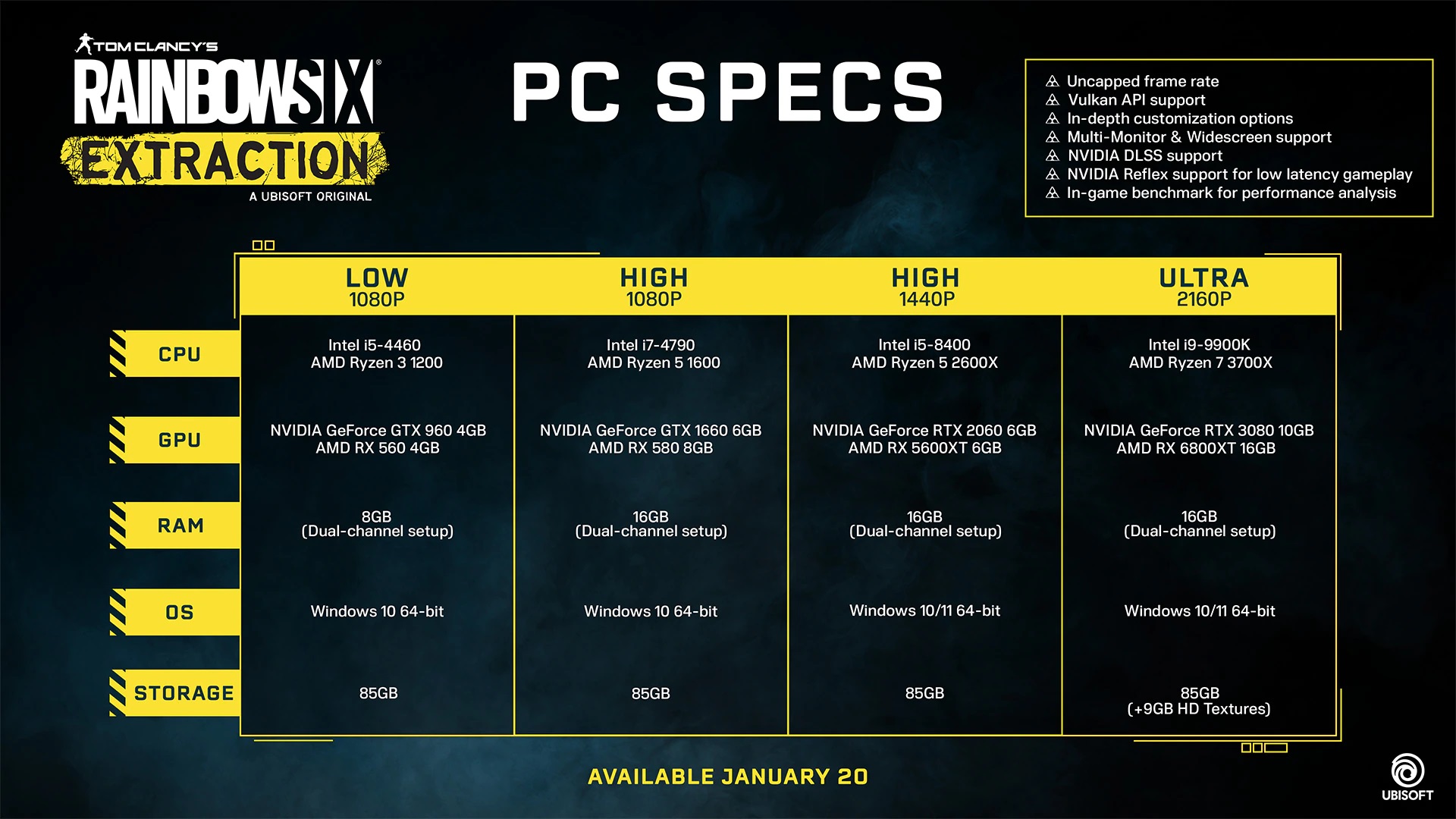 Be sure to also download and install our newest Game Ready Driver to ensure you receive the best launch day experience in Rainbow Six Extraction on PC.
Stay Tuned For More To Come
Rainbow Six Extraction is the latest game to harness the power of NVIDIA DLSS and Reflex, and each month more titles add NVIDIA technologies; over 150 games and apps support NVIDIA DLSS to date. With the release of engine plugins and NVIDIA SDKs, it's easier than ever for developers to expand their game's features.
Make sure to visit GeForce.com for further details about all the games adding our game-changing technologies in the near future.